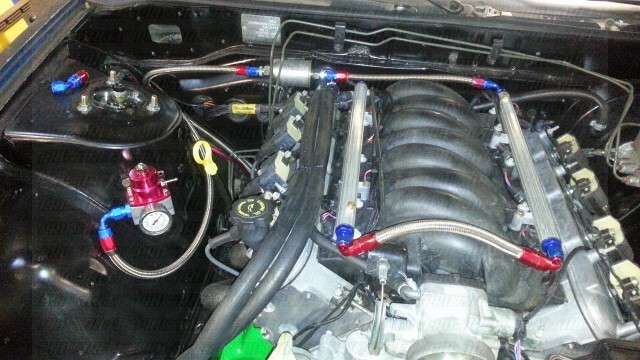 What is the LS1?
The LS1 is one of the most versatile V8 configurations from Chevy which made its first appearance in the F body vehicles (1998-2001 Camaro, Firebird, TransAm) and is also found in the Corvette, giving Chevy an excellent powerplant to base an entire generation of performance vehicles.
This remarkable small block easily achieved Chevy's goals for both power and torque. For the model year 1997 generated 354 hp at 5600 rpm 350 foot-pounds of torque at 4400 rpm. comparing these numbers the 1986 LT1, and one can easily see the increases power over 15%, peak torque over 5% all while reducing weight by 12%.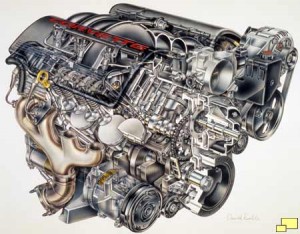 Why use the LS motorset?
Having built our first LS1 240sx swap in 2003, and building many more customer vehicles since then, we've had ample time to consider and weigh most of the motor swap sets and to be honest, the LS1 is a tough swap to beat as far as bang for the buck is concerned. With 300-350whp and 280-330 ft lbs of tq stock, it's a tuner's playland when it's time to squeeze some extra ponies out of this engine.
One of the questions we most often get is why swap a domestic motor into an import vehicle when the SR and RB are readily available and fly under the same Nissan flag?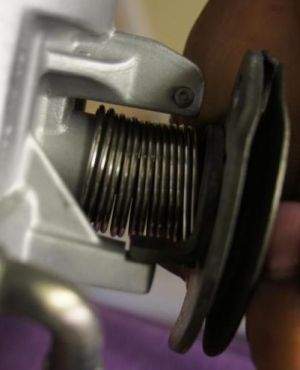 There are a few things you can do to squeeze a few ponies out of the motor in stock form, check out our how to on modifying your bumpstop and throttle body.
Wondering how much power can be made with just a few bolt ons? Check out our customer Camaro below, equipped with a 50 state legal Vortech supercharger putting down 531 wheel horsepower.

This vehicle is still using the factory restrictive catalytic converters, and equipped with a 50 state legal exhaust. In other words, yes it passes smog with flying colors.
LS1 vs SR/RB/2JZ/etc
We could of course include the 2JZ, 1UFE, and other assorted import motors, but we've decided to lump them all into the SR/RB category for simplicity. But here is the short list of reasons why the LS1 trumps any boosted application when it comes to bang for the buck.
Please take some time to check out our 2JZGTE and VQ35DE Engine Swap Guides for the 240SX.
1. Weight and size – The aluminum block LS1 is incredibly light for what they are, as we've weighed the entire motorset at just around 480 lbs. Compare that to a full motorset of a KA24DE ( the stock 2.4L motor found in the 240SX ) at 390 lbs, an RB25DET which can weight over 590 lbs ( give or take given turbo and manifold setup ) and you begin to see exactly how light this LS1 motor is.
Compare the picture above with a LS1 swap in a S13 vs the RB25DET or 2JZGTE motor in a 240SX engine bay where the crank pulley or crank snout is almost touching your fan assembly. The LS1 fits better because it's smaller, lighter and easier to work on and in this regard it beats the RB/2JZ swaps hands down.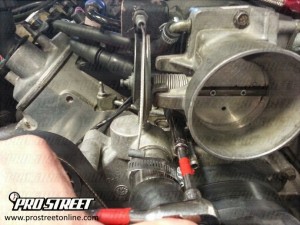 Against the compact design of the LS1 which sits in the engine bay almost as if it were stock and it doesn't take a rocket scientist to figure out which setup fits better in the relatively small engine bay of a 240SX.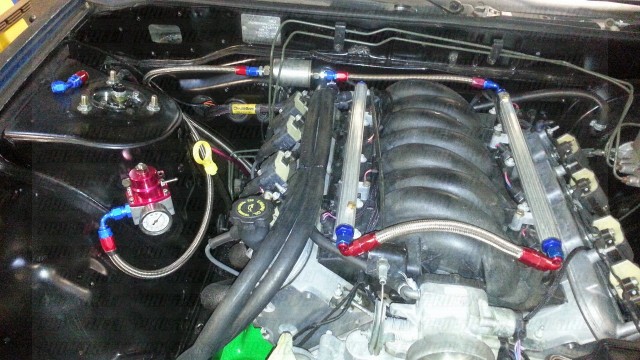 2. Torque and Power – This is one area in which you would figure a big pushrod V8 motor would excel in and the LS-series motors definitely do not disappoint. Torque and Horsepower and very readily available in stock OEM reliable form, and when tweaked, the LS1 responds exceptionally well to modifications.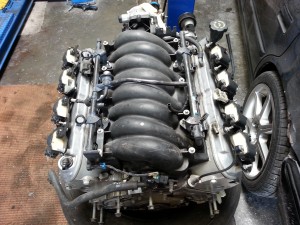 Aftermarket camshafts and cylinder heads are plentiful to choose from, everything from the budget build to the exotic is possible. And if you are swapping in a GEN III engine and transmission of your choice, now would be a good time to look at your bolt on options. If you haven't already, take a look at our LS1 Torque Specification Sheet, by clicking here.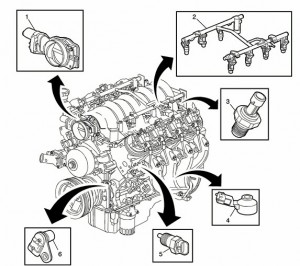 There is such a thing as going too far in aggressive setups however, as a rough idle and unwarranted attention usually comes hand in hand. But if street manners and driveability are sacrificed just a tad, 600whp in a naturally aspirated form is very much possible giving the user a great range of power and a whole lot of reliability given the lack of forced induction.
How to install a Remote Bleeder
3. LS1Edit – Whereas many SR20 / RB25 / etc users must invest in a piggyback or standalone ecu, the LS1 comes equipped with one from the factory. Easily programmable using programs such as LS1edit, this ecu gives you the tools and in many cases much more than an Apexi AFC, AEM EMS, or other ROM flashing process may provide.
Given the range of this motor and how long it's been around as well as the multitude of cars and vehicles it is found in, and you have a potent recipe for your swap idea. When you are dealing with the relatively light curb weight of the 240SX, you don't need a LS1 or LS2, when a LM, LQ or similarly found GEN III block can be just as powerful at a fraction of the cost.
Which brings us to our next point.
4. Parts everywhere – Let's face it, it's not always easy getting your hands on a set of reliable cams or engine parts for your JDM motorset, after all it's not made here in the states. Often times dealing with these importers can often lead to headache and disaster, because you are dealing with used parts from halfway across the world without the benefit of seeing what you are purchasing.
Or is the LS1 just too expensive for an engine swap? Is the thought of a 3000+ dollar LS1 and T56 engine and transmission set seem daunting? Not to fear! We show you what motors you can interchange to build the ultimate Budget LS Build.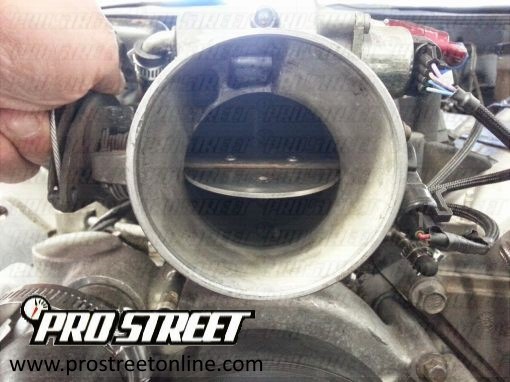 LS1 Free Mods – Free Horsepower? Yes Please!
Fortunately for those who opt for the LS1 motorset, a simple call to a junkyard or wrecker to find your replacement part usually gets you where you need to go, many times with a warranty and easy access should the part be broken or you ended up not needing.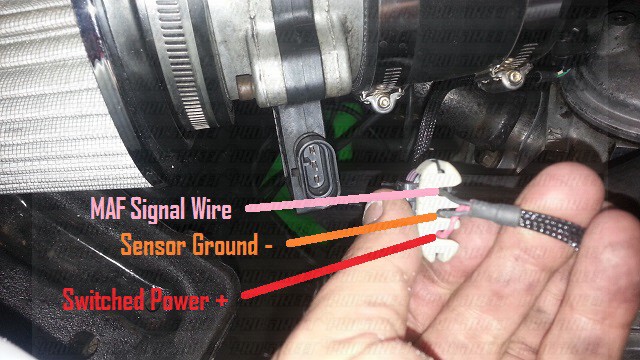 Modifying your LS1 MAF for higher flow is another free mod that's very popular with the LS1 enthusiasts. Removing the extra fins in your MAF can help your airflow meter read more incoming air. Need to test or service your LS1 mass air flow sensor? Check our handy How to Guide here.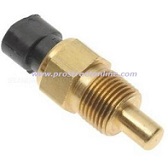 Add to the fact that so many of the LS1 motorsets and parts are found in many other GMC powered vehicles, and your pool of which to select parts from increases even further. Nowhere else is this more common than the 85mm truck and van GEN III Mass air flow sensors, that can often rival the Z06 MAF.
Have a 5 wire MAF but need to wire a custom loom that will allow you to wire in an external Air intake Temperature? Check our link here on the 5 wire to 3 wire modification.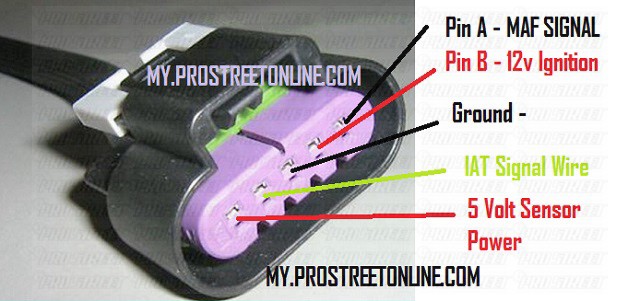 ** If you haven't already, check out our LS1 Sensor Guide for a breakdown of sensors that you will need to power your LS1
Head Games – Taking a look at the GEN III heads available from GM
How do I choose what LS to swap? Can I piece together a block to make more power cheaply? What block do I want to use for turbo? Supercharger? Nitrous?
How To Build a LS Engine on a Budget
While you may see such monikers as LS1, LS3, LS6, LS7 now, which are all based on the GEN III design and LS1 platform, many of these same talking points can be found in the L33, L59, L76, L92, LC9, LFA, LH6, LH8, LM4, LM7, LMG, LR4, LS1, LS2, LS3, LS6, LS7, LS9, LSA, LSX, LQ4, LQ9, LY2, LY5, and the LY6 found in many different van and truck configurations from Chevy, GMC, Pontiac, Cadillac and much more.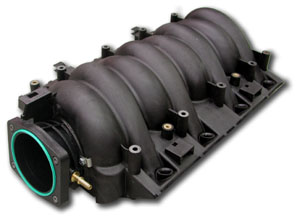 How To Install a LS6 Intake Manifold
This is known as the GM RPO or the engine code of the specific model in question, and because it is so varied it is more reasonably priced. You do not require a LS1 swap to achieve your goals, LQ9's and LM4 engines can be found relatively cheaper for those wanting to maximize the bang for the buck.
Translating the GM RPO – What the terms LS1, LS6, LQ9, LY2 mean
5. Wiring – It's not overly complicated to wire in a LS1 into your 240sx, especially if you have a donor harness and have the ability to solder. With some patience and a lot of labeling you can wire in your LS1 without too many problems, although the ultimate solution is a swap in ready to run harness.
FAQ – How to Wire your LS1 S14 swap
There are a ton of services for this kind of work, but after getting our hands on a Chasebays kit it is one of the cleanest possible installs you could possibly ask for. Check out our review of their product here.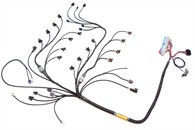 Unfortunately, one of the issues that you will have to deal with regardless of the wiring setup is the tach and speedo not working with the VSS and distributorless LS family, requiring a adapter of some sort to convert the signal that the LS1 is generating.
The How To Upgrade LS1 Valvetrain article on our website will break down what parts comprise your valvetrain and recommended mods.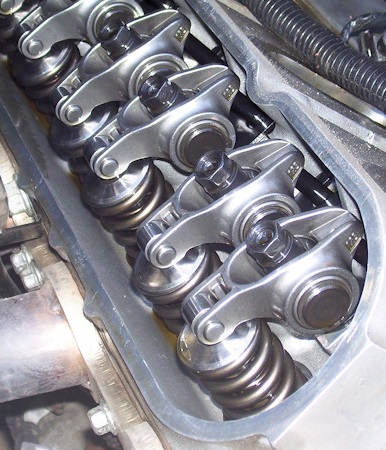 Such converters as the Dakota Digital lineup of translators, or the revolutionary Auto Meter LS Tach Adapter that was shown at the 2013 SEMA Show will need to bridge the gap from your LS1 to your stock S13 or S14 dashboard.
Q : How do I convert the speedometer on my LS1 swap?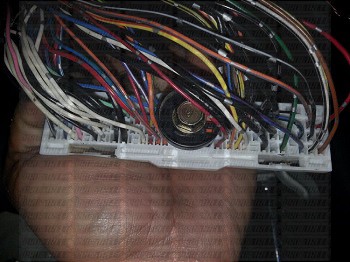 A : Using a Dakota Digital unit you can convert the signal by intercepting the vehicle speed sensor wire from the LS1 and sending the output to your cluster. Make sure to check which LS ecu you have before splicing into any wires, click here for our wiring diagram.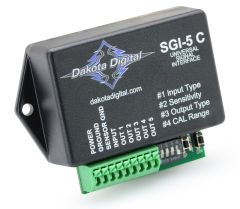 Need to know how to install Dakota Digitals? Take a look at our How To Install Dakota Digital translators for a complete walkthrough of a LS1 install into a S13 240SX.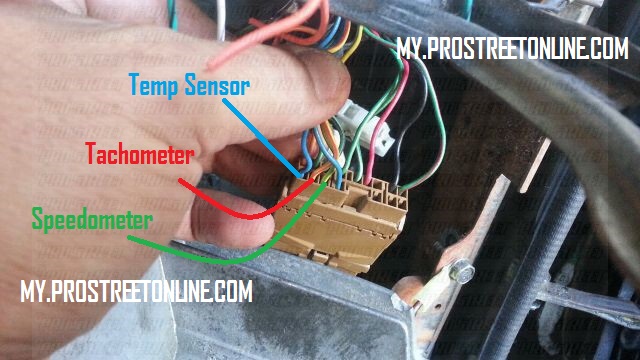 Q: I wired in my LS1 tachometer and even with a converter my tach does not work.
A: For some models of LS ECU's especially on models 2003+ utilizing the drive by wire throttle body, you will need a LS1 Tach Fix. Click here to see what you will need to do to fix your LS Tach.
6. Breaking the law – And finally those who reside in a smog controlled state ( California ), have the option of BAR legalizing their LS1 swap, gives you the best of both worlds. All the power and none of the legal trouble, as the LS1 can pass sniffer, pass OBDII checks and MIL status, visual as well as CARB inspection should it come right down to it. For those wanting performance but without the tickets and legal hassle, the LS1 is a great choice.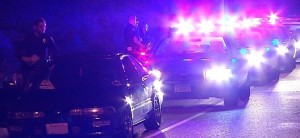 Engine Swap Checklist :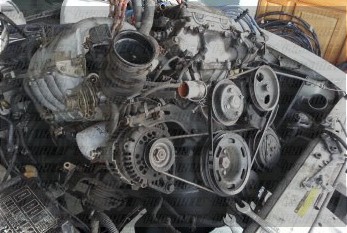 Removing your stock KA24DE isn't an overly difficult job, and if you need some pointers take a look at our handy writeup here.
A. Find a motor : Motorsets can vary in price depending on where you locate them and your end goal from a budget perspective. Many times people opt for the cheaper iron block from a GENIII 4.8L and 5.3L iron block Tahoe or similar truck setup. This LQ9 can be found for around 200-500 dollars. The LQ9 and similar motorsets are very good for boost with it's iron block design, and only add about 100 lbs to the weight of the rotating assembly.
These blocks are the most commonly available motors but you may have clearance issues with accessories, intake and throttle body, in which case a new intake manifold and accessories need to be purchased.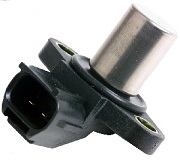 What sensors do I need for my LS1 motorswap?
Of course the easiest way to swap a LS1 into your vehicle is to find a 1998-2002 LS1 from a F body, which will give you just about everything you need outside of the oil pan which must be switched to fit the 240sx subframe. The T56 from this year F-Body will also give you the shifter in the correct location, without having to mess with extensions or customizing the shifter to fit your tunnel and shifter hole.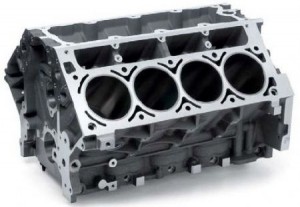 What are some common LS1, LS2, LS3, LQ9 head swaps?
You can opt for the newer style of LS series motors, found in the GTO, although you will need to swap the shifter on the transmission as well as figure out a throttle body / gas pedal configuration as the GTO, like many newer vehicles utilize the ever so popular DBW ( drive By Wire ). This means you will need the factory pedal assembly and to do the wiring required for this engine swap to correctly work.
For a listing of GM motors and motor codes, take a look here :   What do the GM Engine Codes mean?
We prefer the use of the LS1 and LS6 motors, which are a great blend of power and price for what they are. The LS1 and LS6 motors are found in the F-bodys, Corvettes, CTS-Vs, and first year GTOs (without the drive by wire ) are of course ideal for those who like the simplicity of a traditional throttle.
Ultimate Budget Build LS – Showing you what motors and parts you'll need from the junkyard to build your own street monster!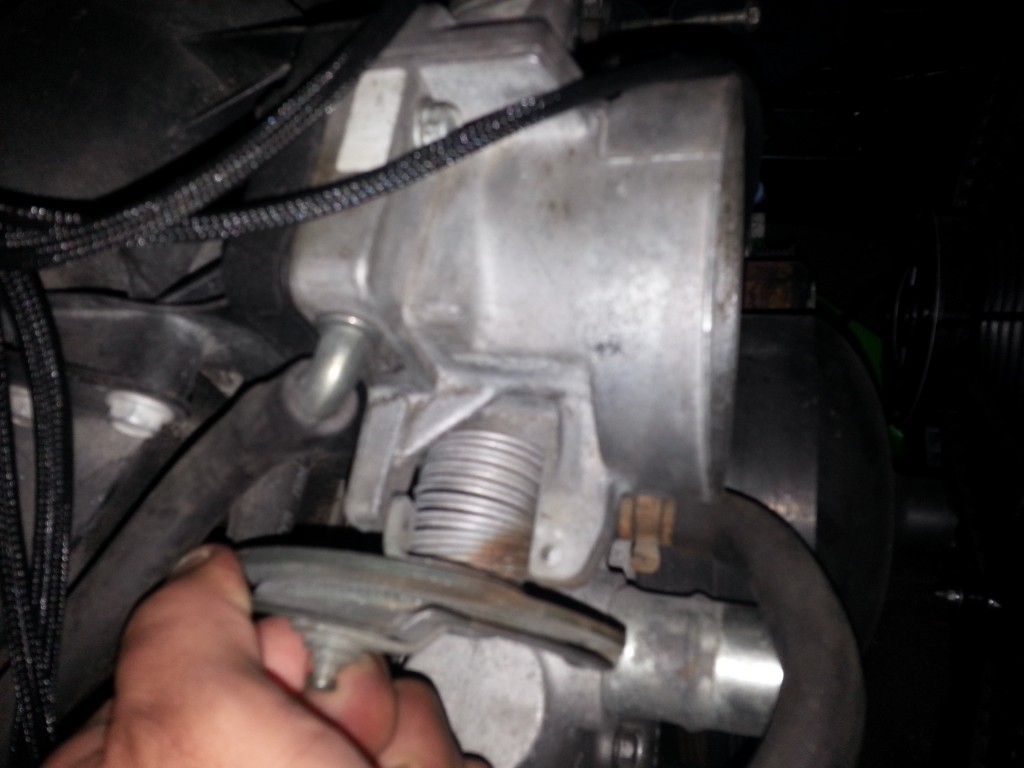 How to Modify your LS1 Bump Stop for 100% Wide Open Throttle
For just a little more you can opt for the 6.0L LS2 motors, found in the later GTOs, Corvettes, SSRs, CTS-Vs and the Trailblazer SS, as well as the L76 which is an all-aluminum 6.0L found in newer trucks, SUVs and the Pontiac G8.
Wiring a LS1 into a Nissan S14 240sx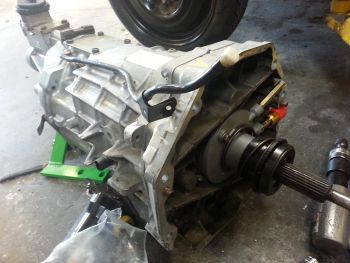 A. Get yourself a remote bleeder – As the LS1 slave cylinder is located inside the bellhousing, you are not going to be having much fun bleeding your clutch. A remote bleeder is a must have for any 240sx enthusiast and can be found relatively cheap.
What to do about the clutch slave cylinder. Have questions about how to install your LS1 slave cylinder? 
B. Find a swap kit : There are many different options for you to choose from, but given the size of the LS1 you aren't going to have as many problems with swap kits as you would with something like the 2JZ or RB25, which are much tighter fitting swaps and might require a nicer kit. We will be reviewing swap kits for you to choose from and will be adding to this writeup at a later time :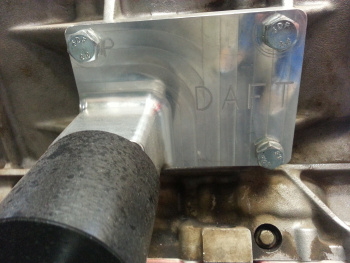 B1 : The Throttle Cable
Depending on the chassis you are swapping into, this problem can be solved by purchasing a Lokar Universal Throttle Cable Kit. Measure the distance from your accelerator pedal end to your throttle body butterfly end, and try to get in the same ballpark. Remember that longer is better here, so you can always cut and shorten your Lokar kit to fit properly.
If you aren't afraid to get a little creative however, you can utiliize the S13 and S14 throttle cable very easily in the LS1 throttle cable bracket.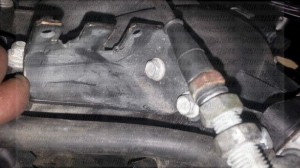 Undo the bolts that hold the LS1 throttle bracket in place, and clean up the area where the throttle cable slides into.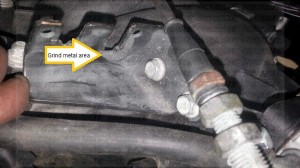 Take the bracket off and grind away at the slot where the throttle cable sits, you need a half inch so that your stock S13 or S14 throttle cable will fit. Now re-install the LS1 bracket upside down and with some minor adjustments your throttle cable should fit just nicely. Make sure you do not widen the slot in the throttle bracket, simply make it longer.
C. Now that you have your mount kit figured out, now is the time to swap your oil pan and dipstick as well as modify your subframe should your mount kit require it. Again depending on which kit you use, you may or may not have to notch your crossmember or subframe to clear the GTO oil pan. And of course if you select a swap kit that offers an aftermarket oil pan, then notching your subframe is not needed.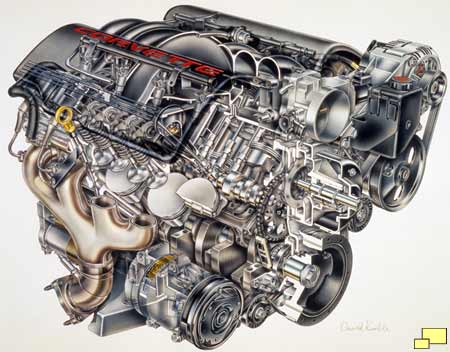 D. Exhaust – We love the C5 Corvette headers as they are good fits in the 240SX engine bay and will still pass smog in strict smog states, but you will need to notch said manifold on the driver side for the ever tricky steering column. Many aftermarket companies now offer header kits for your 240sx swap and provide a good shorty header design from which to extend and fabricate your exhaust, while long tube headers are still more desirable, fitment can be much more tricky given the layout of your chassis.
E. Sway Bar – This will really depend on which oil pan and swap kit you will be using but many of our customers opt for spacers inbetween the sway bar and subframe to help the sway bar clear your GTO pan. We always recommend doing as much homework as possible when it comes to swap kits, oil pans and sway bars, because you don't want the wrong mix-mash of parts that results in something not fitting right.
F. Find a transmission / select your clutch –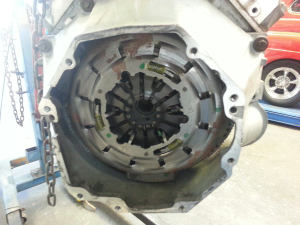 T56 is the most commonly swapped transmission into these LS motors, found in the 1998-2002 F-body or 2004+ GTO and SSR but as mentioned previously, you will want the unit from the 98-02 as it does not require any shifter modification and is beefy enough to handle the punishment you can dole out.
T6060 – This six speed is a stronger version of the Tremec T56, found in newer GM vehicles such as the G8 GXP and Cadillac CTS, these transmissions are very new to the scene but are much stronger than the Viper T56 Tremec with a larger input shaft and stronger slider gears.
CD009 – Another newer transmission found in the Nissan 350 and 370Z's, many people have driven this six speed transmission well into the quadruple digit horsepower ranges, which makes it an excellent canidate for a swap. You will require a transmission adapter plate as well as a custom shifter extension.
Overall the CD009 is one of the cheaper high horsepower alternatives out there,  at around 1700 dollars brand new and the cost of the adapter plate coming in well under the price of a T56.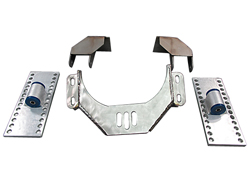 G. Driveshaft and Rear end – The Driveshaft is one of the easier things to manage in this swap by using one of the larger distributors and manufaturers ( Driveshaft Shop ) or some local driveline shop can easily fabricate whatever you need using whatever ujoints and yokes you so desire so long as you have the measurement from the end of the transmission to the flange of your R200.
Speaking of R200, many customers as just how strong is the rear end in the 240SX?
The stock R200 properly welded and maintained can stand up to some serious abuse, and when you are building a LS1 swap to slide around in, it's more the axles you need to worry about. In which case a simple call to Driveshaft Shop or a similar manufacturer will get you whatever axle and horsepower setup you are aiming for.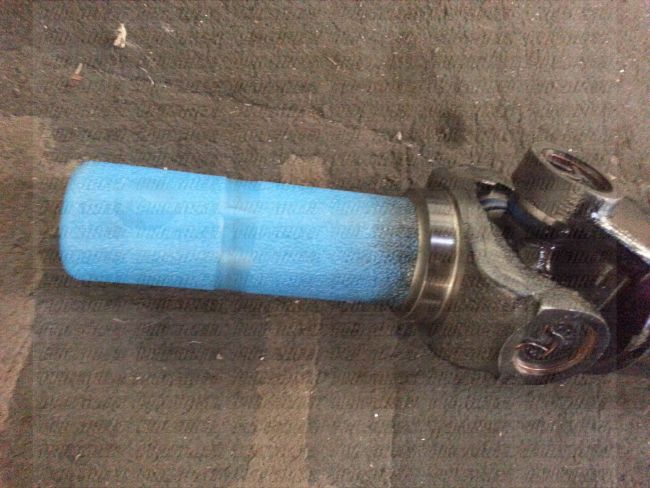 Measurements for the driveshaft in question can vary depending on which mount kit you opt for, if you are using the "standard" mount kit that many of the popular companies sell check out our LS1 DAFT swap guide. Other factors such as ABS or transmission of choice can also change this length, do not blindly follow someone's measurement on the internet.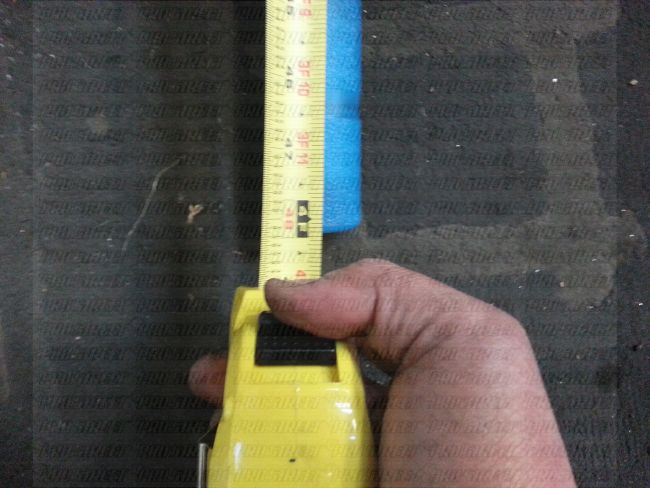 The measurements for our Project S13 driveshaft is 49 inches from the back of our T56 to the flange on our non-ABS rear end.
You may want to consider "cheap" upgrades when having your driveshaft fabricated and balanced, such as a larger Nissan Pathfinder pin for your driveshaft yoke.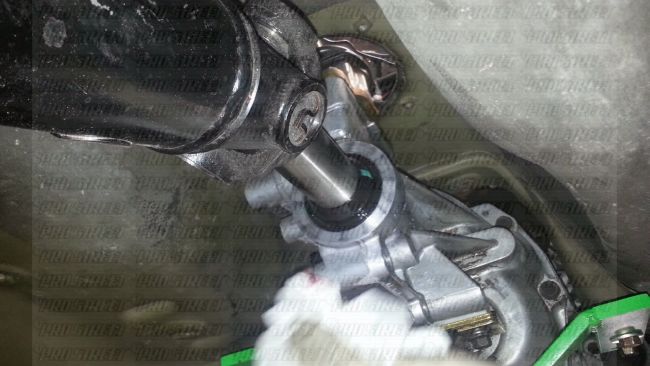 Most 240SX swaps will preclude you from filling the transmission before swapping, unless you have a 2 post lift and are installing the motor and transmission seperately.
Make sure your driveshaft is clear of debris or anything dirty that may contaminate or ruin your transmission yoke seal or your transmission fluid.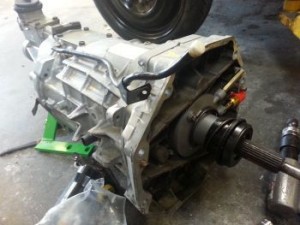 Master Cylinder – LS1 Slave Cylinder
This is one component of your 240SX that should be upgraded without delay once you swap to a LS1 engine set. As the factory master cylinder may not provide sufficient pressure to allow for clutch operation, you will need an upgraded master.
We prefer the Wilwood clutch master cylinder in either 7/8 or 3/4 bore as this will give you enough pedal feedback and pressure to operate your T56.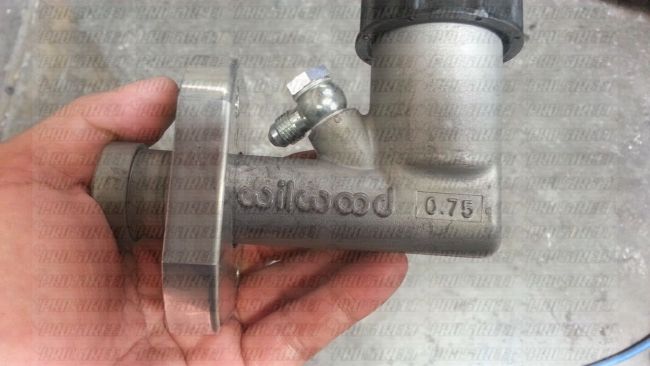 Parts you will need to install this Wilwood master cylinder.
Swap Adapter plate
3/8 banjo bolt with crush washers
3/8 banjo to -3 or -4 AN male
-3 or -4 AN steel braided hydraulic hose
clutch slave fitting with seal and roll pin or LS1 push tab clutch hose.
Using your mount plate, install your master cylinder and secure to the clutch pedal by installing the pedal pin and mount.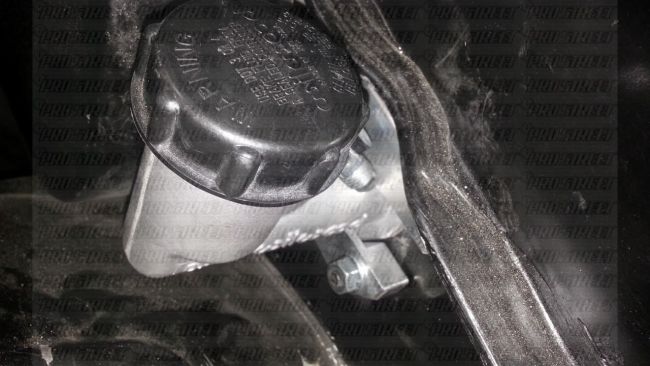 Attach the -3 or -4 AN braided clutch line and run that hose down to your clutch slave cylinder inside your T56. If your line does not come with a GM push lock style end, you may need to take apart your T56 slave for GM adapter fitting installation.
How to Install T56 clutch line
Q : What Exhaust Can I Use on my LS1 Swap?
Stock LS1 exhaust manifolds are constructed with two walls of stainless steel, and feature a incorporated 3 mm insulating air gap between the inner and outer walls that preserves heat. This allows Chevys engineers speed up catalytic burner light off and reduce overall emissions cold start scenarios.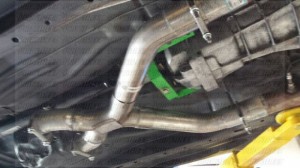 however for aftermarket enthusiasts these stock back restrictive headers are not needed. It's no secret that one of the keys optimizing Ellis will match the right combination of exhaust parts.
Factors like tubing diameter, header style, header length, crosspipes, and the combination of thes mods will allow you to maximize your naturally aspirated power. If you are building your own exhaust, you can choose what style of exhaust mid section you want depending on your budget.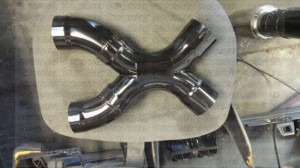 The catback portion of your LS1 swap can remain body specific, no matter what midpipe you use so feel free to select from the many 240SX ones available. The mid pipe however may require a custom welded job using factory exhaust Y pipes to join the headers to your catback.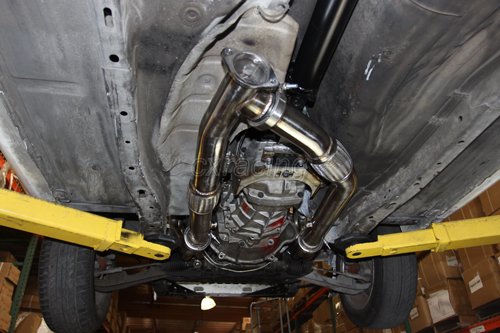 There are quite a few vendors catching onto the 240SX swap craze, but we prefer the stainless steel version from CXRacing which gets the job done without breaking the bank. It doesn't take much to fabricate the rest of the pipe that must reach the catback exhaust of your choice.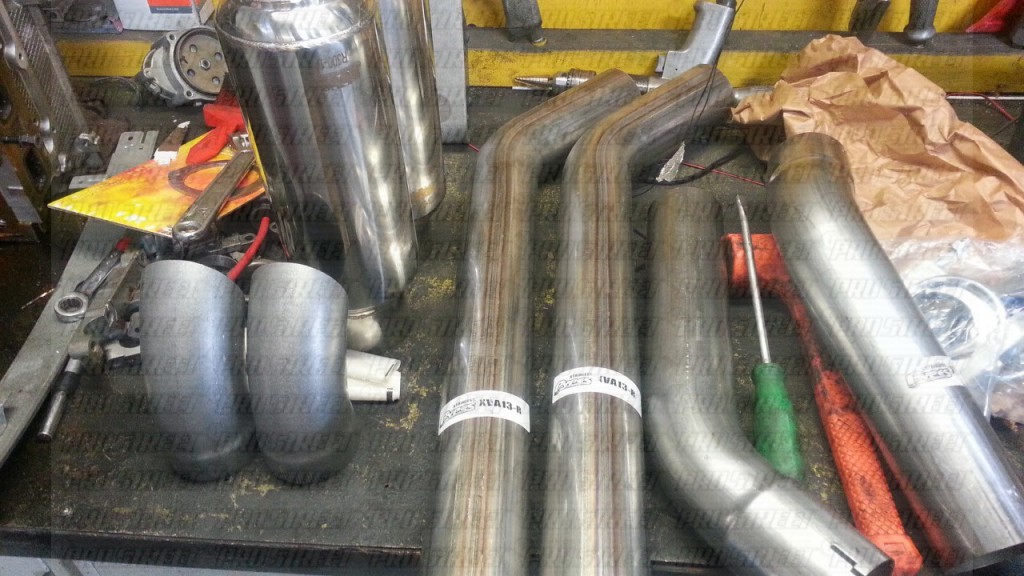 If your 240sx swap is not intended for street use, a simple set of 45's, straights and turndowns can get the job done. Take a look at our LS1 exhaust How To for further information.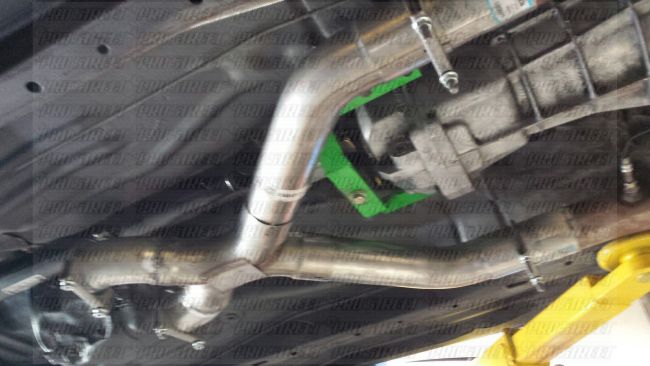 The Dark Side
No we aren't inferring that large displacement motors are the "dark side" by any stretch, but we are talking about carburetors instead of staying EFI. The pros and cons of this style of fuel delivery are long and varied, depending on who you talk to.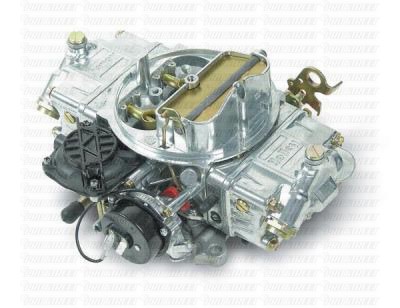 However if your true goal is a track only vehicle or your sanctioning body governs the use of a carburetor, there's a lot of worse ways you can go than going carb.
Because the LS1 ignition is handled by the PCM and eight individual coilpacks, GMPP does provide a distributor adapter kit for the LS series of engines. Their adapter bolts to the block and mounts a stub gear to adapt to the distributor. If you choose to go this route, you can select a small block Ford MSD style HEI distributor that should finish the job nicely.
Keep in mind however that you will require a new water pump and a custom accessory belt to to get it all working like it should. Ideally, you would want to install a MSD ignition box and retain the individual coil packs, while converting to an aftermarket intake manifold and four barrel carb.
LS1 head SPECIFICATIONS
1997-2000 LS1 345hp/350ft lbs of torque.
Chamber
66.67 cc
0.100
0.200
0.300
0.400
0.500
0.550
0.600
Intake
200 cc
67
122
178
215
219
223
227
Exhaust
70 cc
52
97
133
156
170
176
180
Valve Diameter Intake
2.00″
Valve Diameter Exhaust
1.55″
Part Number
12559853 (1997-98)
12559853 (1999-00)
12564241 (2001-03)
2001-2003 LS1 350hp/375ft lbs of torque. Check here for more LS1 specifications.
Creature Comforts in your LS1 Swap
This is a common question we receive more and more frequently here at Pro Street, as customers continue to find newer and nicer cars to swap the LS1 into. The question about creature comforts or more importantly air conditioning is a very frequent one that's posed to us on a regular basis.
If your LS1 is from a 1998-2001 with a cable actuated throttle, you will be okay with the normal LS1 PCM and wiring. However if you are swapping a LS1 or LS2 from a GTO or Corvette with electronic throttle, you will need some sort of air conditioning hack to make this system work in your car.
Because these LS2 and electronic throttle equipped LS engines both use the Powertrain Control Module (PCM) as well as the Body Control Module (BCM), air control may prove difficult. Although you can always eliminate the "automatic" control portion that your engine's BCM is supposed to provide, it may not be ideal.
For example, such features as compressor over rev protection, throttle position disable, and idle compensation in regards to the air conditioning will not work. Switching to a manual system is not hard, but can cause issues because the LS1 feature of air compressor overrev is no longer present.
We recommend the use of a nitrous window switch to properly limit the air compressor operation. Using one to disable at 4800 RPM and reenable at 4400 RPM is what the LS1 expects from the BCM.