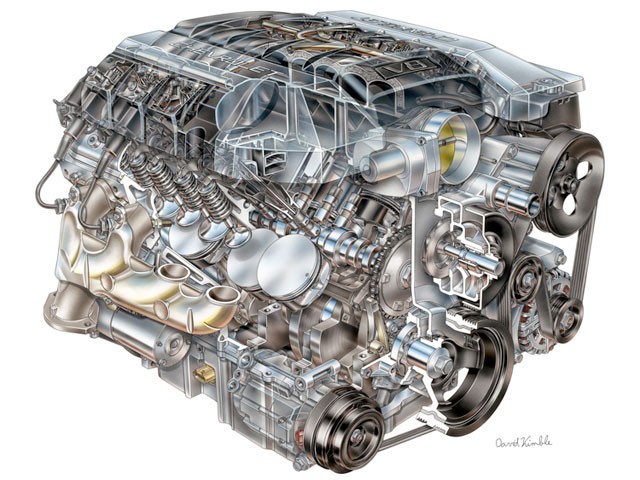 Bursting onto the scene in the 2008 Chevy Corvette, the LS3 has quickly become a fan favorite that won't break the bank. The LS3 has several features and distinctions that put it above the LS1, from the larger bore diameters at 4.065 to the additional casting for support. Higher flowing heads from a L92 help the motor breathe and the 0.551 lift camshaft and upgraded valvetrain pave the way for the upgraded intake manifold and larger injectors. Building on our GEN IV engine specifications articles, from the LS2 and now the LS3 Specifications page, please let us know if you'd like anything added or modified to our list.
This potent combination and upgrades to the cylinder heads in the LS3 as well as the L76 and L92 engines raises the efficiency and power potential dramatically. Larger valves (55mm intake, 40mm exhaust) and hollow valves in the LS3 make 600whp a reasonable goal with a few modifications. Wondering what the terms L76, L92, L99 and LQ9 mean? Take a look at our GM RPO Primer for a full breakdown on how to read GM RPO.
The combination of improvements as well as a growing list of vehicles to pluck the LS3 from, make it one of the better choices for GM small block power. Also found in the Pontiac G8 GXP as well as the 2010 Camaro SS and more, the LS3 combines brute force with GM's cutting edge technology for a evolved small block.
If you are looking for LS2 specifications, or a How to Swap a LS1, Wire a LS1, Service the LS1 TPS, MAP, or cam or crank position sensor, you've come to the right page. For more on our LS3 Specifications guide, continue below.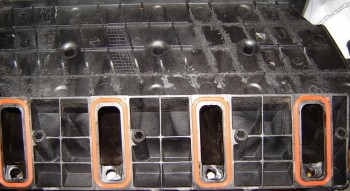 One of the first GEN IV engines to market, the 6.2 liter LS3 share the same 90 degree cylinder angle and 4.400 inch bore centers and is basically the LS2 evolved. The improvements to the shortblock casting  also found it's way into the 6.2L supercharged LSA and LS9 applications, further proving the LS3's superiority. The engine's efficiency also enhances emissions performance, as the LS3 meets the more stringent Bin4 emission standards and avoids the gas guzzler tax on the Corvette and Camaro with clever cylinder ignition control, increased efficiency and gearing.
The LS3 Specifications also feature the newer reluctor wheel design with 58X teeth, a change from the GEN III GM engines of the past. The newer reluctor wheel promises for more accurate and immediate translation of exact crankshaft positioning. This allows the engine control module to adjust ignition timing with greater precision, which optimizes performance and economy. For more information on GM reluctor wheels, check our Reluctor Wheels and You Guide.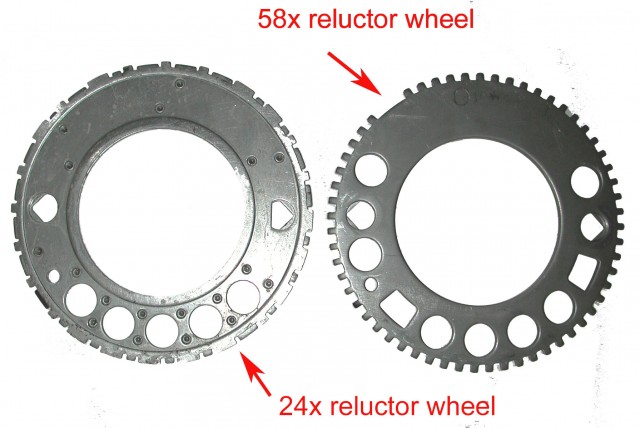 But GM didn't stop there, electing to upgrade the camshaft position sensor to a 4x cam gear pickup. The equally spaced sprocket with four seperate slots help the GEN IV PCM dictate and read the camshaft and crankshaft position sensor more accurately and quickly. The dual 58X/4X measurement ensures extremely accurate timing for the life of the engine. Moreover, it provides an effective back-up system in the event one sensor fails.
2010 CAMARO LS3 Specifications
Specifications 3.6L V-6 DI VVT (LLT) 6.2L V-8 (LS3 / L99)
Application: LS, LT SS
Type: 3.6L V-6 6.2L V-8
Displacement (cu in / cc): 217 / 3564 376 / 6162
Bore / Stroke (in / mm): 3.70 x 3.37 / 94 x 85.6 4.06 x 3.62 / 103.25 x 92
Block material: cast aluminum with cast-in-place iron bore liners cast aluminum with cast-in-place iron bore liners
Cylinder head material: aluminum aluminum
Valvetrain: dual overhead camshafts, four valves per cylinder, continuously variable valve timing valve-in-head. two valves per cylinder. roller lifters. Active Fueld Management (L99)
Ignition system: electronic individual coil-on-plug. individual cylinder knock control and extended-life platinum-tipped park plugs high-energy distributorless ignition. solid state direct-fire ignition with coil near plug and integrated ignition
Fuel delivery: direct high pressure fuel injection returnless, multiport fuel injection
Compression ratio: 11.3:1 10.7:1 (LS3) 10.4:1 (L99)
Horsepower (hp / kW @ rpm): 304 / 224 @ 6400rpm 426 / 315 @ 5900rpm (LS3) 400 / 299 @ 5900rpm (L99)
Torque (lb-ft / Nm @ rpm): 273 / 370 @ 5200rpm 420 / 553 @ 4600rpm (LS3) 410 / 535 @ 4300rpm (L99)
Recommended fuel: regular unleaded premium
Maximum engine speed (rpm): 7000 RPM 6200 RPM (L99) 6600 (LS3)
Fuel economy: Auto: 18 city/29 hwy
Manual: 19 city/29 hwy Auto(L99): 16 city/25 hwy
Manual(LS3): 16 city/24 hwy
Fuel tank (gal / L): 19 / 71.9 19 / 71.9
Engine oil capacity (qt / L): 7.6 / 7.2 8.9 / 8.5
Engine p/n: 19201992 Balance: Internal
Block part number: 12584727
Block type: Cast aluminum with 6-bolt main caps Bore x stroke: 4.06 x 3.62 (103.25 x 92mm)
Valve lift intake/exhaust: 0.551/0.522
Valve size intake/exhaust: 2.16 / 1.59
Camshaft duration (@0.050″): 204 deg intake/211 deg exh
Camshaft p/n: 12603844
Camshaft type: Hydraulic roller
Compression ratio: 10.7:1
Connecting rods p/n: 12617570 (powdered metal)
Crankshaft p/n: 12597569 (nodular iron)
Displacement: 376 cid (6.2L)
Maximum rpm: 6600
Piston p/n: 19165089
Piston type: Hypereutectic aluminum
Recommended fuel: 92 octane
Reluctor wheel: 58-tooth
Rocker arm ratio: 1.7:1
Rocker arm intake p/n: 12569167
Rocker arm exhaust p/n: 10214664
Rocker arm type: Investment cast, roller trunnion
Reluctor wheel: 58X
Firing order: 1–8–7–2–6–5–4- 3 (standard LS firing order)
What about the L99 vs LS3?
LS3 is used in manual version SS models. L99 used in automatic version Camaro SS models.
LS3 produces 426hp/408lb-ft tq compared to L99's 400hp/395lb-ft tq, although the L99 features lower compression.
L99 camshaft is different — having a little less duration and a little less lift, both of which give the engine a smoother idle.
L99 has a cam phaser and, to get the additional piston-to-valve clearance required when cam phasing changes, the pistons are different parts having valve reliefs machined into their tops. The reliefs lower the compression ratio to 10.4:1, making it more friendly to forced induction applications.