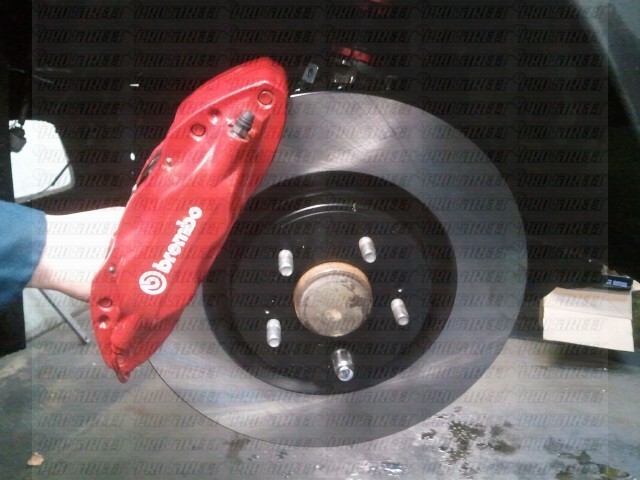 Part 1 of our How To Upgrade 240SX Brakes will be looking at the front brake upgrades that are most common to the Nissan 240SX. In stock form your 240SX has undersized brakes that make braking an area that you must upgrade when adding power.
Whether or not you are swapping a LS1, 2JZGTE or RB25DET into your 240SX, upgrading your brakes is never a bad idea.
To kick off our How To Upgrade 240SX brakes writeup, we'll start with the standard 300ZX brake upgrade. The first of the 240SX "big brake upgrades" using stock components. The Nissan 300ZX turbo (Z32) comes with a variety of brake pads, depending on year and trim.
Let's take a look at the differences between S13, S14 and the 300ZX turbo.
The 300ZX brake calipers up front are an easy and straightforward way to improve your braking power, without the need to break the bank. Your stock 240SX rotors check in at a 9.8″ vented rotor and single piston calipers. With the 300ZX caliper upgrade, you will be stepping up to an 11″ rotor with four total pistons.
If you have already purchased your 300ZX brake calipers, you can simply move onto the next step of our how to upgrade 240SX brakes article. If you are still on the market for said calipers, there's a few versions of it that you should know.
The smallest of the Z32 calipers is the 1990 non-turbo version. This is a 26mm piston with Aluminum calipers allowing for a lightweight alternative. These calipers use a 280mm x 26mm rotor. 
The next step up is the 1990 TT and 1991-1992 300ZX non turbo and turbo caliper. This is also an aluminum unit and measures 30mm. This rotor is a tad bigger with a 280mm x 30mm measurement.
Next is the first of our iron calipers, which is found on 1992-1996 Z32s, regardless of turbo or non turbo designation. This 30mm piston features a 280mm x 30mm rotor to bring things to a halt.
Last on our 300ZX section of the How to upgrade 240SX brakes is the installation portion of our how to. As with all of our writeups and guides, if you are not comfortable working on your own vehicle. stop now and take your car to an experienced ASE certified mechanic.
Jack up your vehicle and secure it safely, and remove the wheel you want to start with in question.
Remove the two 19mm bolts holding your factory caliper to the hub assembly, and hang it on your upper control arm using a metal wire. Do not allow your rubber hose to stretch or bear the weight of your caliper as it hangs. Hang the caliper carefully and double check your rubber brake line is not stretching or ballooning while you work.
Now you can remove your brake discs and set them to the side, which leaves you with the dust guard. Now you can either elect to trim or remove the splash guard on your brakes for the first steps on how to upgrade your 240SX brakes.
Next up on our how to upgrade 240SX brakes article, you must remove the stock caliper that will be upgraded. Using your box wrench carefully undo the 10mm nut on the brake hard line that leads to your stock rubber brake hose.
Take care not to round the nut or line, because you'll be in another set of problems that you must deal with.
You should now be able to take your old stock brake caliper and remove it completely from your vehicle. Make sure to lay down rags or kitty litter to absorb this brake fluid. If you have your floor coated or treated in any way, you will want to clean up as quickly as possible to prevent the brake fluid from eating through your garage coat.
Let's take a second to compare the two rotors, the one on the right which you'll be discarding and the Z32 rotor you'll be installing. It doesn't take a rocket scientist to figure out which will provide a larger contact patch for your brake pad.
Next on our how to upgrade 240SX brakes guide, we'll be sliding on the new rotors and mounting the calipers. Mount your calipers and put back the 19mm bolts that hold it onto your hub assembly.
Make sure the rotor is flush against the hub before you mount your caliper. You may need a caliper separation tool to get it over the rotor, but without hydraulic pressure this should be very easy to do.
Double check that you have the brake calipers orientated the correct way, with the nipple facing upwards.
Depending on your calipers, you may or may not have the plate that many Z32 brake hardlines run to. This plate makes sure the brake line does not spin or rotate out of the grooves or brake caliper tabs.
If you do not have this plate, not to fret as you can convert to a stainless brake line to resolve your problems.
The brake caliper is a 12mmx1.25 fitting and you can convert the brake line on your 240SX using a brake adapter fitting. This fitting comes in many different varieties and through many different manufacturers, we like the Russell 65702, which is a 10mm female -3 AN to banjo straight.
You can then incorporate a Russell 68272 or Aeroquip FCM2945 – -3 male to 10mm x 1.0 inverted flare to go to the front brake.
Then all you will need is a 12mmx1.25 to female stainless AN, or have a custom made line cut that will terminate in a female -3 AN and the 12mmx1.25 male 90 degree.
This concludes our front 300ZX brake section on How to Upgrade 240SX brakes. But we aren't stopping there because our chapter 2 of How to upgrade 240SX brakes covers the Evolution caliper big brake upgrade, a very popular modification for many 240SX owners.
These Brembo calipers are relatively cheap and a great solution for a OEM manufactured big brake kit. No more worrying about chinese knockoff big brake companies that disappear, leaving you high and dry when you need new pads.
This upgrade isn't the biggest or cheapest, but in our mind the Evolution ( and Subaru STI ) calipers work amazingly well for the cost.
To bolt these massive brakes onto your 240SX, you will need an adapter plate. This adapter is sold online through many different vendors and manufacturers. There are also a few versions of the adapter, some that are cheaper and will require you to shave the back end of your Evolution caliper, and others that will just bolt on.
When it's time to compare the two brake setups, there is just no competition. The 240SX brake rotor weighs in on our how to upgrade 240sx brakes article at the same 9.8 inch rotor, these Evo 8's are a massive 12.6.
With a 
320x32mm rotor and these Brembo calipers squeezing your car to an immediate halt, this how to upgrade 240sx brakes article gives you maximum bang for the buck value. Take a look at the differences between our stock rotor and the 320x32mm Evolution 8 one.
Parts we are using for this Evolution 8 upgrade on how to upgrade 240SX brakes:
300zx Master Cylinder
Centric Carbon Brake Rotors for EVO
Evolution X Brake Calipers
Skullworks Evo VIII caliper brackets
x2 Russell part number 65702 – banjo straight to 10mm female -3
x2 Aeroquip FCM2945 – -3 male to 10mm x 1.0 inverted flare
DOT 3 or DOT 4 brake fuild
17mm, 19mm, 14mm socket and open ended wrenches.
10 mm flare wrench
The Evolution X calipers can also work here, with a 13.6 inch rotor the install is much the same as the Evolution 8. However if you are installing Evolution X calipers instead of the standard Evo 8 or Evo 9 units, you will want the newer Evo caliper brackets.
If you happen to have the older design for Evo 8 and 9 calipers, not to fret as it only takes a small bit of modification to make it all work.
The only modification required to the EVO VIII or EVO IX brackets is that the shank that goes into the EVO X caliper is 9/16th, which will require some drilling into the caliper mounting positions.
To be safe, I've taken the brackets to a machine shop who true'd up the holes before boring them out. Once they are all gapped out and fit right, we can move onto the install part of our how to upgrade 240sx brakes article.
We'll be operating from the standpoint that you have already raised your vehicle, secured it and removed the wheels, brakes and caliper. If you have not done so already, scroll back up to check out those steps as we won't bore you with repetitive information.
Once you get around to sliding on the new Evolution 8 rotors, it doesn't take long to quickly realize how much of an upgrade this really is.
Now that your Evolution 8 rotor is flush mounted onto your 240sx, you can now slide on the caliper and bolt on the caliper bracket. If you own an older bracket style, modify your calipers before this step.
Make sure your caliper is fitted with the bleed screw pointing upwards, you will need to connect the brake lines to the caliper using our fitting chart. You can also carefully bend the stock brake line to connect to your Evolution 8 calipers. Make sure you take your time bending and double check for any kinks or leaks.
If you haven't guessed already, your stock 240SX rims will not fit over these monsters. You will need at least a 17 inch rim with plenty of clearance, or simply opt for a 18×8.5 +25 offset upfront like these ADR rims.
This rim is a good budget cast unit from ADR, called MClassics and should run you only 125 dollars or so per rim. This =25 offset gives you just enough clearance, although we recommend running a 10mm spacer up front for just a bit more room.
Reconnect the banjo fitting into your Evo 8 caliper and connect the -3 AN termination to the inverted flare fitting on your vehicle. Make sure to slide the stock C clip back into the brake line to secure it safely.
Then reconnect the stock S14 lines and tighten down using your flare 10mm fitting.
It's a tight fit but this rim gives us exactly what we need to get some serious stopping power. This brings a close to our How To Upgrade 240SX Brakes article, but it's not the end.
Part 2 we cover the
upgrade of your brake master cylinder
, something that's imperative for the proper operation of your Evo 8 or 300ZX brakes. Will your stock master cylinder work? yes but it's not recommended because engagement will feel mushy and the brakes will not stop very well.
The
300ZX master cylinder
comes in a variety of sizes as shown below on our how to upgrade 240SX brakes article. The problem becomes the elusive third brake fitting, normally found in the middle of the 300ZX master cylinder.
If you do not want to deal with this issue, you can simply purchase a Willwood 7/8inch master cylinder.
Chart of Brake Master Cylinders :
46010-30P01 Manufacture date 2/89 – 7/90 (17/16″ NA Tokico)
46010-30P02 Manufacture date 7/89 – 7/90 (17/16″ TT Tokico

)

46010-30P02 Manufacture date 7/90 – 2/91 (17/16″ NA & TT Tokico)
46010-30P10 Manufacture date 2/89 – 7/90 (15/16″ NA Nabco non-ABS)
46010-30P21 Manufacture date 2/89 – 7/90 (17/16″ NA Nabco)
46010-30P22 Manufacture date 7/89 – 7/90 (17/16″ TT Nabco)
46010-30P22 Manufacture date 7/90 – 2/91 (17/16″ NA & TT Nabco)
46010-45P00 Manufacture date 9/91 – 9/93 (1″ NA TT Tokico)
46010-45P00 Manufacture date 2/91 – 9/91 (1″ NA & TT Tokico)

 

46010-45P20

 Manufacture date 

9/91 – 9/93

 (1″ NA & TT Nabco)

46010-45P20 

Manufacture date 

9/93 – Up 

 (1″ NA & TT Nabco)
For more information on master cylinder installation, click here for our How To Upgrade 240SX master cylinder article.
Upon installation of the 17/16th master cylinder, the brake response is phenomenal. The Evo X calipers can handle all the pressure our master can throw at it, and we are luckily running 245s up front, which match our new brakes quite well.
All world braking power now available to you at a fraction of the cost, this concludes our How To Upgrade 240SX Brakes article. Please leave us any comments or questions below. Make sure to check in for Part 2 where we tackle the master cylinder and everything related to it.
Happy drifting!