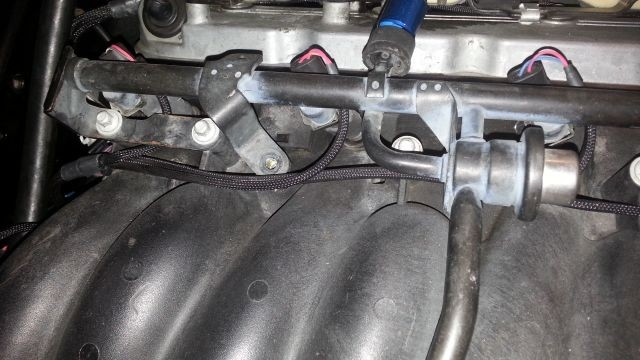 The fuel system in your LS1 swap is one of the more overlooked parts of performance in relation to the GEN III GM motor. But it might very well be the most important factor in your LS1 swap, regardless of chassis. Fuel flow must be matched to the airflow entering your motor at all times to ensure maximum efficiency.
The major components of your LS1 fuel system are the eight injectors, the stainless steel fuel rail and your in-tank fuel pump. Many customers opt for the non-high pressure Walbro fuel pump, or an alternate Lucas or Bosch unit.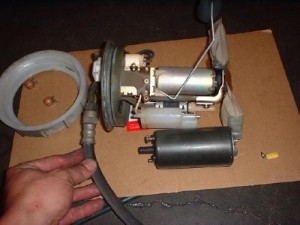 Unfortunately, the more fuel you deliver to the rail the more problems you may be creating. Because the LS1 utilizes a returnless system, you don't have much of a safety window before you start flooding your motor. Luckily adapting the stock LS1 fuel rail to accept an aftermarket fuel pressure regulator is not difficult. Learning How To Install LS1 Fuel Injectors is just the first part in your tuning adventure.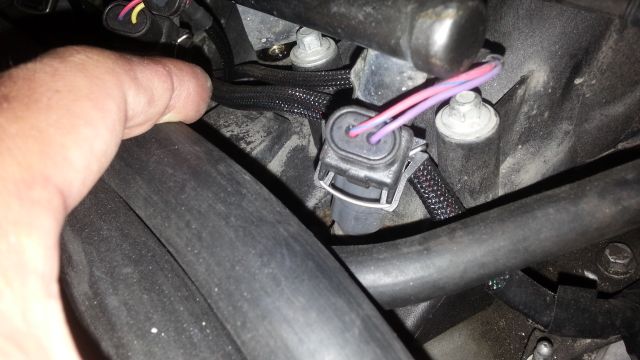 What fuel injectors do I have in my LS1 now?
It's a good question, and not always easy to answer given that GM has installed a lot of different injector sizes throughout the production cycle of the LS engine. These sizes and flow rates vary from 26.4 lbs (264cc) to 29.1 (291cc) at the LS1's static fuel pressure of 58.02 psi.
How much power can I expect from my stock injectors?
We have dynoed and tuned LS1 swaps to the range of 400whp on our Dynojet 448x, and it's right about this range where we start to see injector duty cycles that can be dangerous. Anything more than this horsepower level will require more fuel and larger injectors.
Need help selecting or sizing injectors? Check out our How To Choose Injector size article here: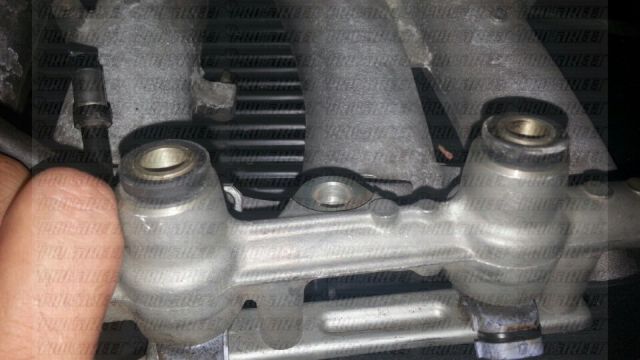 Because the fuel system is returnless, just slapping parts onto your LS1 swap can cause more problems than resolve them. Improperly selected injectors can cause poor idle, sluggish behavior and poor fuel economy.
You are best served by having your LS1 steel rail modified with male -6 AN weld-on fittings to adapt a return system to your LS1. This is the best possible method to proceed, allowing you the ability to dial the fuel pressure in your rail up or down.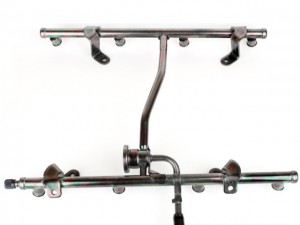 What kind of injectors does my LS1 come with?
1997-1998 LS1 – Part number 1255471 – 24.7 lbs an hour @ 3 bar(43.51psi) / 28.5 lbs an hour @ 4 bar(58.02psi).
1999-2000 LS1 – Part number 1255894 – 22.3 lbs an hour @ 3 bar(43.51psi) / 26.3 lbs an hour @ 4 bar(58.02psi).
What kind of common injectors are most popular with the LS1?
Lucas red stripes – 5208008 – 40.1 lbs an hour @ 3 bar(43.51psi) / 46.4 lbs an hour @ 4 bar(58.02psi).
Lucas green stripes – 5208009 – 42.5 lbs an hour @ 3 bar(43.51psi) / 49.1 lbs an hour @ 4 bar(58.02psi).
When shopping for injectors do not forget that the LS1 operates at 4 bar of fuel pressure or 58.02 psi. Most injectors are rated in the 3 bar level, or 43.51. Be aware and ask the sales rep you are working with to purchase your injector upgrades.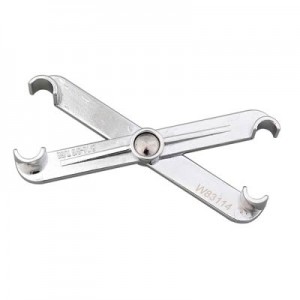 Before you begin our How To Install LS1 Fuel Injectors article, you should always make sure that your battery is disconnected and that the car is in a safe area to work on. Start by disconnecting your fuel rail at the LS1 fuel line quick connect, you can also use the tool to remove. If you are not comfortable with working on your vehicle, take it to an experienced ASE certified mechanic now.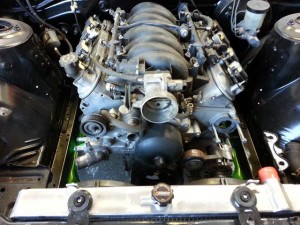 Luckily, if you found this How To Install LS1 Fuel Injectors writeup through our How To articles on swapping the LS1 into a chassis, this install is pretty simple. If you own a F body and found this page, well.. best of luck with the cowl, and hopefully you don't have to do too much to get your rail out.
Start by unplugging your injectors and undoing the fuel connector as shown below.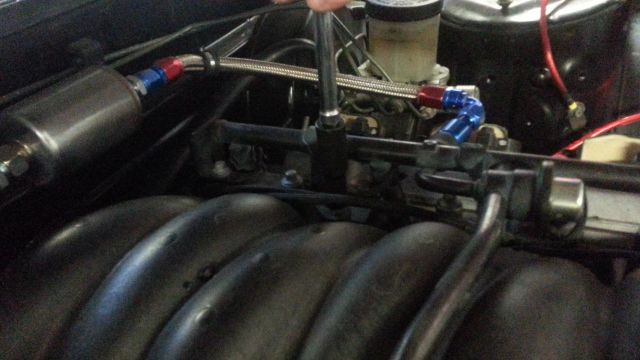 Your fuel rail should leak a bit from the disconnected port, make sure to clean promptly and not to state the obvious but smoking isn't advisable right now.
Removing your sensors is the next part of our how to install LS1 fuel injectors guide, unplug the TPS (throttle position sensor), AIT (air intake temperature) and MAP (manifold absolute pressure) sensor and disconnect your throttle cables or your drive by wire.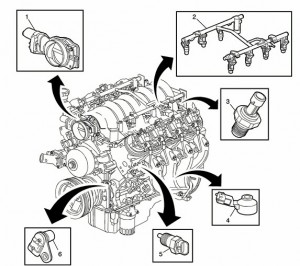 Undo the EGR tube that goes into the front of your intake manifold and push it out of the way. Disconnect your brake booster vacuum hose and push that out of the way as well. Now undo each one of your fuel injectors by unplugging the fuel injector harnesses.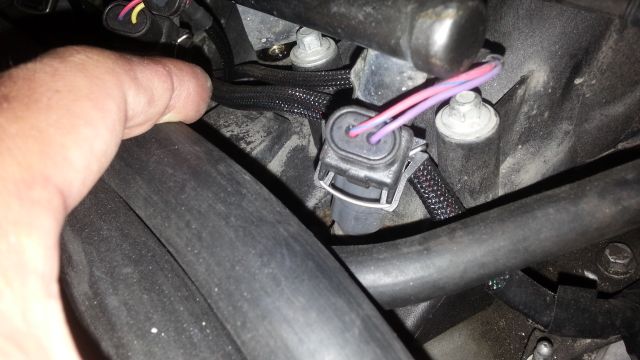 Now you must undo the 12mm bolts that hold the fuel rail to your intake manifold. There are four total, all shown below.
Make sure you have an adapter that can read fuel pressure based on the fuel in your LS1 rail. This is a crucial step in our how to install LS1 fuel injectors writeup.
Depending on the year and make your LS engine was originally found, you may or may not need injector adapter clips to convert the plug to OBDI Bosch style connectors.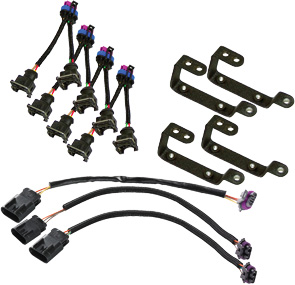 Now you can move onto the removal stage of our how to install LS1 Fuel Injectors and it's time to remove the fuel rail as a whole. Loosen the bolts that secure the rail to the top of the intake manifold, or if you are performing a LS6 intake manifold upgrade this is an easy step as things are already apart.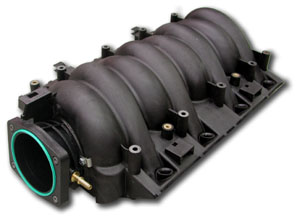 Carefully and gently lift the fuel rail up and out of your engine, by grabbing both ends and pulling gently.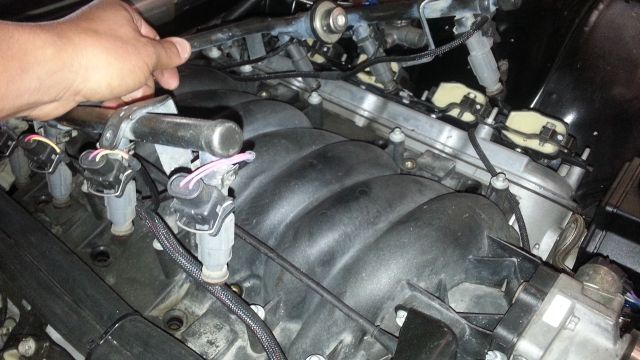 Make sure the injectors and rail all come up without dropping any o-rings or debris into the motor. As soon as you have your rail out, make sure to plug or cover the intake manifold so that nothing falls into your combustion chambers.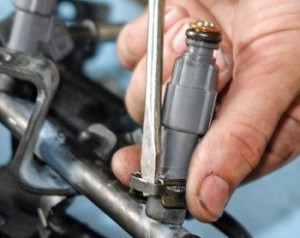 Flip your stock fuel rail over and use a flathead screwdriver to undo the metal clip that holds your fuel injector in place. This clip should come out easily and allow you to gently pull out your injector. Once your stock injectors have been removed, inspect the orings for any damage and transfer them if your new fuel injectors did not come with orings.
When seating the new injectors and your stock fuel rail back in place, try lubricating just the orings with a spray or vaseline. Make sure these oils or fluids do not touch the face or opening of your fuel injector, as you do not want to contaminate or clog them. Whatever it is you are adding is there only to assist with the dry rubber oring sliding back into the intake manifold of your LS engine.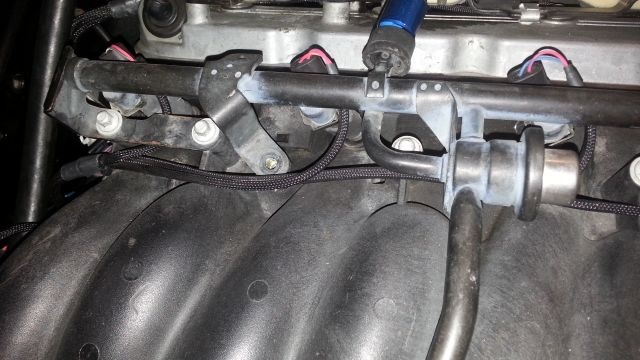 After you have successfully installed all 8 of your injectors, you can reinstall the fuel rail with the lube instructions above. Before starting the car clean up any spilled gasoline or leftover spills on the floor.
Reconnect all your sensors and throttle cable as well as the brake booster vacuum line. Reconnect your battery and turn the key to the "ON" position. Click the car on and off to the "ON" position but do not start. Wait until you fully pressurize the fuel system and inspect it for any leaks before continuing.
Finished with the install if there are no leaks, you have now completed our How To Install LS1 Fuel Injectors article to completion.
Do not forget to check out our other LS1 related articles, some are listed below.
How To Swap a LS1 into a 240SX
Every sensor you need on a LS1
Have any questions or comments about our How To Install LS1 Fuel Injectors guide?
Leave them below and let us know!