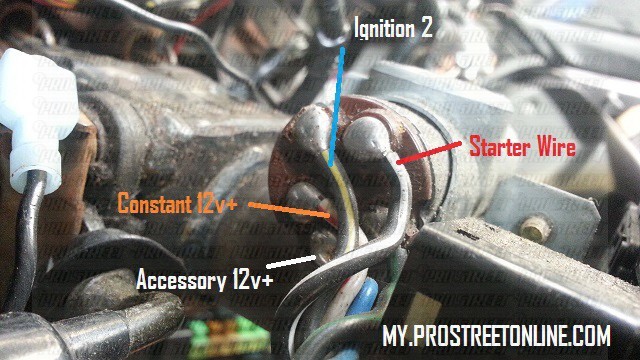 When swapping a motor into a different vehicle, it's only natural you are going to have issues with your stock instrumentation. Different voltage ranges, ohm ranges and resistance values make it difficult for your stock dash and gauges to react to your new motor. No matter what motor or chassis you are swapping them into.
Today we'll be showing you how to install Dakota Digital SGI digital translators to help you bridge the gap and use your stock gauges. Dakota Digital is a company that gives you a great range of solutions, from translators to gauges that help you convert your engine swap of choice.
Our specific example today will be covering the LS1 engine in the 240SX swap guide, and we'll be installing two different kinds of translators. We'll begin our How To Install Dakota Digital Guide with the SGI-8 Tachometer interface unit.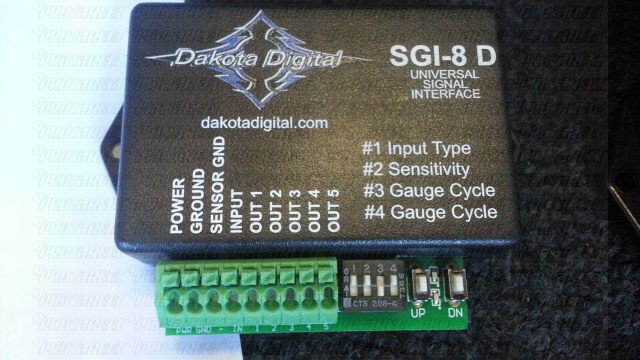 This unit is one of the must buys for any engine swap enthusiast or fan. Capable of translating nearly any tach output, the SGI-8 interface gives you the ability to convert any number of cylinders to a tachometer. Whether you are swapping a VQ35DE or 2JZGTE into a 4 cylinder vehicle, or a LS1 or LS2 into a six cylinder vehicle, the SGI-8 translates it all.
Capable of recalibrating tachometer signals for nearly any engine swap combination, we'll begin with wiring the power and grounds to the vehicle. Since we are installing this unit into a S13, we'll be referencing the ignition switch shown below.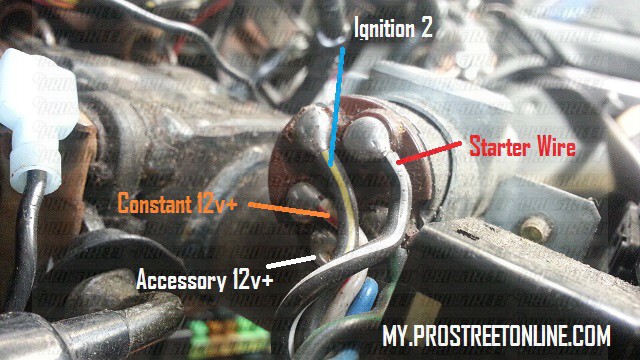 You'll be teeing the switched power to pin 1 on the SGI-8 and terminating it using the push pin connectors on the unit. Next in our how to install Dakota Digital translators guide, you'll be providing a chassis ground to pin 2 on your SGI-8.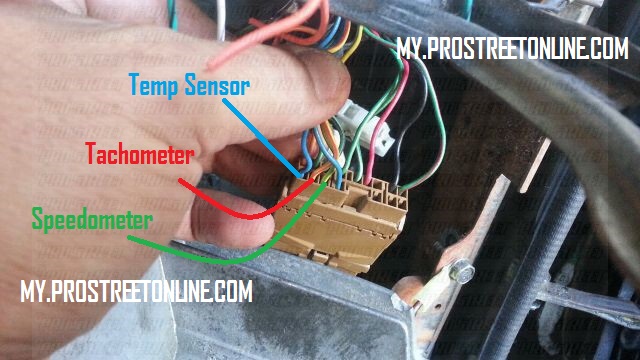 The S13 tachometer input is the yellow wire with red stripe on your brown dash harness. If you own a 1989-1991 Nissan 240SX, your dash plug will be white, but will share the same color for the tach input. Cut the tach input wire on the opposite side of the brown plug, and plug that wire into your SGI-8.
To find your LS1 tach output, reference our LS1 ECU chart here.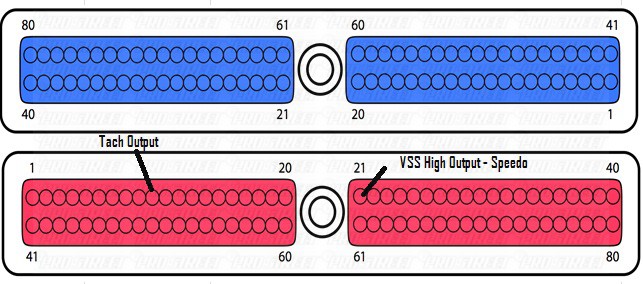 Tee into this wire and run it into your tachometer input slot in your SGI-8 tachometer translator. This is a look at the two wires on a live LS1 ECU harness so you can take a look at what you are doing.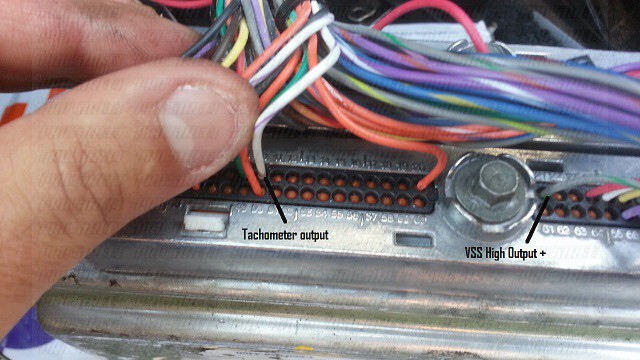 Your SGI-8 should look like this now with four of the five first slots filled, the only thing that's left is to provide the translator with the sensor ground, which can be teed from your chassis ground.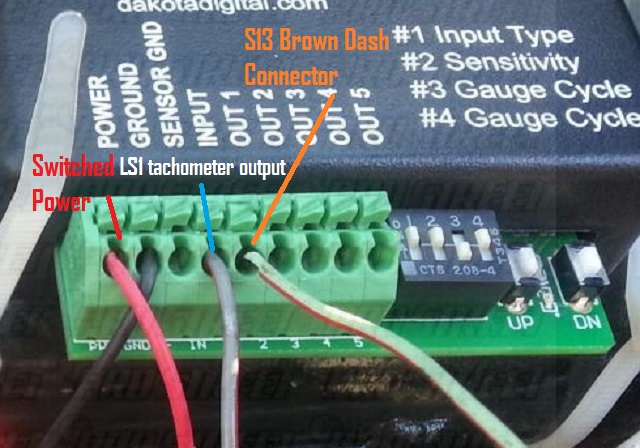 Once you have this unit installed, start your engine and use the up and down dip switches to calibrate your tachometer correctly. Use of a datalogger would be a good idea here to ensure your tachometer is reading correctly. The SGI-8 translator measures 4″ x 3″ x 1″ and is very easy to mount inside your car.
Now we'll be moving onto the second half of our how to install dakota digital translator article, by showing you how to install the SGI-5 Speedometer translator.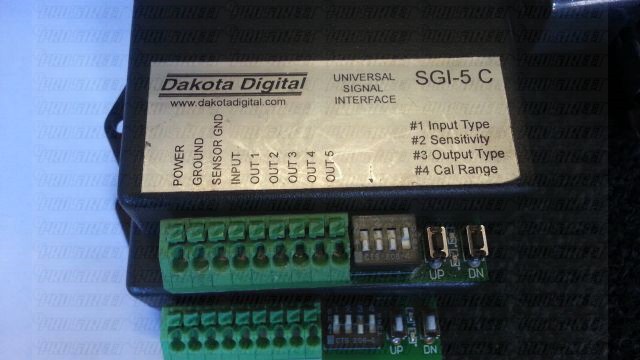 One of the most common jobs needed for any engine swap, the SGI-5 Signal Interface Unit can translate any vehicle speed sensor to match your stock gauges. Capable of recalibrating over 2,000 pulses per mile through 250,000 electronic speedo pulse rates, the SGI-5 does what you need.
Designed for maximum flexibility the SGI-5 can serve as a signal multiplier for those extra special vehicle speed sensors, or a signal divider for older vehicles. This unit can also adjust and calibrate if you change rear end gears or tire sizes, as well as any drivetrain changes that may affect your vehicle speed.
Much like the Tachometer translator, we'll be teeing into the ignition column for switched power on our S13.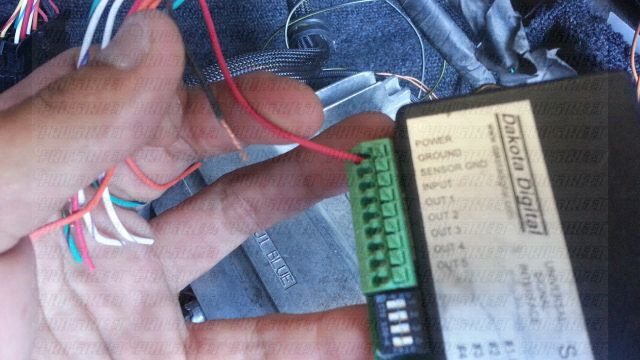 Because our S13 does not have ABS, we'll be teeing into the brown dash harness to translate the signal. If your vehicle has ABS, NEVER tee into the vehicle speed sensor before it reaches your ECU, as to not alter the control algorithms within the system.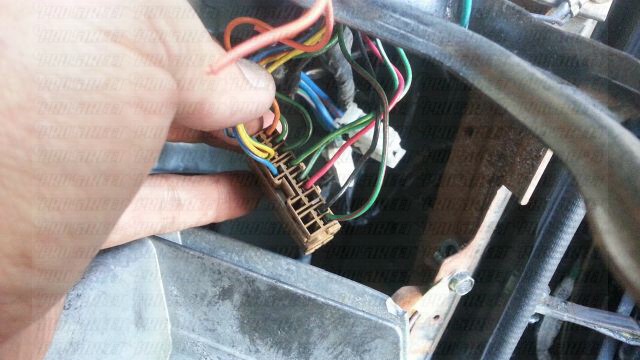 Take the VSS high signal from the RED LS1 ECU Connector and tee into the input pin of your SGI-5 speedometer translator. Connect the green wire with yellow stripe to the SGI-5 output, and use the dip switch combination of UP, DOWN, UP, DOWN for the four dip switches.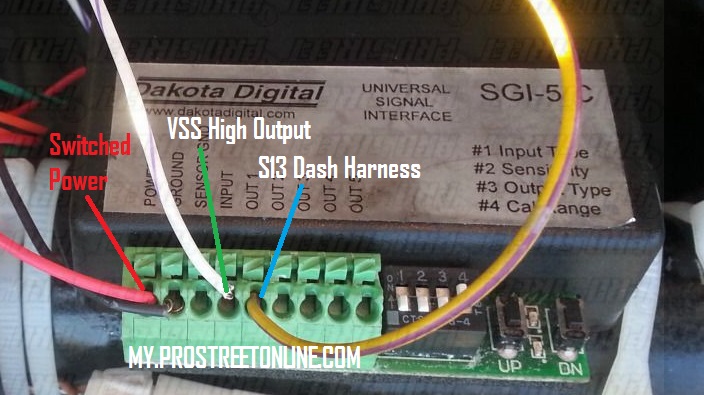 Use the push pin switches to calibrate your vehicle on a chassis dynamometer. Calibrating your vehicle speed on public roads or highways is not a good idea.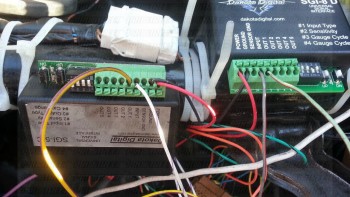 The SGI-5 is a 4″ x 2.5″ x 1″ unit and can be mounted inside your cabin much like the SGI-8. Congratulations you now know how to install Dakota Digital translators in your Nissan 240SX S13 with a LS1 swap. Have any questions or comments? Leave them for us below!