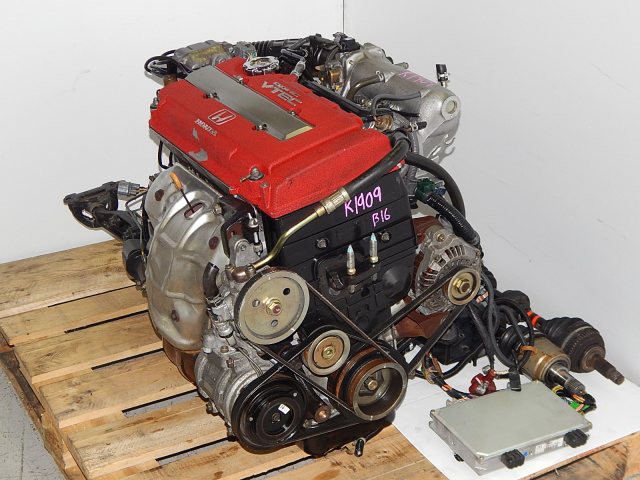 The K series swap is quickly overtaking the DOHC B series as king of all Honda engine transplants. Modifying Hondas is still a very popular choice, although it's certainly less common than it used to be. Apologies to all the SOHC ninjas out there, but if you own a Honda Civic, your choices are rather limited with the stock 1.6 liter Honda VTEC engine.
Displacement is limited and your ultimate horsepower goals in naturally aspirated form aren't going to put you into any winner's circles. Swapping in a DOHC VTEC B series is easy to do and simple when you have the right plan of attack. If you plan out your Honda engine swap, there's no reason why you can't complete it in a weekend.
This is what our K Series Swap Guide is for, to help you plan out your i-VTEC DOHC engine swap int your favorite Honda. If you want K Series swap part numbers, accessories and more check out the K swap tutorial here.
Why a K Series Swap?
This guide is for people who want the power and torque available in a K24 or K20 engine swap in naturally aspirated form. Although turbo Hondas are great, they have their share of problems as well.
Swapping in a B series is still easy to do, but the supply of DOHC VTEC engines is shrinking. Honda hasn't built one since 2001 and the price tag for these B series swap engines are getting to the point where choosing a K series is preferable. Many of the B series engine candidates also have issues, like stripped bolts or damage that need repair because of their age.
Enter the K series iVTEC engine swap, an excellent choice for the new modern Honda engine swap. If you are considering a Honda engine swap, here are just some of the reasons why a K series engine swap is better than a B.
Availability of a K series swap
The new iVTEC K series engine swap is plentiful and like most Honda components are found in many different vehicles. The K series swap is available in the new Accord, Element, CR-V, TSX and RSX. These engines and transmissions have several different variations but the lowest horsepower number you can find is 160. The torque powerband is much wider than any B series and gives you an excellent base for more modifications.
Top 10 Best Honda engine swaps
Honda engine swaps are nothing new to the world of import performance. In fact without many of these popular Honda engine swaps, it's hard to imagine what sport compact tuning and small displacement engine performance would be today.
Whether you drive a Civic, Integra, Del Sol, or CRX, our Top 10 Best Honda engine swaps guide will help you identify what Honda engine swaps are most popular. This helps you plan ahead and avoid making any mistakes with your build, that waste precious time and money.
Of course if you are planning to do a Honda engine swap, or need some guidance on wiring, how to fix your VTEC, your engine swap harness or what Honda engine swap mounts you should use, our master primer article named Honda Swap Combinations shows you what fits what. Our guide to the Top 10 Best Honda engine swaps is ranked by cost, ease of build and of course the bang for your buck factor.
Hopefully this Honda engine swaps list will help you make a choice when it comes to swapping a Honda engine into your car. Do you see an error or a Honda engine swap candidate that we left out? Help us by contributing and making our Top 10 Best Honda engine swaps list more accurate.
If you are looking for more tech tips, How To's or DIY articles on Honda engine swaps or engine swaps in general? Make sure to check our links at the bottom of our Top 10 Best Honda engine swaps for more help with your Honda engine swap.
One of the best possible combinations of cost and horsepower, the G23 engine swap in a Honda Civic is not for everyone. Gone are the easy bolt in and swap guides, because most of this engine build will require some serious planning and engine work. This is a frankenstein of Honda engines, made up of several different Honda engine components.
The use of a SOHC 2.3 liter F23 shortblock with a H22 cylinder head can result in an excellent 2.3 liter VTEC Honda engine. People with the proper knowledge and patience and build an awesome G23 that delivers more power and torque than the K series engine, at a fraction of the cost. When installing an upgraded clutch, it's a good idea to step up your clutch master cylinder like this unit. It's designed to deal with the high pressure nature of your pressure plate in the 2.3 liter engine and allows you to shift faster and more crisply.
Where most K series engine swappers are going over 7,000 dollars in parts and components, the right G23 can be built for well under 2,000 dollars.
Why the G23 VTEC swap in a Civic works -
Torque - And lots of it with the 2.3 liter SOHC F series shortblock, and if you are looking for an all-motor solution the G23 VTEC engine swap is one of the very best.
Cost - Cheap and well under the cost of a K series engine swap or J series engine swap, you won't get a better dollar to horsepower ratio out of any other engine swap on our Top 10 Best Honda engine swaps guide.
Why the G23 VTEC swap in a Civic doesn't work -
Not easy - Again, not rocket science but if you just buy the parts and expect it to slap together, you've got another thought coming. The G23 is a great and flexible build, but again it's not for everyone. If you are not comfortable putting an engine together or checking for clearances, it's best to seek a pro who can help you with your project.
Best chassis for K series swap
Although the 2001+ Honda Civic is easier for any K series engine swap, there are several reasons why you should pick an earlier model. The 1992-1995 Honda Civic is still one of the lightest and the 1996-2000 Civic still uses a double wishbone front suspension. This means the earlier Honda Civic's can handle far better than the 2001+ versions. Both Civics are excellent choices for any K20 engine swap.
Both Civics share the similar engine mount layouts and the hatchbacks typically check in under 2300 lbs. This gives you an excellent power to weight ratio right from the get go.
When you are selecting the chassis it's also a good idea to give some thought to the K series swap mounts. The best mounts on the market are either the HASPORT engine mounts or the K series mounts from AVID Racing. These mounts are modified to fit into your Civic EK or EG and give you the best possible fitment for your engine swap. Although you can swap a K series into a automatic Civic, it's best to pick a chassis with a manual transmission layout.
For the 1996-2000 Honda Civic the weapon of choice would be the CX hatchback. For 1992-1995 Honda Civics the best chassis would be the Honda VX. If you care about emissions or smog however, it's best to go with the 1996-2000 Honda Civic so you don't need a new fuel tank to pass smog.
How to Pick the right K Series Swap
There's so many vehicles to pick your K20 or K24 donor engine from. No matter what engine you are picking, it's a good idea to have an end goal in mind so you don't make a mistake or pick parts that don't work well together.
K20 or K24 engines can be found in any of the new Honda vehicles. Further you can combine the 2.4 liter K24 bottom end with a K20A2 head from a Acura RSX Type S. You can stick with the K24 although there's a few different reasons why you want to avoid them. One of which is the EGR which is an integral part of the 2.4 liter K series and can prevent you from smogging your Honda swap.
If you want to stick with a good 2.4 liter K series candidate, the Honda CR-V is an excellent choice. This K24 doesn't have an EGR in it, and it's possible to find a manual six speed K series transmission to fit the CR-V engine from a Honda Element.
Later K24 engines like the one found in the Acura TSX can be overly difficult to swap. Further the TSX engine uses the Drive By Wire system, which needlessly complicates your K series engine swap. Because the transmission and engine have different ECU's and harness differences, you could potentially be walking into a Honda swap problem. Outside of a handful of exceptions however most of the K series engine harnesses are the same.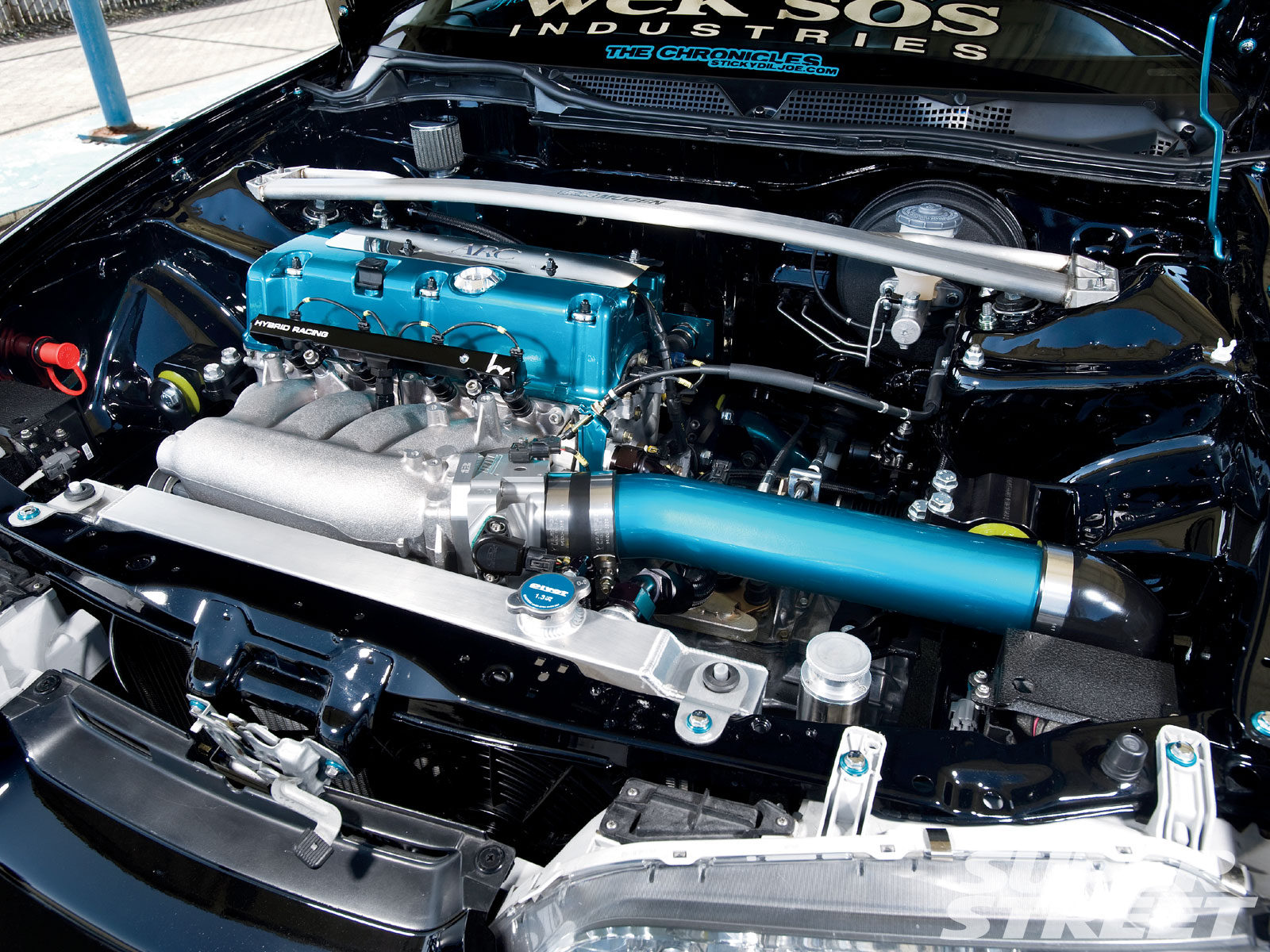 When you are looking for the ultimate drop in K series engine, it has to be the one from the Acura RSX Type-S. This version of the K20 is known as the K20A2 and it's i-VTEC design can offer you the best platform to build your Honda swap on. The RSX K series engine boasts the highest compression you will find on US shores.
Of all the K series swap candidate engines the base RSX is probably the one you want to avoid. If you are having problems locating a Type S engine, try taking a look at the 2.4 liter options in the Accords, CRV's and Elements. Although these will have less horsepower out of the box, you will have a ton of torque to choose from and it can take a Type S or TSX head later.
If cost is not a consideration of course, the JDM K20A is the way to go. You'll have 24 more horsepower than the Type-S and it comes with a LSD to boot.
How to Pick the right K Series Transmission
If you are picking engine and transmission choices from a wrecker you aren't going to have much choice, unless you intend on taking them apart. Some of the obvious choices would be a six speed transmission from the RSX Type-S or the Acura TSX. If top speed gearing is a concern, you are best off with the Type S as the TSX transmission is geared for low RPM operation.
The new Civic SI also has a manual gearbox and is almost an exact copy of the RSX save a few changes. The Civic SI has a lower first gear ratio but the final drive is much higher. The Honda Accord also has a lower final drive transmission, making it an excellent choice for turbo K series engine swaps.
You can swap any of the final drives or gears from a five speed K series transmission as long as the target is also a five speed. The same goes for six speed transmissions but you cannot go from six to five or five to six speed gearboxes.
K Series Swap Checklist
Engine mounts
Wiring harness
Rear facing K series header
Fuel pressure regulator
2002+ Civic Si throttle cable
1990-1997 Accord shifter box or RSX shifter box
1994-2001 GS-R radiator hoses
2002-and-up Civic Si idler pulley – Installs in power steering location
See our comprehensive K series engine swap part number guide and get your K20 project started!
Top Ten Honda Engine Swap Tips
Building a Honda swap isn't quite as popular as it used to be, but it's still an excellent bang for the buck option when planned right. When you build a Honda engine swap, the massive selection of aftermarket parts is the built in competitive edge. Sharing the same chassis can provide multiple benefits including use of factory mounts and parts when getting your Honda engine swap done.
If you need to plan a engine swap, learning what Honda swap parts and mounts you need is vital. When working on your project, make sure to check the top ten Honda engine swap tips for some important pointers to get your Honda back on the road where it belongs.
Do yourself a favor when remove the throttle position sensor (TPS) when you are removing your engine or installing your donor engine. Many times when raising or lowering your engine into or out of your chassis, this sensor can break or become damaged.
This can be especially true for JDM engines that have been shipped halfway around the world, usually by people who could care less what happens to some sensor.
Remove TPS or Throttle Body -
Skip the drama and simply remove your TPS ahead of time. You will need to recalibrate the TPS upon reinstallation, so if you don't have a multimeter handy, remove your throttle body instead. If you are swapping a B series engine into your Honda, take a look at our B series TPS service guide. This guide contains the B series TPS wiring diagram you need to service and calibrate your throttle body.
This sensor can become another cost and repair that you Honda engine swap project didn't need. Don't let this happen to you and remove this sensor before it can become damaged. Of course you can always save time by simply picking up a BlackWorks TPS sensor, or a replacement BLOX TPS sensor to save time in your B series swap.
Have any questions about our K series engine swap guide? Leave us a comment below and let us know!!