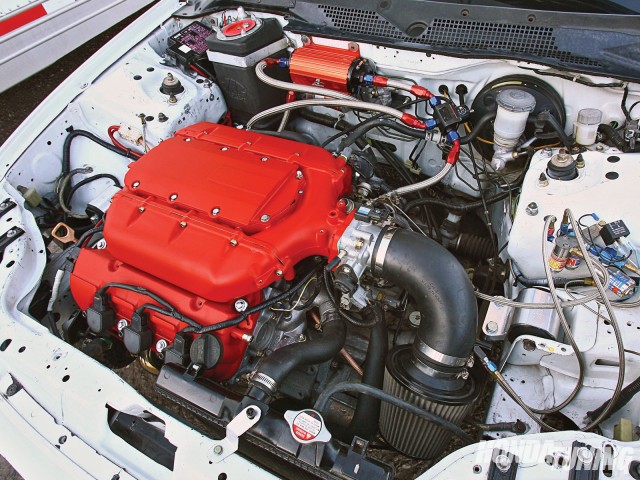 Whether you are an advanced Honda engine swapper, or you are just starting out, there's a lot to learn and know about Honda engine swaps. Most important perhaps is what engine you choose to build and swap into your Civic. With Honda's wonderful interchangeability and simplicity in which you can swap motors and transmissions, it's easier than ever to swap a Honda engine.
That's what our Top 10 Best Honda Engine Swap countdown is for, to help educate and show you what the ten best possible Honda swaps are. This guide takes into account several factors, from budget and cost to ease of install and of course power potential. The biggest part of planning your Honda engine swap is to make sure that you plan your project with high detail. The details will help you plan a course of action and decide what parts you need the first time, so you can swap your Honda engine the right way.

Before you plan anything of course you've got to remove your old Honda engine. Changing your mind on engine build or poor planning will always result in lost time and money. Do yourself a favor and use our Top 10 Best Honda engine swaps
list to help you decide what engine to swap into your Honda.
Top 10 Best Honda engine swaps
Honda engine swaps are nothing new to the world of import performance. In fact without many of these popular Honda engine swaps, it's hard to imagine what sport compact tuning and small displacement engine performance would be today.
Whether you drive a Civic, Integra, Del Sol, or CRX, our Top 10 Best Honda engine swaps guide will help you identify what Honda engine swaps are most popular. This helps you plan ahead and avoid making any mistakes with your build, that waste precious time and money.
Of course if you are planning to do a Honda engine swap, or need some guidance on wiring, how to fix your VTEC, your engine swap harness or what Honda engine swap mounts you should use, our master primer article named Honda Swap Combinations shows you what fits what. Our guide to the Top 10 Best Honda engine swaps is ranked by cost, ease of build and of course the bang for your buck factor.
Hopefully this Honda engine swaps list will help you make a choice when it comes to swapping a Honda engine into your car. Do you see an error or a Honda engine swap candidate that we left out? Help us by contributing and making our Top 10 Best Honda engine swaps list more accurate.
If you are looking for more tech tips, How To's or DIY articles on Honda engine swaps or engine swaps in general? Make sure to check our links at the bottom of our Top 10 Best Honda engine swaps for more help with your Honda engine swap.
One of the best possible combinations of cost and horsepower, the G23 engine swap in a Honda Civic is not for everyone. Gone are the easy bolt in and swap guides, because most of this engine build will require some serious planning and engine work. This is a frankenstein of Honda engines, made up of several different Honda engine components.
The use of a SOHC 2.3 liter F23 shortblock with a H22 cylinder head can result in an excellent 2.3 liter VTEC Honda engine. People with the proper knowledge and patience and build an awesome G23 that delivers more power and torque than the K series engine, at a fraction of the cost. When installing an upgraded clutch, it's a good idea to step up your clutch master cylinder like this unit. It's designed to deal with the high pressure nature of your pressure plate in the 2.3 liter engine and allows you to shift faster and more crisply.
Where most K series engine swappers are going over 7,000 dollars in parts and components, the right G23 can be built for well under 2,000 dollars.
Why the G23 VTEC swap in a Civic works -
Torque - And lots of it with the 2.3 liter SOHC F series shortblock, and if you are looking for an all-motor solution the G23 VTEC engine swap is one of the very best.
Cost - Cheap and well under the cost of a K series engine swap or J series engine swap, you won't get a better dollar to horsepower ratio out of any other engine swap on our Top 10 Best Honda engine swaps guide.
Why the G23 VTEC swap in a Civic doesn't work -
Not easy - Again, not rocket science but if you just buy the parts and expect it to slap together, you've got another thought coming. The G23 is a great and flexible build, but again it's not for everyone. If you are not comfortable putting an engine together or checking for clearances, it's best to seek a pro who can help you with your project.
There are several choices if you want the best Honda engine swap possible. Of course when you are planning a engine swap, you need the best Honda swap mounts money can buy.
Want more articles and informational DIY specifications and How Tos on swapping a Honda engine or how to swap a VTEC Honda, check our guides below.