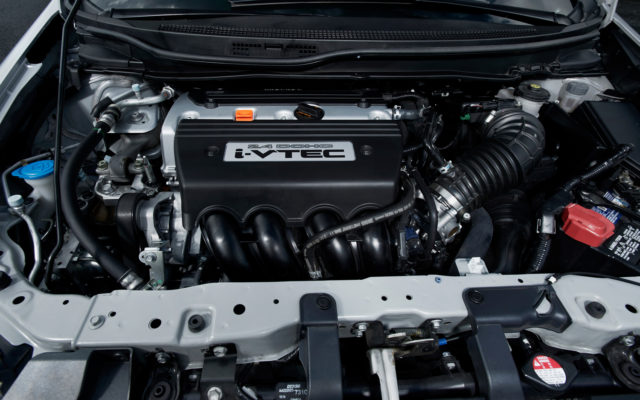 The Honda Civic Si has made it's triumphant return, and powered by a turbocharged VTEC engine for the very first time. After the launch of the Civic Si and Type R, people are definitely talking about the "Earth Dreams" VTEC engine. The fact that the Honda Civic Si engine being turbo is not lost to the aftermarket industry. Even for the naturally aspirated versions, the all new Honda Civic engine comes with a ton of potential. Tuners and Honda fans across the globe are already looking to get the inside track to the Honda Civic Si engine.
There are multiple versions of the Honda Civic engine in production today. However for the new Civic Si, the turbo versions are the hottest picks. Based on the Earth Dreams concept engine, the new VTEC engine comes in a wide range of sizes. For the Honda Civic EX-T and EX-L, the 1.5 liter turbo VTEC will come standard. This 16 valve engine is quite the turbocharged performer for the Civic, but it's the Si that really shines.
The Honda Civic Si engine checks in as the clear favorite to become the hottest platform to hop up for the next decade. This 2.0 liter turbo VTEC powerplant puts down 205 horsepower @ 5700 RPM and delivers a stout 192 lb-ft of torque as early as 2100 RPM. There's no wonder why this turbo VTEC engine has already teased countless of modders. In fact the all new Honda Civic Si engine cranks out 31 hp and 25 lb.-ft. of torque more than the 1.5 liter turbo models.
Inside the Honda Civic Si Engine
Technology Reigns – Not just the first Si sold in the states in over 15 years, but new Civic is arguably the coolest Honda ever sold on US soil. The new Civic Si leans upon technology and turbo power to deliver power. It's a much needed boost after the Civic Si downgrades in engine size. Down from the previous version's 2.4 liter VTEC engine, the new Civic Si engine matches the previous horsepower numbers easily. In fact the turbo VTEC engine sports a much broader rpm range.
Honda Civic Si engine improvements – Functional and lightweight die-cast aluminum block is the foundation of the new turbo VTEC engine. To help support the turbocharged induction of air, Honda opted for cast-in iron cylinder liners. The lightweight crankshaft has been polished for low friction and high efficiency.
Stuffed in each cylinder is a custom crown-shaped piston. Connected to customized rods and featuring modified skirts, that's not all this engine has going for it. Twin oil jets cool the underpins of each piston, giving the Honda Civic Si engine the cooling it needs. Evey piston is ion-plated reducing friction for greater operating efficiency.
With a lowered compression of 10.3:1, the Honda Civic Si engine can reliably operate at a higher maximum boost pressure of 20.3 psi.
What hasn't changed – Other than the turbocharged VTEC Honda Civic Si engine, there's not much else that's different. Honda definitely knows when to leave well enough alone, which is the Civic Si drivetrain. Still standard is the Honda Civic Si 6-speed manual transmission. Designed and engineered to provide maximum driver control and input, Honda's gearbox provides stellar shift action and tactile feedback.
The front wheels are controlled via helical limited-slip front differential, supplying drivers with the grip needed to win the day.
Emissions – Honda's biggest challenge in bringing over a turbo Honda Civic engine was of course emissions. With the power requirements firm in hand, Honda's engineers had to work hard for that ULEV compliance. Good news for us, they managed in style. The Honda Civic Si is EPA Tier3/Bin125 and CARB LEV 3/ULEV125 emissions compliant.
This is a vast improvement over the previous Si, sporting the 2.4-liter K series engine. This works out to +23% – 30% increase in miles per gallon. The new Honda Civic Si is rated at a friendly U.S. EPA fuel-economy rating of 28/38 and 32 combined MPG.
Head Games – With a streak of race readiness, Honda's Civic Si also utilizes sodium-filled exhaust valves. These hollow filled valves are cooled by a customized exhaust-port cooling jacket that helps the sodium cool things down.
The Honda direct injection system uses higher pressures which optimizes fuel atomization.
Honda Civic Si engine specifications
Turbocharged 1.5-liter, DOHC direct-injected inline-4 engine *
Dual Variable Timing Control (VTC)
Low inertia mono scroll turbo with electronic waste gate*
Computer-controlled Direct Injection (DI) with multi-hole fuel injectors*
10.3:1 compression ratio
Lightweight, high rigidity steel crankshaft
Drive-by-Wire throttle system
Maintenance Minder™ system optimizes service intervals
100,000 +/- miles tune-up interval
205 horsepower at 5700 rpm (SAE net)
192 lb-ft. torque at 2100-5000 rpm (SAE net)
Premium Unleaded recommended fuel
Variable Timing – Built on Honda's VTEC system, the VTC or Variable Valve Timing Control controls both bumpsticks. This allows the iVTEC system to control both intake and exhaust independently. This allows the Civic Si to respond to any driving condition and deliver maximum horsepower and torque as the driver needs it. What's more the Honda Civic can reduce valve overlap during spirited driving conditions.
What do you think about the all new Honda Civic Si? Do you think that the Honda Civic Si engine has what it takes to win the battle of sport hatchbacks? Leave us a comment below and let us know!