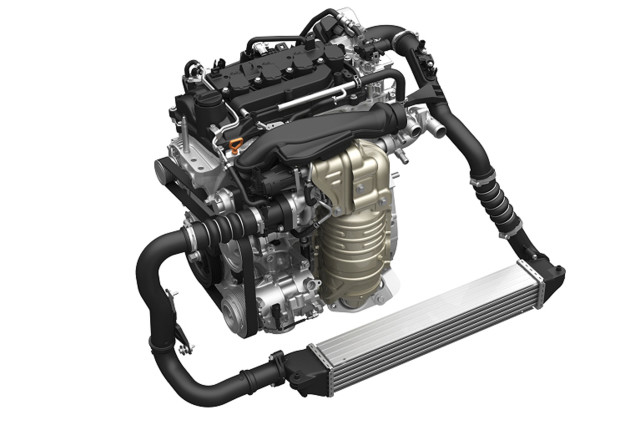 Forced induction with the added benefit of VTEC has been a dream that many have chased in building their high winding, turbocharged fire-breathing street monster. And while many have achieved those dreams through hard work, sweat and tears, many more have chased their new Turbo VTEC dreams to disaster by cutting corners. This can be especially dangerous when it comes to the necessary supporting mods you will need when turbocharging a naturally aspirated motor.
For years enthusiasts wanted the real deal, a new Turbo VTEC powerplant from Honda that would provide them with the thrill and exhilaration but without the expensive and often times troublesome nature of aftermarket modifications.
While there were some grumblings and rumors about a possible turbocharged CR-Z based on the Whipple Supercharged CR-Z, nothing could be confirmed or backed with any substantial information from Honda.
Today however all that changed as Honda Motor Co, Ltd. announced that it has released the newly designed and engineered new Turbo VTEC, a direct injection engine that is sure to find it's way into your favorite Honda platform.
Based on Honda's Earth Dreams Technology, a new Turbo VTEC engine is engineered with performance and fuel economy in mind true to Honda's form. Available in 2.0, 1.5 as well as a 1.0L variation, the VTEC TURBO will be offered with a variety of options and add-ons from intercooling and different boost levels.
With the application of variable valve motion technology such as Honda's unique VTEC along with direct injection turbocharging with highly-fluidized combustion and a thorough reduction in engine friction, this engine achieves class-leading output and environmental performance, while downsizing engine displacement.
Specifications :
2.0 L 4-cylinder direct injection gasoline turbo engine – This high output engine is rated at 280 HP and will meet or surpass the environmental emissions standard EURO 6, which will be enacted in 2014 as the new standard in Europe for emissions.
1.5 L 4-cylinder direct injection gasoline turbo engine – These are smaller engines meant for the smaller compacts, while retaining the legendary VTEC variable valve train system, a small frame turbocharger with low levels of lag and high response, and direct injection technology to achieve good balance between high output and torque as well as fuel economy.
Honda took a significant step in re-establishing themselves as a major player in the sport compact market, a segment they dominated in the early to mid-90s but have moved away from in recent years.
We can't wait to get our hands on it.
Pro Street Online
1-888-776-7022