The fourth generation Honda Accord spanned the years between 1990-1993 and is commonly called the CB chassis. Because this is the first Accord to come with the F series engine that shares so many traits with the DOHC H series engine found in the Honda Prelude, the CB7 H22 swap is very common.
This is a big reason why Honda swappers on a budget love this year range of Honda Accord, and when properly setup can result in a sleeper unlike any around your city.
If you found this page looking for how to make your 1990-1993 Honda Accord faster, this particular Honda swap has a lot to offer for you. Looking for a complete Honda engine swap guide that's not focused on the CB7 chassis or the H22 VTEC engine? Try here for our comprehensive and complete guide on Honda engine swaps and don't forget Part 2 where we focus on the H series.
This checklist will help you complete your Honda swap if you own this generation of Accord and want the DOHC flexibility of the H22 VTEC. Further, the new H2B drivetrain modifications have brought about a revival of the H22 in many ways that are now becoming more and more common.
Before you use this CB7 H22 swap guide, make sure you know how to identify your H22 engine. Because there's several versions and places to buy your donor engine from, you must know exactly what version you have. Knowing how to identify and evaluate the H22 engine you are looking to swap in can help you avoid buying the wrong H22 engine.
CB7 H22 Swap Engine Checklist
---
When you are looking for your donor engine, make sure to stick to a OBDI to keep the headaches to a minimum. You can of course opt for a OBDII H22 engine if you really need to, but you'll need changes to the distributor as well as the alternator for it to plug into your Accord.
H22 longblock
Ignition distributor
H22A Intake manifold
exhaust manifold and B pipe
P13 OBDI ECU
Factory fuel injectors
Fuel rail
Engine wiring harness
Because your motor mounts are the same or similar between the H series and the SOHC F series in your CB7, focus on building the accessories and maintaining the engine before install.
Smogging your Honda Swap
---
If you own a swapped CB and live in California, things can get a bit sticky when it comes to smog or emissions. Planning your H series swap properly by making sure to pick an engine from a newer year than the car, and all the emissions equipment will go a long way to legalizing your Honda Swap.
For more details on smogging your Honda swap, check here for our guide on 50 state legality. Check out a customer's build below where we swap a H23 into a CB7 for under 2000 dollars and it's completely smog legal.
Tune Up
---
Before installing your H series engine into your Honda Accord, it's best to perform a tune up on the engine before install. After all changing the timing belt and especially the balance shaft belt is much more difficult in the car.
Here's a short list of the parts you'll need for this swap – We are using a 1996 Honda Prelude H22A in this example.
Timing Belt – This Prelude part number for this unit is 14400-P13-004 or 14400-P13-014 depending on the year of your H series. For the 1996 H22 VTEC engine, this is a 155 tooth belt and does not feature any timing marks on it.
Balance Shaft Belt – Probably the biggest bummer about the H series, you should remove the balance shaft belt assembly if this engine is designed for racing. It's one less point of failure for your H series, and there's not much vibration or harshness that's saved by retaining the balance shafts.

The 70 tooth balance shaft belt found in the 96 Honda Prelude H22A has a few part numbers, depending on several options.

13405-PAA-A01
13405-PAA-A02
13405-PAA-A03
13405-PT0-004

Water Pump – Many engine swappers skip this step but that could lead to disastrous results. Instead swap this unit now to ensure that your water pump and timing components are in tip top shape. The part numbers for this Prelude water pump are 19200-P13-000 or 19200-P13-003.
Thermostat – Ditch the old JDM or used part to make sure that coolant is flowing into your radiator and doing it's job. There's also a few part numbers for the thermostat on your H series engine, they are 19301-P13-000, 19301-P13-305, 19301-P13-306, 19301-P8C-A10 or 19301-PR7-305.
Don't forget the usual stuff, like a new oil filter, spark plugs and fluids. If you are keeping your balance shafts, make sure to service the donor H22 engine with a front balance Shaft Oil Seal Retainer Kit. Depending on the engine you've selected, you may need the manual tensioner from a H23 engine.
Wiring the VTEC
---
If you need to add VTEC to your existing wiring harness, this is easier than you may think. There's two components that will need to be wired in order to add VTEC to a Accord. One sensor is the VTEC oil pressure sensor, and the other component is known as the VTEC solenoid.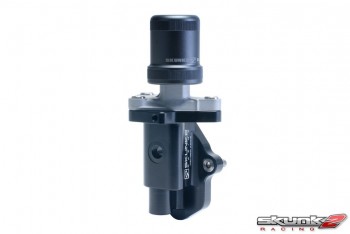 Check here for our guide on how to wire up VTEC to your existing P13 ECU, and always check your other engine sensors if your VTEC isn't kicking in. The Manifold Absolute Pressure sensor (MAP), throttle position sensor (TPS) and your knock sensor (KS) can be some of the leading causes of VTEC not working.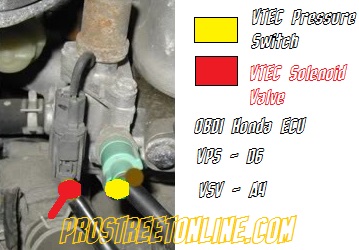 Parts you need to keep from your SOHC Accord Engine
---
There's several things you will need to do in order to complete the CB7 H22 swap into your Accord. One of them is keeping some of the old parts from your engine and chassis in order to swap over to the new DOHC H series engine.
Front water pipe and sensor – Because this pipe properly routes the upper radiator hose outlet in position, it's best to keep the complete pipe. You can in a pinch cut and reweld the H series DOHC water pipe, but keeping your old unit is way easier.
Fuel Rail – Locate this from a USDM 1992-1996 Honda Prelude or reuse your old Honda Accord CB7 rail. If you have a JDM engine, your fuel rail inlet will be located on the wrong side.
Air conditioning compressor and pump with bracket – If you are intent on keeping those creature comforts.
 92-95 DOHC Prelude Power Steering Line – This is the high pressure side that must be swapped in if you are swapping to a Prelude power steering pump. Most people simply grind away extra material from the F22 pump and bracket in order to bolt onto the H series engine. However it may hit your hood depending on how you've mounted it, so it's best to make the jump to the Prelude pump.
Important Honda Accord and Honda Prelude Interchangeable Parts include the following ;
-The Honda Prelude H22 & H23 Si distributors are the same.
-Your alternator and mounting bracket is the same between the 1990-1995+ Accord as well as the 1992-2001 Prelude
-Honda Accord and Prelude Power Steering Pulleys
-Honda Accord and Prelude Harmonic Balancers otherwise known as the crankshaft pulley.
-OBDI H22/H23 Power steering lines, pump, tensioner and mount bolts
-H23/H22 upper intake manifold plenum and throttle bodies
Have any questions about our How To CB7 H22 swap your Accord guide? Leave them for us below and let us know!