One of the best and oldest import manufacturers in the game, Skunk2 continues to roll out impressive products and how-to install videos that continue to keep them at the top of the industry. They've made it easy for you to install, support and enjoy their products and performance parts with their dedicated YouTube install channels.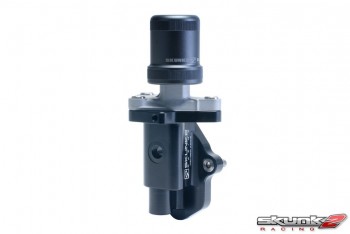 Kicking off the workweek is this install video for the DIY-er with a How To Install your Skunk2 VTEC solenoid video. Each one of these billet units comes with all the flush mounted hardware and bolts you need. A great styling touch to any VTEC engine bay, you can install these solenoid caps that help orchestrate your valvetrain events.
These 6061-T6 billet aluminum anodized VTEC solenoids take your engine to the next level, giving you a nice feel to your engine bay. Hardened anodized coloration and smooth finish ensures proper installation and operation of your VTEC cam lobes. Skunk 2 has a patent pending for this unique styling piece, US 29/381,739.
The Skunk 2 VTEC Solenoid part number is 639-05-0105, and can be found here.
Need some answers for your B series VTEC engine? Looking for more how-tos and articles on the Honda VTEC engine? Let us know below or check out the links at the bottom for more information as well as details on the Skunk2 VTEC Solenoid