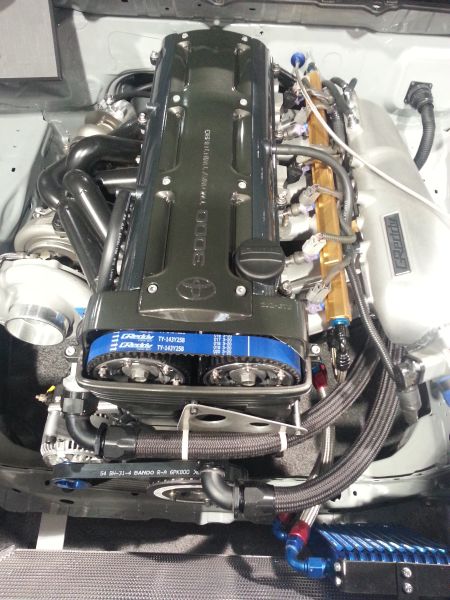 The robust 2JZGTE has been a import industry powerhouse engine platform since 1994 and with the increasing number of JDM swaps available, it's becoming easier and cheaper to swap this powerful USDM turbocharged inline 6 into the chassis of your choice.
Easier and even more cheaper than a LS1 at at least along the same ball park price of the RB, the 2JZGTE is one of the best motors you can swap into your 240SX. This article is here to teach you How to Wire a 2JZGTE in a S14.
Q: What are the differences between the USDM and JDM 2JZGTE?
– Camshafts – USDM is a slightly better cam profile
– Larger injectors (550 cc/min slow impedance, requires resistor pack for USDM model vs 440 cc/min high impedance for JDM models )
– The USDM 2JZ has a EGR and the JDM version does not.
– The USDM 2JZ runs off Air Fuel ( 02 sensors ) Mass Air Flow (MAF) + Manifold Absolute Pressure (MAP), where as the JDM one is MAP only.
Today we'll be looking at the wiring aspect of this engine swap and showing you how to wire up your 2JZGTE to operate in a 1996 Nissan 240SX.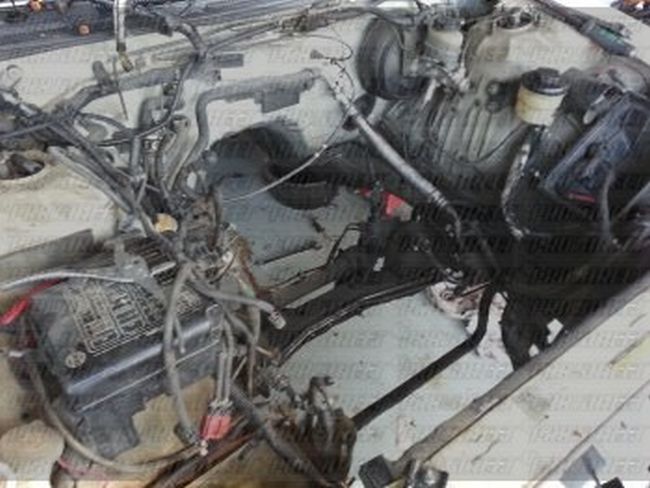 The 2JZ remains a very potent swap for any enthusiast and it's becoming cheaper and cheaper every day, as the motor is still in production by Toyota parts are easy to obtain and relatively cheaper than JDM only parts of the RB or SR variety.
Make sure to check out our 2JZGTE Engine Swap Sensor Checklist and don't forget our How To Wire a 2JZGTE into a S13 240SX article either.
Our How to Wire a 2JZGTE in a S14 writeup today will be looking at a JDM Aristo ECU for the simplicity of the Manifold Absolute Pressure (MAP) sensor and the ease of which the wiring can be completed, given that the JDM Aristo engines operate only on a MAP signal. If you own a USDM ecu or swap, the only difference would be the wiring of the Mass Air Flow Sensor ( MAF ) which can be added at any time and will not change or effect the other wiring that you will complete in this writeup.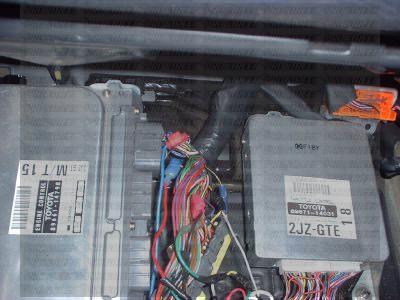 We will not be touching on a few sensors for this wiring job, namely the secondary 02 sensors and automatic transmission harness from our Aristo JDM swap. Because this vehicle is not meant for use on public highways or streets, we will not be retaining usage of the secondary 02 sensors or the smog equipment on our motorset.
Don't forget to check out our How to Swap a 2JZ into your S14 guide as well as the S13 2JZ Wiring Instructions.
How To Wire directly to the 2JZGTE ECU – Beginning with the E9 Plug.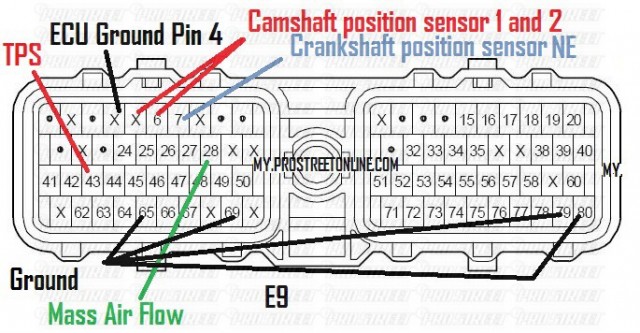 The E10 2JZGTE ECU Plug is next :

For a complete 2JZGTE ECU Pinout by connector and broken out per wire, check our How To Wire your 2JZ Swap article here.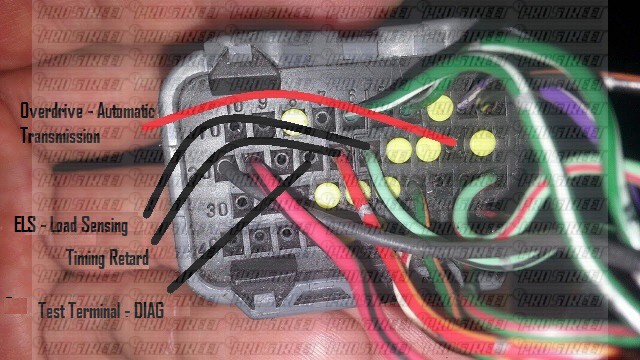 Q: What Sensors Will I need to complete this engine swap?
A: Check out our handy 2JZ Sensor Guide here.
Parts you will need to complete this job:
Digital Volt Meter
E10 Plug from GS300, SC300
automotive grade 12 gauge wire for power
4 standard automotive relays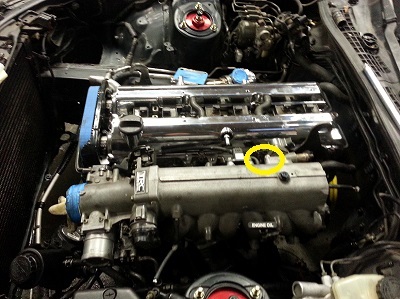 In relation to the E10 connector plug, you will only be connecting the following for now :
E10 – Pin 1 – Switched power
E10 – Pin 6 – Check Engine Light
E10 – Pin 24 – EFI Sensor power – to Relay
E10 – Pin 31 and 32 – Main ECU Power – to Relay
E10 – Pin 33 – Constant power – ECU Memory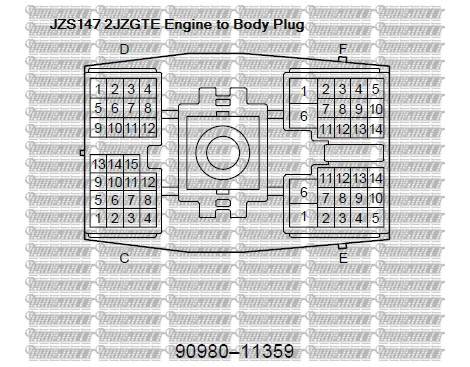 Here is the 2JZGTE Engine to Body Harness plug we will be teeing many different wires from, you will need this to be in semi complete shape as you will have to take and add wiring accordingly. If you were wondering what the Toyota part number for this gigantic plug is its 90980-11359. You can elect to wire this directly from the ECU plugs, but will be adding a lot more work that you don't need to be doing if you do so choose that route.
Here's the wiring that must be completed on this plug
E3 – – Cut and connect to Pin 24 on E10 for idle voltage on EFI sensors
F6 — Ignitor power – Switched to 12v via Relay
F11 – Chassis Ground
F12 – Tach output – must be wired into a Dakota Digital Translator box if you are using Stock gauges.
Now you can move onward to the E9 plug, we'll be using our SAFC writeup diagram for this purpose, please ignore the SAFC directions on the image.

In relation to the E9 plug, you will only be connecting the following for now :
E9 – Pin 4 – Chassis Ground
Pin 28 – For USDM ECUs only
Pin 66 – MAF – For USDM ECU's only
Pin 65, 69, 79 and 80 – Chassis Ground
You must now connect your starter wires by extending them to the other side of the vehicle where it will connect to your starter and ground straps. After connecting your F4 body plug so that your gauges and dash will work, you are ready to start the vehicle!

Let's take a look at the F4 body plug found on your 1995-1997 S14 Nissan 240SX, and there are 3 sections to this body harness, which will will review.
You will see the 2 ground wires to the left on this diagram for the ground wires leading to your 2JZ sensors. The next wire is the green and orange neutral position switch, depending on what transmission you are swapping into your S14, if you are retaining the automatic Aristo transmission you will need these wires to get your car moving.
The E10 sensor power wire can be routed to the brown wire found next to the MIL (Check Engine Light – CEL)  wire that is orange with a silver stripe only if you are retaining Nissan relays
Next we flip the F4 harness over to find the top of the F4 plug, which we will need just a few wires to tap from.

The first wire we'll be tapping into the is the larger gauge black wire with a red stripe, this wire powers the injectors and must be teed into your 2JZ ignitor pin as long as you are retaining the S14 relays.
You will need to take this time to wire up the digital translator ( Dakota Digital or something similar ) for the tachometer and vehicle speed sensor wires that must lead to the dash.
You now know how to How to Wire a 2JZGTE in a S14 and ready to get swapping!
Happy swapping!
Pro Street Staff

www.prostreetonline.com

1-888-776-7022