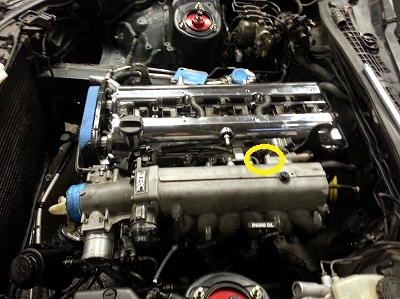 Knowing how to wire your 2JZGTE engine swap into your S13 240SX is easier than many may think. This is especially true if you are swapping in a JDM Aristo 2JZ engine, because of it's MAP driven EFI system. Without the additional burden of wiring in your MAF or additional temp wires, our How to wire a S13 2JZ swap guide makes it easy.
Parts you will need to complete this job:
Digital Volt Meter
E10 Plug from GS300, SC300
automotive grade 12 gauge wire for power
4 standard automotive relays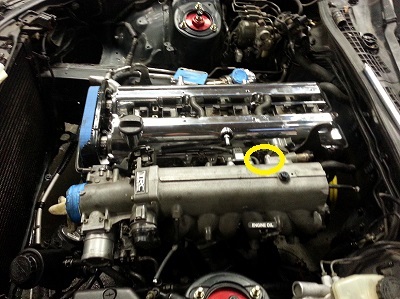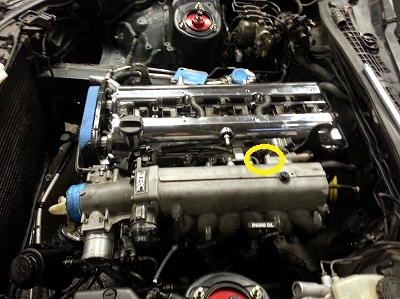 In relation to the E10 connector plug, you will only be connecting the following for now :
The F1 Dash Plug
We'll be starting with the S13 F1 dash harness to start with first. There are differences in the F1 S13 plug from the year ranges of 1989-1990, this F1 dash harness is white. Our test vehicle is a 1993, which will be using the brown F1 S13 plug.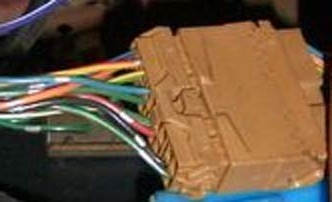 This brown ( or white ) dash F1 plug is our first plug on our How To Wire a S13 2JZ swap article. We'll be connecting just a few wires from our engine swap to this brown plug. This F1 plug is located under the glovebox, near your stock KA24DE ECU mount location.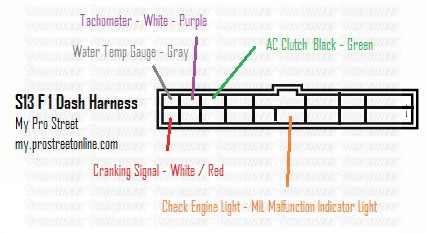 Here is the layout of the Nissan 240SX S13 F1 Dash Harness, you'll see the handful of wires you'll need to connect from your 2JZGTE engine swap. Knowing how to wire a S13 2JZ Swap starts here at this brown or white plug.
The wires you will be connecting to this plug are :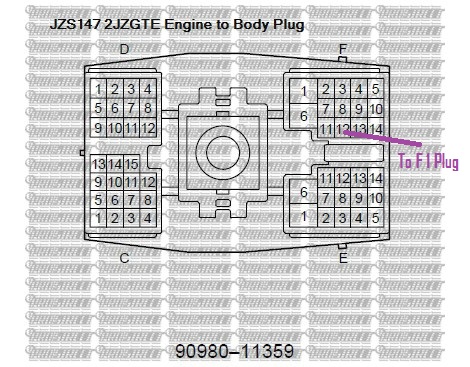 This main body plug is the large chunk of wiring on your 2JZGTE harness, and you will be taking the F12 wire and connecting it to the purple white tach wire on your F1 S13 dash harness. From this body harness plug, you will also be connecting the following wires :
E3 – – Cut and connect to Pin 24 on E10 for idle voltage on EFI sensors
F6 — Igniter power – Switched to 12v via Relay
F11 – Chassis Ground
Your Ignitor power wire, the F6 pin must be wired to a switched 12v via your Nissan 240SX relays. The rest of the power and grounds can be sourced from one of two locations.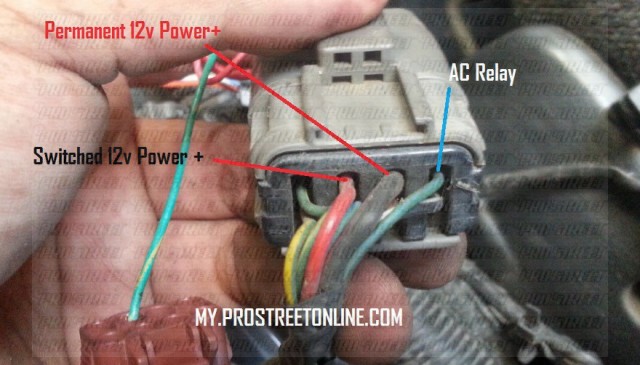 The main body plug for your S13 Nissan 240SX is shown above, and there's three wires you will want. There is one switched power source, one permanent 12v power and of course the AC relay.
Power your sensors and ECU from these power wires, make sure to avoid teeing into relay wires so that ignition noise does not interfere with your ECU's operation.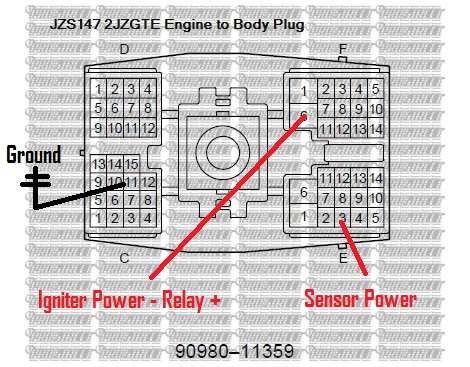 You will be connecting the cranking signal directly to your ECU, and the water temp sender directly teed into your ECU harness.
The starter solenoid wire must be connected to your 2JZGTE starter wire, or if you are installing a push button starter this is the wire you need.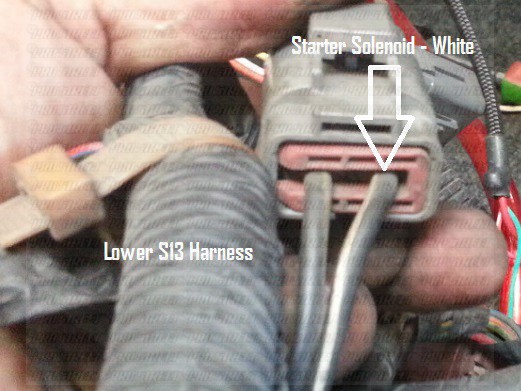 Next is the EFI fuel pump relay and it's unique in that Nissan wants a ground signal to this switched relay so that it will power your fuel pump. You can bypass this step altogether if you decide to simply rewire your fuel pump directly.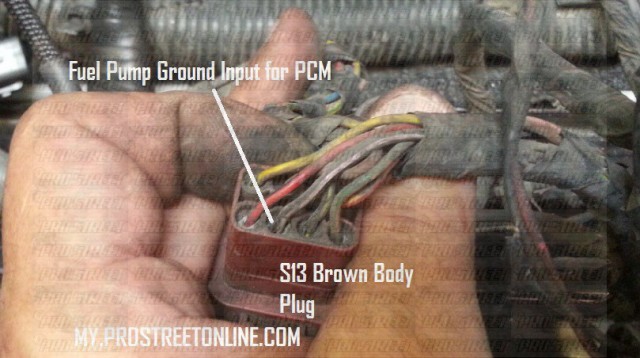 The Toyota part number for the main body plug is its 90980-11359, but all this wiring can be conducted directly from the ECU harness itself. Remember that the diagram below is only for USDM or MAF equipped 2JZGTE engine sets. The Aristo JDM ECU will vary because of the JDM 2JZ only uses a Manifold Absolute Pressure signal to operate the motor.

For a complete wiring guide on how to wire a S13 2JZ swap, here is the complete 2JZGTE ECU pinout and every wire you will need for a running 2JZ engine swap.

2JZGTE ECU PINOUT
Terminal E10 – pin 1 – IGSW – Ignition Switch
Terminal E10 – pin 6 – MIL – Malfunction Indicator Lamp
Terminal E10 – pin 16 – Tach – Tachometer
Terminal E10 – pin 24 – EFIR – EFI Relay
Terminal E10 – pin 31 – EFI +B – EFI Relay
Terminal E10 – pin 32 – EFI +B1 – EFI Relay
Terminal E9 – pin 4 – ECU Ground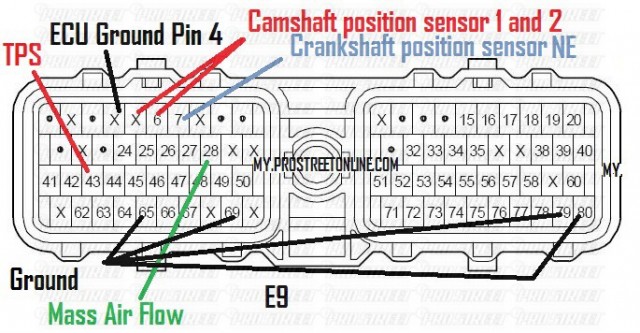 E9 – Pin 4 – Chassis Ground
Pin 28 – For USDM ECUs only
Pin 66 – MAF – For USDM ECU's only
Pin 65, 69, 79 and 80 – Chassis Ground
You must now connect your starter wires by extending them to the other side of the vehicle where it will connect to your starter and ground straps.
After connecting your F1 body plug so that your gauges and dash will work, you are almost done with our how to wire a S13 2JZ swap.
The Steering Column
There can be many reasons for you to open up your S13 steering column to access the ignition switch. To power your accessories, your gauges or a remote starter, there's more than a handful of applications you can use for this ignition switch pinout.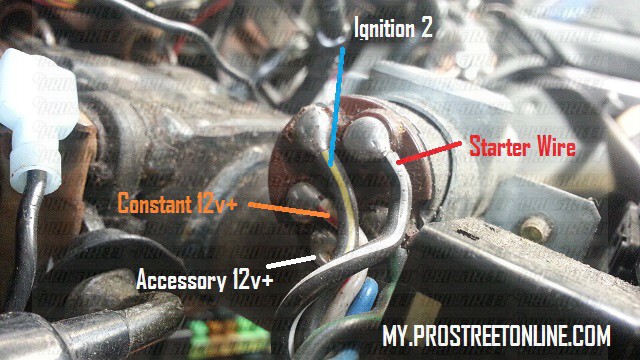 Our Nissan S13 has the following ignition switch pinout colors and values for anything you need in our how to wire a S13 2JZ swap guide.
ignition 2

–

 black/yellow

accessory

–

white/blue or blue

+12v constant

–

 white

Ignition Power, Ignition

–

 black/red

starter wire +12v

–

 black/white
What are the differences between the VVT-i engine and the non-VVT-i 2JZGTE engine?
Intake Cam and Gear – The variable timing cam and cam gear are not interchangeable with the non-VVT-i version of the 2JZGTE.

Upgraded camshafts will be expensive if you do not swap cylinder heads.
The exhaust cam and cam gear are the same as any non-VVTi 2JZGTE and thus accept the wide range of aftermarket cams.
What are the differences between the USDM and JDM 2JZGTE?
– Camshafts – USDM is a slightly better cam profile
– Larger injectors (550 cc/min slow impedance, requires resistor pack for USDM model vs 440 cc/min high impedance for JDM models )
– The USDM 2JZ has a EGR and the JDM version does not.
Make sure to check out our 2JZGTE Engine Swap Sensor Checklist! And our How to Swap a 2JZ into your S14 guide as well.
You will need to take this time to wire up the digital translator ( Dakota Digital or something similar ) for the tachometer and vehicle speed sensor wires that must lead to the dash.
You now know how to How to Wire a S13 2JZ swap so get to swapping!
Have a question or a comment? Leave it for us below!
Pro Street Staff

www.prostreetonline.com

1-888-776-7022