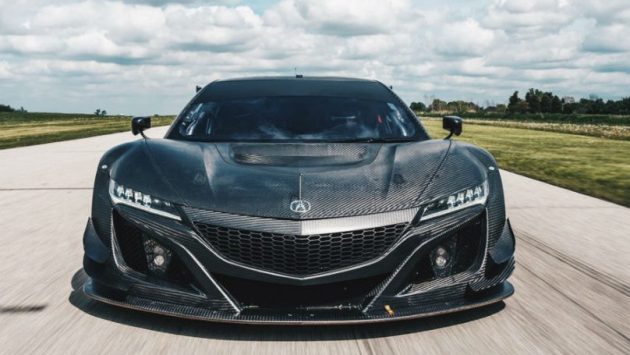 Not one to rest on their laurels, Honda is making the Acura NSX GT3 available and it's nothing short of amazing. Honda Performance Development will soon be taking pre-orders for the heavily modified NSX flagship at a premium price. Available through Honda's dedicated website AcuraClientRacing.com, the Acura NSX GT3 sets the bar for performance extremely high.
There's been quite a bit of buzz, both positive and negative around the new NSX. Love it or hate it however, there's no denying the appeal of the Acura NSX GT3. The new GT3 is available for sale before the 2018 model year, and prices start at just $542,500. That's right, for a cool half million you too can own this incredible track bred machine. What's the big deal behind the Acura NSX GT3? Check out the details below.
Inside the Acura NSX GT3
There's more to the Acura NSX GT3 than just carbon fiber body panels and upgraded suspension bits. And to be fair that's to be expected considering the price jumps from $157,800 up to half a cool mil. One thing that both models share however is the powerplant. The same VTEC engine built at Acura's Anna Engine Plant in Ohio powers both vehicles, so what do you get for the extra 400k?

At the heart of the GT3 is a customized six speed gearbox that delivers power to the rear wheels. Acura also decided to do away with the controversial hybrid system in the GT3 as well. This is a throwback to the roots of the NSX, and it's one of the main selling points of the supercar. The GT3 will also come with a highly modified exterior designed to maximize downforce and performance.
As with many of Acura's other highly modified offerings, JAS Motorsport will handle the modifications. Responsible for handling sales to Europe and Asia, JAS will also be taking the GT3 to the circuit as well. The track ready NSX will also compete in select FIA-sanctioned racing series around the world.
What do you think about the all new Acura NSX GT3? Do you believe it's worth the price tag? Comment below and let us know! For all the latest automotive tech tips and news, subscribe to My Pro Street today.