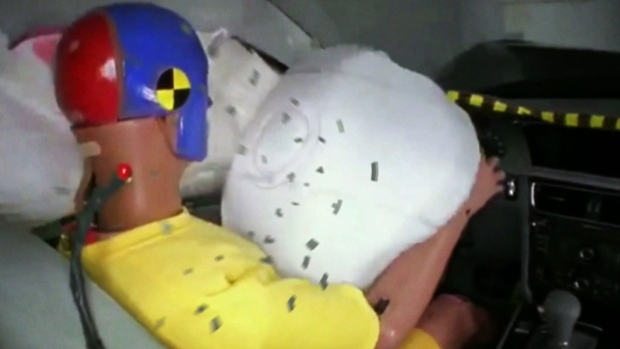 The biggest automotive recall in history has been in the news lately for all the wrong reasons lately. The Takata airbag recalls has been called the "the largest and most complex safety recall in U.S. history" according to the NHTSA. The recall stems from the inflator which is loaded with propellant tanks. The defective inflators can erupt the wrong way and explode, causing metal shards to shoot out from the airbag.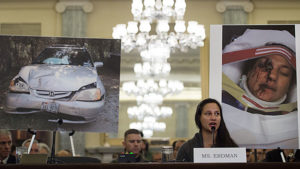 Takata defective airbags recently claimed the life of a teenager in Texas, marking the 10th US casualty and countless injuries.
What makes the latest casualty even more tragic is that the teen lost her life in a low speed accident.
Early estimates from the NHTSA puts the rough estimate of defective airbags at roughly 100 million units. More than a million cars have already been repaired in the Takata airbag recalls.
What complicates matters in the Takata airbag recalls is that there's not enough replacement airbags to go around. This makes this historic recall one of the biggest automotive safety issues on US soil. If your airbags are concerning you, or you own one of the many vehicles affected by the Takata airbag recall read below for our Top 10 commonly asked questions.
Ten Commonly asked Takata Airbag Recalls Questions
How do I know if my car is affected? – We've taken the liberty to include a listing of affected vehicles known to the NHTSA so far. If you are wondering if you own a airbag recall vehicle, scroll down to see our listing of recall vehicles.
However it's never a bad idea to check for yourself using your vehicle's VIN number. You can head over to safercar.gov and check to see if your vehicle falls within the Takata airbag recalls.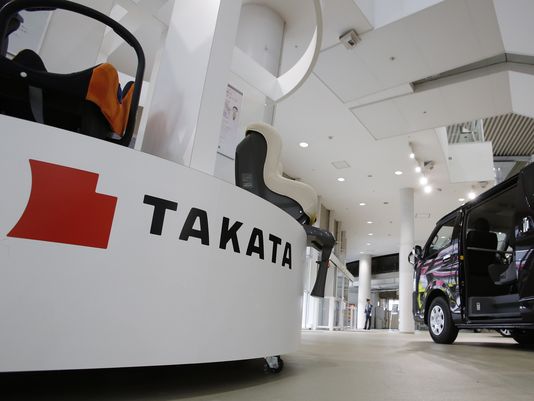 Why is my replacement airbag taking so long to arrive? – If you've received a recall notice but you are still waiting on your replacement airbag, that's because of the shortage of parts needed from Takata. They have recently upgraded their production processes to keep up with the demand, but there's over 50 million affected units and the number grows every day. The NHTSA estimates that the Takata airbag recalls could take several years to complete.
Can another airbag manufacturer help out? – Unfortunately there's not a airbag manufacturer with the facilities that can keep up with this kind of demand. Simply put the Takata airbag recalls issue is unprecedented as far as the scope of the affected vehicles are concerned. Further the competition airbags use a different design, although this is changing recently.
According to Takata there are other airbag manufacturers that are now involved to help pick up the slack. Some of these bigger companies include AutoLiv, TRW, and Daicel as Takata needs the replacement airbag inflators to help keep owners and passengers safe.
How dangerous is this recall and how important is it that I respond? – Any automotive recall should be treated seriously. If it wasn't a safety issue that could endanger your life the automakers wouldn't be spending money to repair or address it.
Having said that however, the recent death of the Texas teen should be a serious indicator. Involved in a low speed accident, the sheriff stated that the accident should have been one that she would have normally walked away from no problem. Further, the older models have been established as more serious cases of Takata airbag recalls. So if you own an older vehicle on this recall list, it's even more important for you to address the airbags. Need more proof? Check out this video showing the force in which an airbag is deployed for an indicator to the type of damage that can occur.
Does where I live factor into the Takata airbag recalls? – Unfortunately yes it does. Regions that are more humid and warm are being prioritized for replacement parts first. Have more questions about your recall and where you stand? Contact your manufacturer or the NHTSA directly.
How is the Takata airbag recall being prioritized? – Car manufacturers are scrambling to get the replacement parts as fast as they can but the areas of the US with higher humidity are being handled first. Because these inflators are even more dangerous in these climate conditions, the owners in these areas are prioritized first.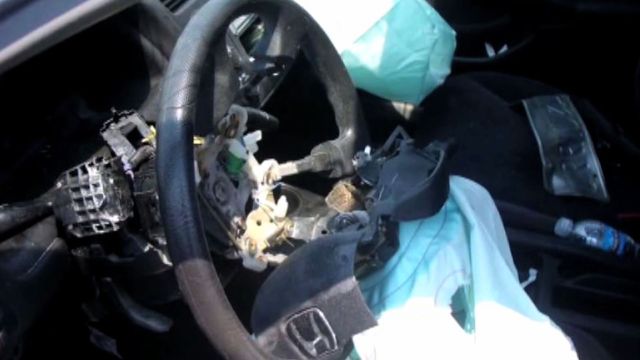 Are my airbags definitely defective? – Even though your vehicle is included on this list, the NHTSA says that it's not definitive. According to Takata, there were more than 30,000 airbags tested between late 2014 and mid 2015. In these tests just 267 ruptured with metallic shrapnel being propelled into the cabin.
While this number may seem low to most people, this is an incredibly high failure rate at well over .8 percent. Don't leave it to chance and get your vehicle on the waiting list right away. The last thing you want to chance is that your airbag inflator is one of the defective ones.
How can I shut off my airbags until the recall parts are available? – Although this may seem counter intuitive to keeping you safe, it's a definite option you may want to consider. In fact Toyota recommends doing this, although they are the only ones to do so at this time.
This is not a recommended step, but if you want to eliminate the chance of your Takata airbag erupting shrapnel into your cabin, check out our guide on disabling your airbag here.
Am I going to have to pay for this recall? – Takata airbag recalls are completely covered and taken care of as part of this massive recall. However there have been some instances where the defective parts include other issues that aren't covered. Again for more information check with your automaker.
I own a vehicle on the recall list, what can I do? – There's a few things that you can do to limit the potential danger to you or your passengers. Because some of the vehicles on this list include JUST the front passenger side airbag, you can have people avoid sitting in the passenger seat and disable that one airbag.
However if the driver side airbag in your vehicle is the one affected, you can take the following measures :
Minimize your driving
Rent a replacement vehicle
Take public transportation
Carpool with a friend or someone who owns a vehicle not affected.
Although it's rare some manufacturers are offering a rental car for owners who own an affected vehicle.
Take a look below for the vehicles currently on the NHTSA list for Takata airbag recalls.
Acura
2003 Acura 3.2CL
2002-2003 Acura 3.2TL
2013-2016 Acura ILX
2013-2014 Acura ILX Hybrid
2003-2006 Acura MDX
2007-2016 Acura RDX
2005-2012 Acura RL
2009-2014 Acura TL
2010-2013 Acura ZDX
Audi
2005-2013 Audi A3
2006-2009 Audi A4 Cabrio
2010-2011 Audi A5 Cabrio
2009-2012 Audi Q5
BMW
2008-2013 128i
2008-2013 135i
2008-2013 1 Series M
2000 323i
2002-2006 325Ci
2002-2003 325iT
2001-2011 325i
2001-2011 325xi
2002-2003 325xiT
2006-2012 325xiT
2000 328i
2006-2013 328i
2006-2013 328xi
2006-2013 328i xDrive
2001-2011 330i
2001-2011 330xi
2002-2006 330Ci
2006-2013 335i
2006-2013 335xi
2006-2013 335i xDrive
2009-2011 335d
2007-2013 335is
2002-2003 525i
2002-2003 530i
2002-2003 540i
2001-2013 M3
2002-2003 M5
2013-2015 X1 sDrive28i
2013-2015 X1 xDrive28i
2013-2015 X1 xDrive35i
2007-2010 X3 xDrive30i
2003 X5 3.0i
2003 X5 4.4i
2007-2013 X5 xDrive30i
2007-2013 X5 xDrive35i
2007-2013 X5 xDrive48i
2007-2013 X5 xDrive50
2007-2013 X5 M
2009-2013 X5 xDrive35d
2008-2014 X6 xDrive35i
2008-2014 X6 xDrive50i
2008-2014 X6 M
Chevrolet
2007-2008 Chevrolet Silverado 2500
2007-2008 Chevrolet Silverado 3500
Chrysler
2007-2008 Chrysler Aspen
2005-2010 Chrysler 300
2005-2010 Chrysler 300C
2006-2007 Chrysler Crossfire
2005-2010 Chrysler SRT8
Daimler Trucks North America (Sterling Bullet)
2008-2009 Sterling Bullet 4500
2008-2009 Sterling Bullet 5500
Daimler Vans USA LLC (Sprinter)
2007-2009 Dodge Sprinter 2500
2007-2009 Dodge Sprinter 3500
2007-2014 Freightliner Sprinter 2500
2007-2014 Freightliner Sprinter 3500
2010-2014 Mercedes-Benz Sprinter 2500
2010-2014 Mercedes-Benz Sprinter 3500
Dodge/Ram
2008-2010 Dodge Challenger
2006-2010 Dodge Charger
2005-2011 Dodge Dakota
2004-2008 Dodge Durango
2005-2008 Dodge Magnum
2003-2009 Dodge Ram 1500
2003-2009 Dodge Ram 2500
2003-2009 Dodge Ram 3500
2008-2010 Dodge Ram 4500
2008-2010 Dodge Ram 5500
Ford
2004-2006 Ranger
2005-2006 GT
2005-2014 Mustang
GMC
2007-2008 GMC Sierra 2500
2007-2008 GMC Sierra 3500
Honda
2001-2007 Accord
2001-2005 Civic
2003-2005 Civic Hybrid
2001-2004 Civic CNG
2002-2011 CR-V
2011-2015 CR-Z
2003-2011 Element
2010-2014 FCX Clarity
2009-2013 Fit
2013-2014 Fit EV
2010-2014 Insight
2002-2004 Odyssey
2003-2008 Pilot
2006-2014 Ridgeline
Infiniti
2003-2005 Infiniti FX35
2003-2005 Infiniti FX45
2001 Infiniti I30
2002-2004 Infiniti I35
2006 Infiniti M35
2006 Infiniti M45
2002-2003 Infiniti QX4
Mazda
2004-2006 B-Series Truck
2003-2008 Mazda6
2006-2007 Mazda Mazdaspeed6
2004-2005 MPV
2004-2008 RX-8
Mercedes-Benz
2005 C230 Kompressor
2006-2007 C230
2008-2011 C300
2008-2011 C300 4Matic
2005 C320
2006-2011 C350
2009-2011 Mercedes-Benz C63 AMG
2010-2011 E350
2010-2011 E350 4Matic
2011 E350 Cabriolet
2010-2011 E550
2010-2011 E550 4Matic
2011 E550 Cabriolet
2010-2011 E63 AMG
2009-2010 GL320 BlueTec 4Matic
2011-2012 GL350 BlueTec 4Matic
2009-2012 GL450 4Matic
2009-2012 GL550 4Matic
2010-2012 GLK350
2010-2012 GLK350 4Matic
2009-2010 ML320 BlueTec 4Matic
2009-2011 ML350
2009-2011 ML350 4Matic
2010-2011 ML450 4Matic Hybrid
2009-2011 ML550 4Matic
2009-2011 ML63 AMG
2007-2008 SLK280
2007-2008 SLK350
2007-2008 SLK55 AMG
2011-2014 SLS AMG
2012 SLS AMG Cabriolet
2013-2014 SLS AMG GT
2009-2010 R320 CDI 4Matic
2009-2010 R320 CDI 4Matic
2009-2012 R350 4Matic
2011-2012 R350 BlueTec 4Matic
Mitsubishi
2004-2006 Lancer
2004-2006 Lancer Evolution
2004 Lancer Sportback
2006-2009 Mitsubishi Raider
Nissan
2001-2003 Nissan Maxima
2002-2006 Nissan Sentra
2002-2004 Nissan Pathfinder
Pontiac
2003-2008 Pontiac Vibe
Saab
2005 Saab 9-2x
2003-2011 Saab 9-3
2010-2011 Saab 9-5
Saturn
2008-2009 Saturn Astra
Subaru
2003-2005 Baja
2004-2005 Impreza
2003-2008 Legacy
2003-2008 Outback
Toyota
2003-2008 Corolla
2003-2008 Corolla Matrix
2004-2005 Rav4
2002-2007 Sequoia
2003-2006 Tundra
2002-2010 Lexus SC
Volkswagen (VW)
2009-2014 CC
2012-2014 Eos
2010-2014 Golf
2010-2014 Jetta Sportwagen
2006-2010 Passat
2012-2014 Passat
Have any questions about your car and your airbag? Learn about the measures you can take at safercar.gov today and take action to keep yourself safe.