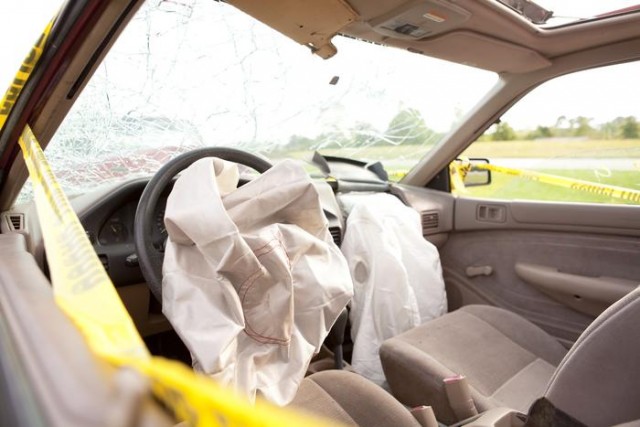 The automotive industry as a whole suffered another blow to it's already shaky ground with consumers regarding the latest safety measurement recall in eye popping numbers. The fallout from the General Motors ignition switch recall that has caused at least 30 deaths, the record 50 million cars being recalled this year sets a new high in the United States.
The airbags from Takata are the latest culprit, and 7.8 million cars in the US are being recalled due to faulty dangerous airbags. These Takata manufactured airbags are being recalled because they explode with such force, it's almost like a grenade going off in your cabin. The force in which these airbags are deployed causes the airbag casing to rupture and explode, hurling chunks of plastic and metal shrapnel into passengers.
With at least 4 deaths on record already, the latest a Florida woman named Hien Tran who died after getting into an accident in her Honda Accord. Detectives searched for clues about the apparent stab wounds in her neck, only to find that the airbag had caused the fatal wounds. Just a week later, the Takata Airbag Recall notice arrived from Honda regarding the faulty airbags in her vehicle, that could explode.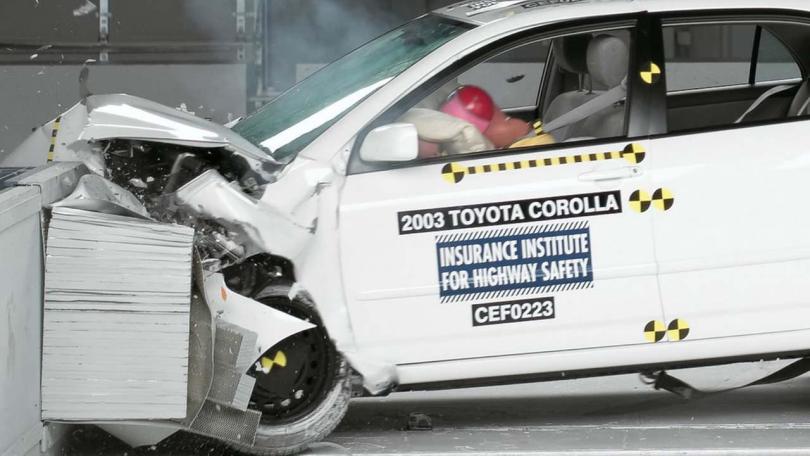 The National Highway Traffic Safety Administration (NHTSA) has issued a list of affected vehicles, and it's imperative if you own one of these cars that you check with your local dealer. Affected vehicles includes more than 50 models from Toyota, Honda, Mazda, BMW, Nissan, Mitsubishi, Subaru, Chrysler, Ford, and General Motors, made between 2000 and 2011.
"We want to make sure that everyone out there — and we've got millions of vehicles involved — is getting engaged and is getting their vehicles fixed to protect themselves and their families," said David J. Friedman, deputy administrator of the National Highway Traffic Safety Administration.
The NHTSA has come under fire recently, criticized for a lack of action on their part to keep US citizens safe. One thing is for certain however, that this Takata Airbag Recall isn't going to be an easy one or one quickly remedied. The logistics of replacing 7.8 million airbags seems staggering when you think about it, and it appears as though manufacturers will have to replace these airbags as they become available.
Early reports confirm that consumers may have to wait months to get replacements or that your airbags will be deactivated in the meantime. Not exactly confidence inspiring to say the least.
What can I do?
---
If you find that your vehicle is on this list from the NHTSA but not listed and you happen to own the same make, you can call NHTSA's safety hotline (1-888-327-4236) to detemine your vehicle's status. It's a good idea to at least call and have this piece of mind, who wants the idea of a land mine going off in your car as they are driving to work?
UPDATE Oct. 29, 2014: This Takata Airbag Recall listing is complete and up to date according to the NHTSA as of Aug. 12th, 2014. NHTSA, the U.S. traffic safety regulator, may have issued updated information since that date including cars not on the list below.
Affected Vehicle list – Oct 29. 2014
ACURA MDX 2005
ACURA MDX 2006
ACURA TL 2002
ACURA TL 2003
ACURA MDX 2003
ACURA MDX 2004
ACURA CL 2002
ACURA CL 2003
ACURA MDX 2005
ACURA RL 2005
ACURA MDX 2003
ACURA MDX 2004
BMW 325XI 2002
BMW 325CI 2003
BMW 325CI 2001
BMW 330CI 2001
BMW 330XI 2001
BMW 325I 2004
BMW 330CI 2003
BMW 330I 2004
BMW 330XI 2003
BMW 330XI 2002
FORD GT 2006
FORD MUSTANG 2005
FORD MUSTANG 2006
FORD MUSTANG 2007
FORD RANGER 2004
FORD GT 2005
HONDA ELEMENT 2011
HONDA ELEMENT 2010
HONDA ELEMENT 2009
HONDA PILOT 2005
HONDA CR-V 2005
HONDA ELEMENT 2008
HONDA ACCORD 2006
HONDA ACCORD 2007
HONDA ELEMENT 2007
HONDA PILOT 2006
HONDA CR-V 2006
HONDA PILOT 2007
HONDA ELEMENT 2006
HONDA CIVIC 2005
HONDA ACCORD 2001
HONDA ELEMENT 2005
HONDA PILOT 2003
HONDA PILOT 2004
HONDA ODYSSEY 2002
HONDA ODYSSEY 2003
HONDA ODYSSEY 2004
HONDA ELEMENT 2003
HONDA ELEMENT 2004
HONDA CR-V 2002
HONDA CR-V 2003
HONDA CR-V 2004
HONDA CIVIC 2001
HONDA CIVIC 2002
HONDA CIVIC 2003
HONDA CIVIC 2004
HONDA RIDGELINE 2006
HONDA ACCORD 2002
HONDA ACCORD 2003
HONDA ACCORD 2004
HONDA ACCORD 2005
HONDA PILOT 2005
HONDA CR-V 2005
HONDA CIVIC 2005
HONDA ELEMENT 2005
HONDA ODYSSEY 2005
HONDA PILOT 2003
HONDA PILOT 2004
HONDA ODYSSEY 2003
HONDA ODYSSEY 2004
HONDA ELEMENT 2003
HONDA ELEMENT 2004
HONDA CR-V 2003
HONDA CR-V 2004
HONDA CIVIC 2003
HONDA CIVIC 2004
HONDA ACCORD 2003
HONDA ACCORD 2004
HONDA ACCORD 2005
INFINITI FX45 2005
INFINITI FX35 2005
INFINITI I35 2004
INFINITI I35 2003
INFINITI FX45 2003
INFINITI FX35 2003
INFINITI FX45 2004
INFINITI FX35 2004
LEXUS SC430 2005
LEXUS SC430 2004
LEXUS SC430 2003
MITSUBISHI LANCER 2005
MITSUBISHI LANCER 2004
NISSAN MAXIMA 2004
NISSAN MAXIMA 2003
NISSAN MAXIMA 2002
NISSAN MAXIMA 2001
NISSAN PATHFINDER 2001
NISSAN SENTRA 2004
NISSAN SENTRA 2003
NISSAN SENTRA 2002
NISSAN SENTRA 2001
NISSAN PATHFINDER 2004
NISSAN PATHFINDER 2003
NISSAN PATHFINDER 2002
PONTIAC VIBE 2005
PONTIAC VIBE 2004
PONTIAC VIBE 2003
SAAB 9-2X 2005
SUBARU OUTBACK 2004
SUBARU BAJA 2004
SUBARU BAJA 2003
SUBARU LEGACY 2004
SUBARU LEGACY 2003
SUBARU IMPREZA 2004
SUBARU OUTBACK 2003
SUBARU IMPREZA 2005
SUBARU BAJA 2005
SUBARU OUTBACK 2004
SUBARU OUTBACK 2005
SUBARU BAJA 2004
SUBARU BAJA 2003
SUBARU LEGACY 2005
SUBARU LEGACY 2004
SUBARU LEGACY 2003
SUBARU IMPREZA 2004
SUBARU OUTBACK 2003
TOYOTA COROLLA MATRIX 2005
TOYOTA COROLLA MATRIX 2004
TOYOTA COROLLA MATRIX 2003
TOYOTA TUNDRA 2005
TOYOTA TUNDRA 2004
TOYOTA TUNDRA 2003
TOYOTA COROLLA 2005
TOYOTA COROLLA 2004
TOYOTA COROLLA 2003
TOYOTA SEQUOIA 2005
TOYOTA SEQUOIA 2004
TOYOTA SEQUOIA 2003