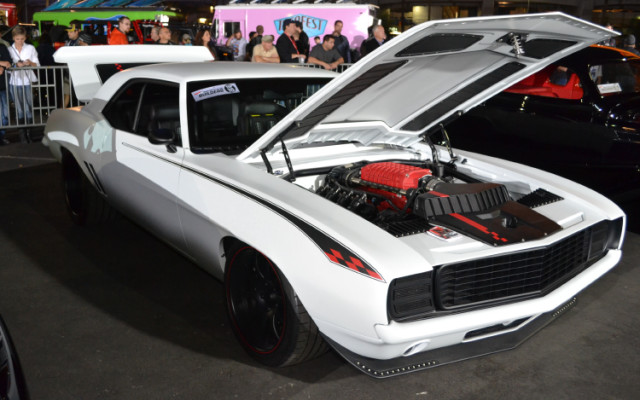 Kyle Tucker was announced the winner of the first SEMA Battle of the Builders, taking home the honors at SEMA Ignited. Emerging from a 125 car field, Tucker and his 1969 Chevy Camaro was announced as one of the Top Ten finalists November 6th. Taking the builder competition from the 2014 SEMA show one step further, the Battle of the Builders was a tremendous success.
Taking the world's best aftermarket tuners and pitting them against one another, the SEMA Battle of the Builders event had just ten finalists. Most of the builds that made the cut were domestic old school muscle car flavored, although the GT4 award did go to Sung Kang's old school 240Z. Here are the finalists that rounded out the top ten.
SEMA Battle of the Builders Finalists
Bobby Alloway, 1937 Chevy Coupe
Gordon Aram, 1978 Ford Mustang II
Ringbrothers, 1966 Chevy Chevelle
Dale Dondel, 2014 Ford Raptor Pre-Runner
Rick Dore, 1948 Jaguar
Jeff Kinsey, 1932 Ford 4-Door Sedan
Troy Ladd, 1932 Ford Roadster
Larry McRae, Jeep JK
Steve Strope, 1967 Ford Black Ops Fairlane
Kyle Tucker, 1969 Chevy Camaro
The judges behind the SEMA Battle of the Builders competition were hand picked from a group of auto magazine editors. Mike & Jim Ring, Jeff Kinsey and Kyle Tucker headlined the group of competitors, and they were all featured on the upcoming special on the SEMA show.
Wondering what some of the other Best in Show cars were? Take a look at the best modified cars we spotted at the 2015 SEMA Show here.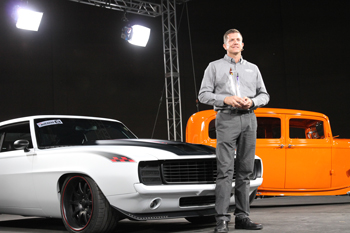 Congratulations to Kyle Tucker for his amazing Camaro build, and we're looking forward to another year of SEMA Battle of the Builders. Did you miss out on the SEMA show and all the excitement? Make sure to follow along with our coverage this month, as we bring you all the highlights and news.
Want to learn how to attend the biggest car show and automotive trade show? The leading automotive show brings manufacturers and buyers together once a year in Las Vegas. Check out our guides on how to get the most out of your SEMA Show experience or check out our SEMA coverage here.