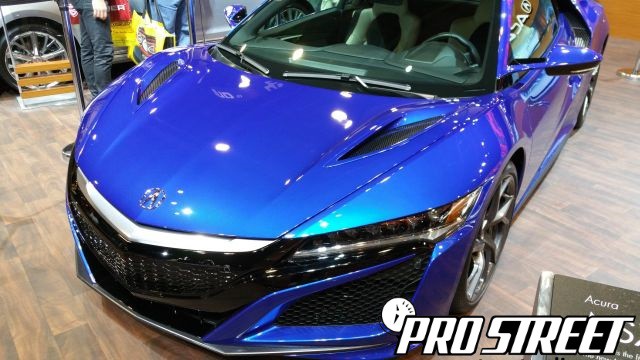 As the mecca of the automotive aftermarket, the 2015 SEMA Show is one of the most incredible events for any fan of modified cars or trucks. Whether you are a tuner, shop, reseller or just a fan, there's bound to be several cars that impress you no matter where you turn. From bolt on or customized engine performance parts, to big rims and wild body kits, the cars of SEMA are tricked out and modified to the highest level.
Because of the high level of dedication and craftsmanship, it's definitely been a tall task to pick out any number of these cars over any of their peers. Considering the very personal nature of these subjective lists, there's bound to be a few cars you feel we left out.
So in saying that we know that some of these cars aren't quite as high on your list of personal favorites. But there's no doubting the level of craftsmanship and engineering put into these vehicles and the high level of customization. So without further ado here's a few of the best modified cars of the 2015 SEMA show that stuck out to us.
Bisimoto 2016 Honda HR-V
Recognized as one of the leading tuners in his market segment, Bisimoto has built many incredible machines for the SEMA Show. From this 1000 horsepower Hyundai to his tricked out Honda Odyssey, he's known for boosted performance and this all-new Honda HR-V is proof.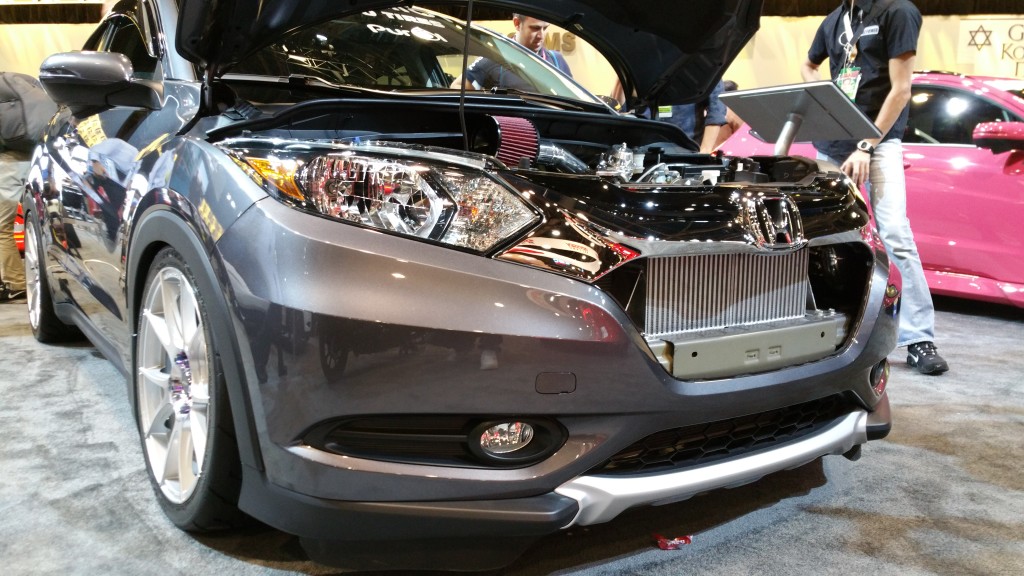 Sporting a custom Bisimoto turbocharger and AEM F/IC-8 engine management, this sporty 1.8 liter belts out 230 horsepower at a modest boost level. While it won't break any horsepower records, the overall functional build and intriguing turbocharger layout caught our eye immediately.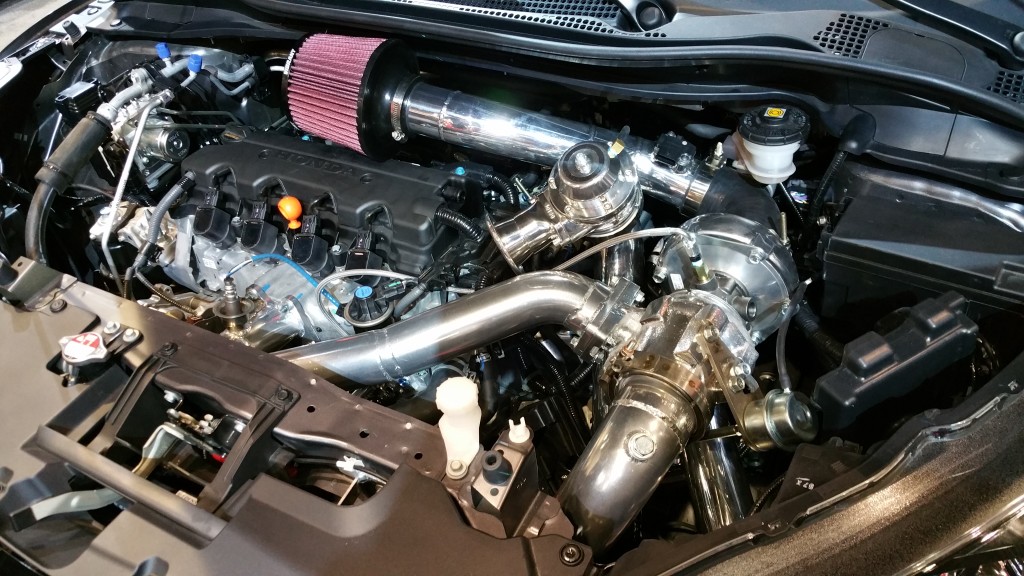 There's certainly rom in that engine bay for a larger turbo and with the right engine modifications, we wouldn't put our money against Bisimoto cranking up some serious ponies for the all-new Honda shortly.
BMW 535i
This remarkable E28 continues a strong trend of rat rod old school Bavarian builds that have been increasingly popular among tuners. The clean retro body lines in this 1985 535 are a stark contrast to the S38 inline six taken out of a BMW M5.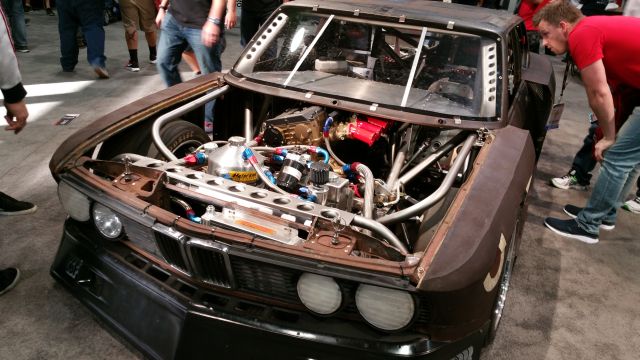 The retro look is boosted using the rusted out finish of the exterior, and the mean shark mouth and eyes give the car an overall evil look. The extreme fender flares are exaggerated to fit the wide multipiece rims and the mid-engine layout were all concepts that worked remarkably well together.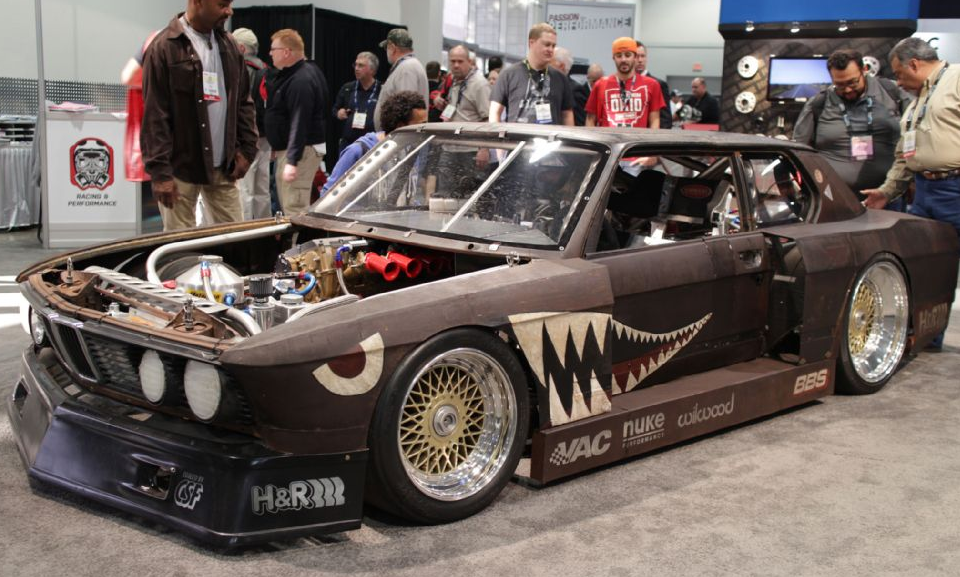 Among the priceless builds and glass-like paint jobs amidst the SEMA Show, this BMW stood out to us as one of the best of the show. From it's IMSA racing roots to functional design and evident loving care, it's one car that was definitely one of the best modified cars of the 2015 SEMA Show.
2015 Ford Mustang – R1 Concepts
At this point the Ford Mustang has almost become synonymous with the SEMA Show, given the presence that Ford has had for over 5 years now. Having taken home Best of Show several times in the past few years, Ford continues to put it's stamp on SEMA with various features like Ford Out Front and the huge Ford booths.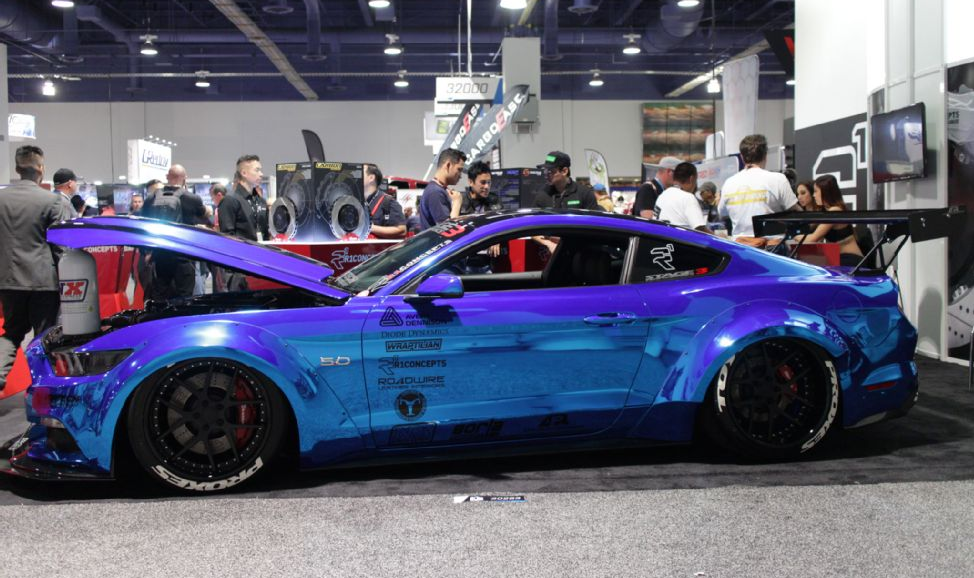 The powerhouse 5.0 liter Ford Coyote engine was a big performer at SEMA, finding it's way into almost everything. It wouldn't be a surprise to see the new Coyote become something as commonly swapped as the LS1 is today in the near future. This metallic blue S550 built by the pros at R1 Concepts stood out for it's overall build quality and stunning stance.
The Boss Rocket Bunny S14
Rocket Bunny wide body aero kits are one of the most common bodykit conversions of late, and for good reason. Incredible fitment and increasingly new ways to convert lighting is making this body kit work on any make or model. This kit is known as "The Boss" and it mixes the best of the new and the old.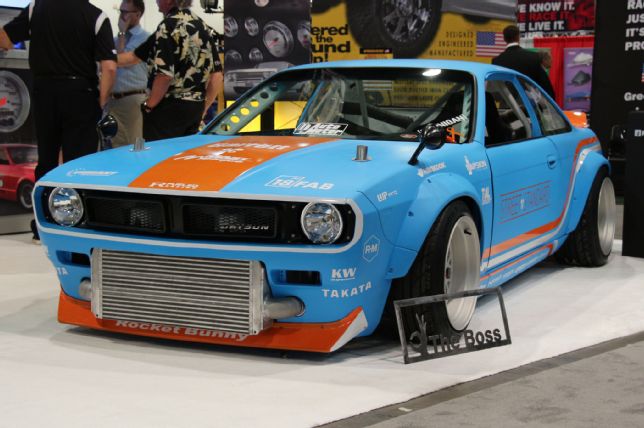 Developed by Rocket Bunny, the Version 2 of this popular duckbilled body kit was clearly one of the best of the 2015 SEMA Show. Taking on the front end appearance of an old school Barracuda or Challenger, it's a fitting way to blend some domestic muscle into the Nissan S14 bodylines.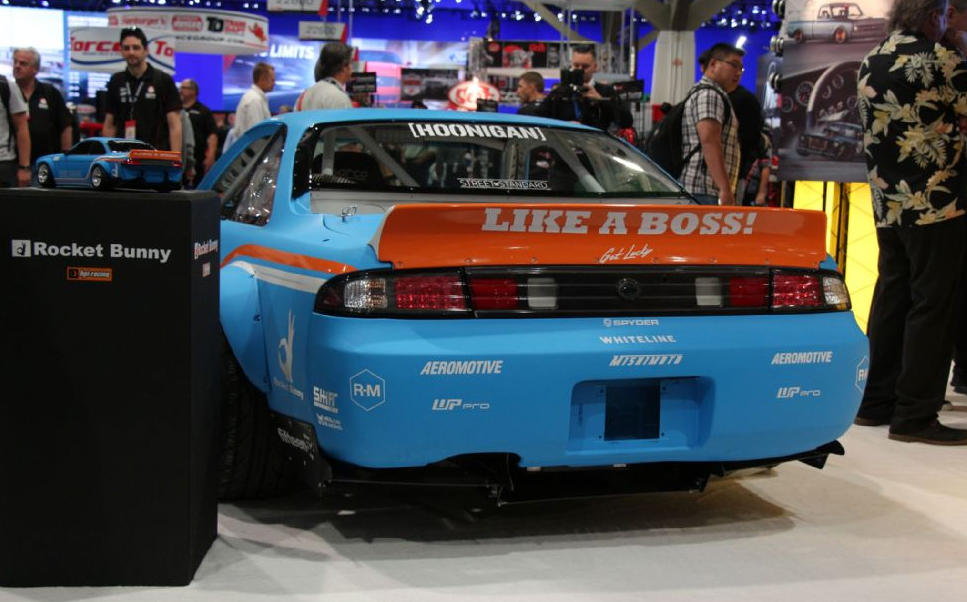 This incredible build blends so many different things together, and it does it effortlessly. Domestic muscle with the import platform, the huge intercooler and turbocharged powerplant with the oil cooled front mount cooler, this 240SX truly does it Like a Boss.
HKS Nissan Skyline R35
The Hipermax HKS R35 was on full display in the HKS booth at the 2015 SEMA Show, and it didn't disappoint. Sporting a complete bevy of aftermarket performance products, this R35 turned up the heat with a host of suspension components and upgraded turbochargers.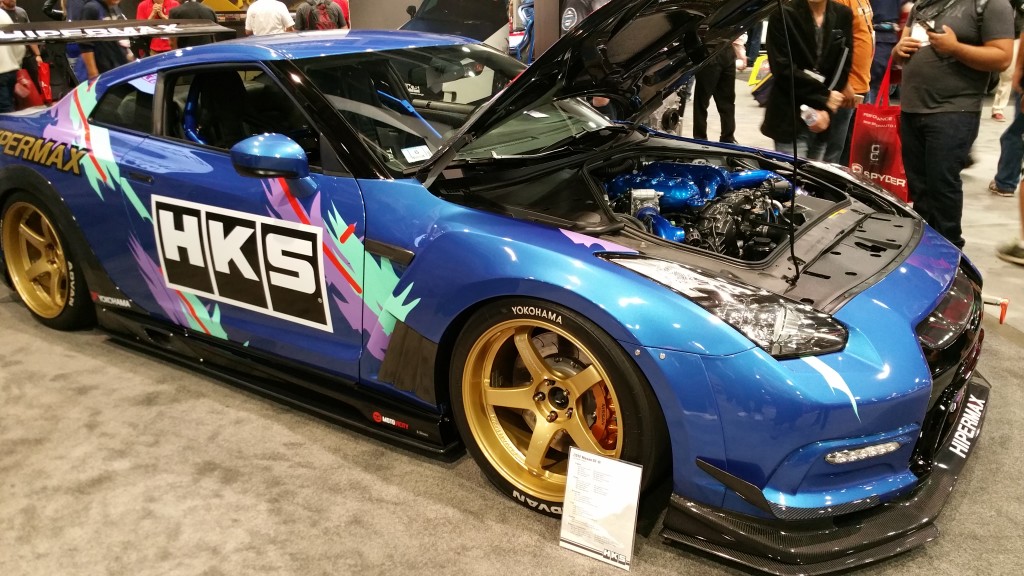 It certainly wasn't the most wild R35 at the SEMA Show, but undoubtedly still very much purpose built. Function over form was the classic staple of this build, and it showed on every level of this incredible Nissan.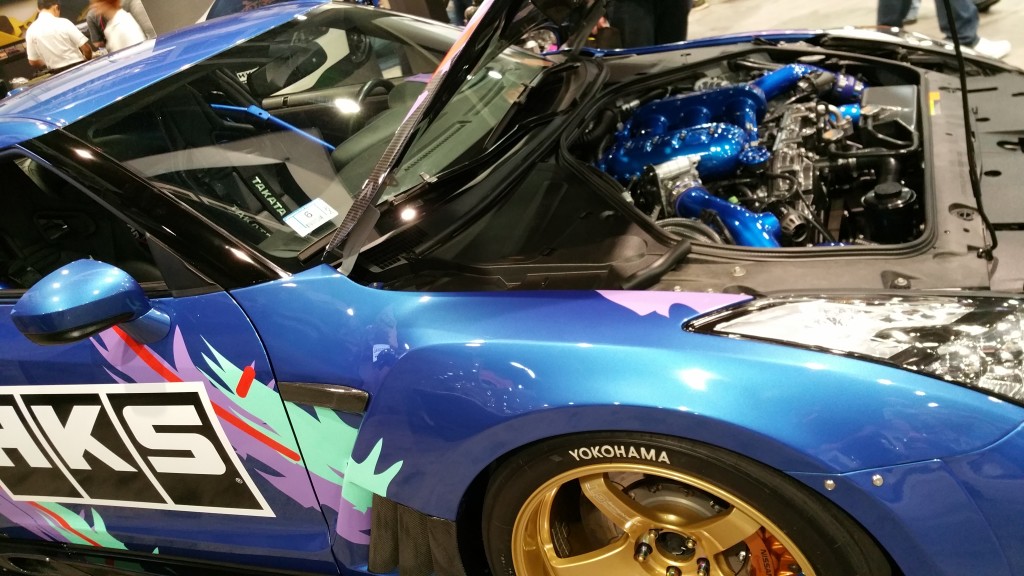 HKS has rebounded nicely from it's struggles in the early 00's and the Hipermax R35 has certainly got something to say about the Japanese tuners future.
Nissan 240Z – Sung Kang's FuguZ
One of the cleanest and functional builds we've ever seen from Greddy Performance, this 1973 Nissan 240Z belonging to Hollywood actor Sung Kang was stunning in almost every way.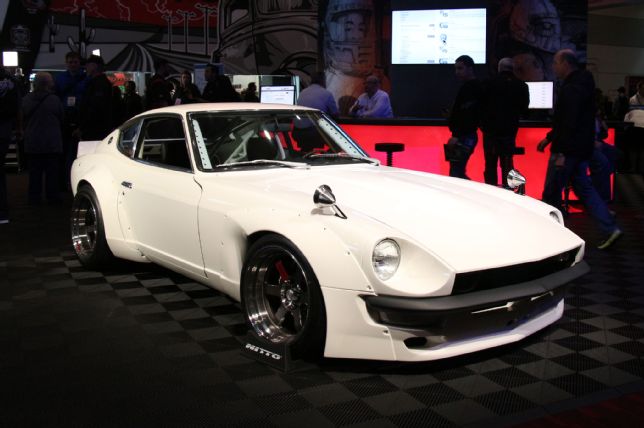 This build has been one that's been popular among import enthusiasts for many reasons, and covered by the SPEED network for the upcoming Z Dream feature.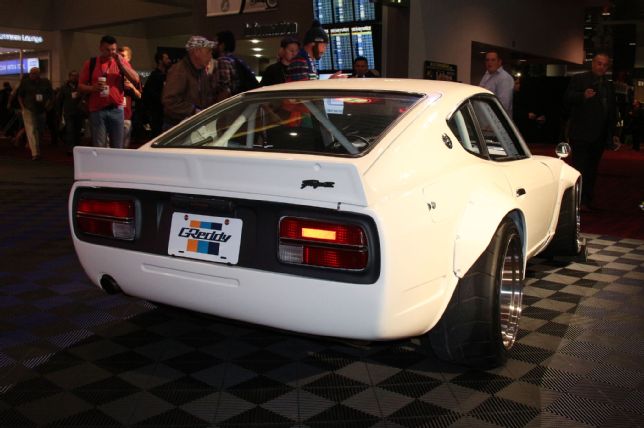 Coined the FuguZ this incredible Nissan is definitely one to keep your eye on in the SEMA booth.
With a sky high 12,000 RPM redline and a fully built and blueprinted RB26DE powerplant, the level of build quality behind this S30 is frankly stunning.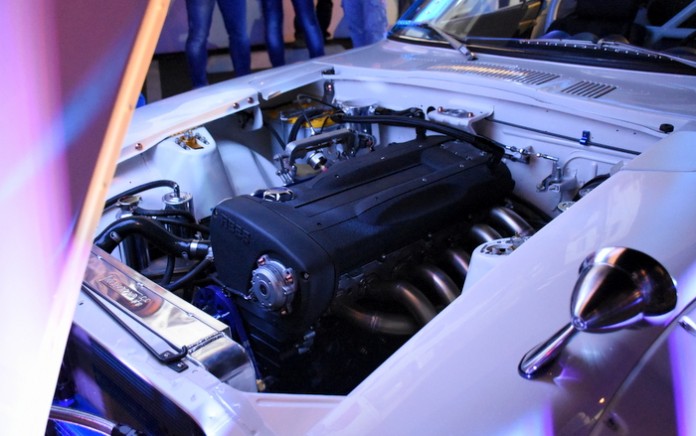 This old school Nissan got every single detail right, and there's no surprise that it took home the 2015 GT award. Want more SEMA coverage? Subscribe now or keep your browser locked in as we will be bringing you month long coverage of the event and recapping all the Best of SEMA Show highlights.