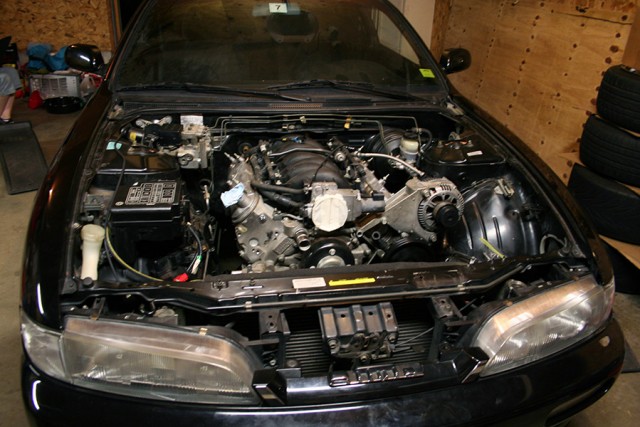 We get this question often considering the amount of people who are looking for the ultimate LS or to build their own LS, one that fits their budget and power levels. Whether you are building a LQ9 or LS7, for turbo or all-motor, we have a breakdown of LS heads interchangeability right here.
Which LS heads will physically swap onto what LS block?
It's important to realize what you are looking for when you are planning on mixing and matching a LS1 together to build yourself the ultimate "frankenstein" The good news is, as most LS motors all share the same GEN III build you are pretty much safe so long as you check the bore of a motor.
Take a look at our GM Head Swap Guide and of course our How To Swap a LS1 into a 240SX article as well.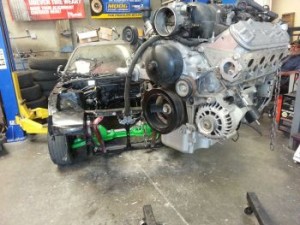 If the bore size of the cylinder heads is intended for a larger bore size than your shortblock, you are going to have some issues with your valves crashing into your pistons. Stay away from such complicated swaps like a LS1, LS6 or LS2 block with a LS3, LS9 or LS7 cylinder heads combination. With the larger bore of the LS3, LS9 and LS7 you are going to have create your own cylinder to valve clearance issues, which in turn makes the entire exercise pointless. We are trying to make reliable power on a budget, not create more work for ourselves.
How do I know what the bore size is?
Motor Series      Displacement                   Years                                     Bore/Stroke
LS1                         5.7L                                     1997–2004                           3.898″/3.622″ (99mm/92mm)
LS6                         5.7L                                     1999–2004                           3.898″/3.622″ (99mm/92mm)
LS2                         6.0L                                     2005–2007                           4.000″/3.622″ (101.6mm/92mm)
LS3                         6.2L                                     2008                                       4.065″/3.622″ (103.2mm/92mm)
LS7                         7.0L                                     2006–2008+                         4.125″/4.000″ 104.77mm/101.6mm)
LS9                         6.2L                                     2009+                                     4.065″/3.622″ (103.2mm/92mm)
What are the most common LS1 cylinder head swaps?
 LS1 and LS6 blocks will accept only LS1, LS6 and LS2 heads.
LS2 blocks can use LS1, LS6 or LS2 heads, as well as L92-style heads, which includes LS3 and LS9 heads.
LS3 and LS9 blocks can use LS1, LS6, LS2, LS3 or LS9 heads.
LS7 blocks can accept any LS head, keep in mind the bore however
LS1, LS6, LS2, LS3 and LS7 head bolts are 11mm in diameter
If you are choosing to mix and match, you must remember that while production LS1, LS6, LS2, LS3 and LS7 engine cylinder head bolts are 11mm in diameter, and the LS9 block uses 12mm diameter bolts.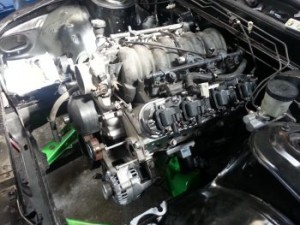 What differences do I need to know about?
LS1 and LS6 heads use different length hex-head cylinder head bolts ( 11mm x 100mm vs 11mm x 155mm )
LS2, LS7, LS3, L92 engines use the same hex-head cylinder head bolts ( 11mm x 100mm )
All LS cranks are identical and interchangable, although the LS7 and LS9 cranks are forged steel cranks
LS7 crankshafts are 4.00 stroke, while others are 3.62
The LS1 and LS6 have 24 tooth reluctor wheels for the crank position sensor, where as the LS2, LS3, LS9 and LS7 have 58 tooth wheels.
LS2 knock sensors will only work on LS2 engines
LS1 ECU / PCM's will control a LS2
Firing order on all LS engines is 1-8-7-2-6-5-4-3
LS1 Valvetrain Components and You
If you have sourced your LS swap from a junkyard pulled from a Chevy Camaro, Firebird or TransAm chances are you have hollow sodium filled exhaust valves. LS7 engines take it one step further to incorporate titanium intake valves.
If you are assembling your heads and engine, you can take this time to upgrade to stainless steel valves, or higher compression valves. If cost is no consideration, titanium valves would also be a lightweight solution to your valvetrain needs.
All GM LS engines feature a 1.7:1 ratio for their rocker arm ratio, with the sole exception being the LS7 which is a 1.8:1. OEM arms are often upgraded to avoid high rpm failure resulting from the trunion bearing in the pivot point seizing or failing.
A simple upgrade in this department can be the simple upgraded rocker arms that can be found for relatively cheap depending on how nice of a unit you want. Simple forged or billet arms with upgraded bearings or needle bearings can be relatively cheap, but cost can quickly ramp up if you decide on something more hardcore.
Roller rockers like the Voodoo units shown above from Lunati represent a huge leap upgrade in high engine speed operation, but may require heavy spring pressures to help keep up.
Do you have questions about different motors that may be cheaper than the LS1 that would make sense as a swap candidate?
Don't forget to check out our LS1 sensor checklist
Pro Street Staff
1-888-776-7022