There used to be a time when the concept of a self driving race car seemed fantastical. Don't tell that to the Roborace crew, led by designer Daniel Simon who just revealed Devbot, their first self driving race car. This autonomous prototype drove itself around the Silverstone Circuit in England, making the self driving race car a reality. Check out the video above to see the prototype self driving race car in action.
According to Roborace the finalized version should be much more streamlined and feature higher aerodynamic styling. Although it's a fully autonomous race car, there is a cockpit for a development driver. Overall the Devbot looks much like a smaller Lemans race car would. Outside of some odd mechanical bits and parts protruding from the chassis, it's looks like a familiar looking race platform.
As one would imagine, Devbot is incredibly spartan and bare. Designed for lightweight operation, the carbon fiber chassis keeps overall load on the light side. Other than these still shots, there's not much else known about the vehicle. Roborace is keeping mum on the details to the self driving race car, but it's clear that electric race cars are the future.
Manufacturers like Nissan and Toyota are already leaning towards electric hybrid performance. Engines like the Nissan Zeod are making the transition from traditional combustion engines to full fledged electric versions smoothly.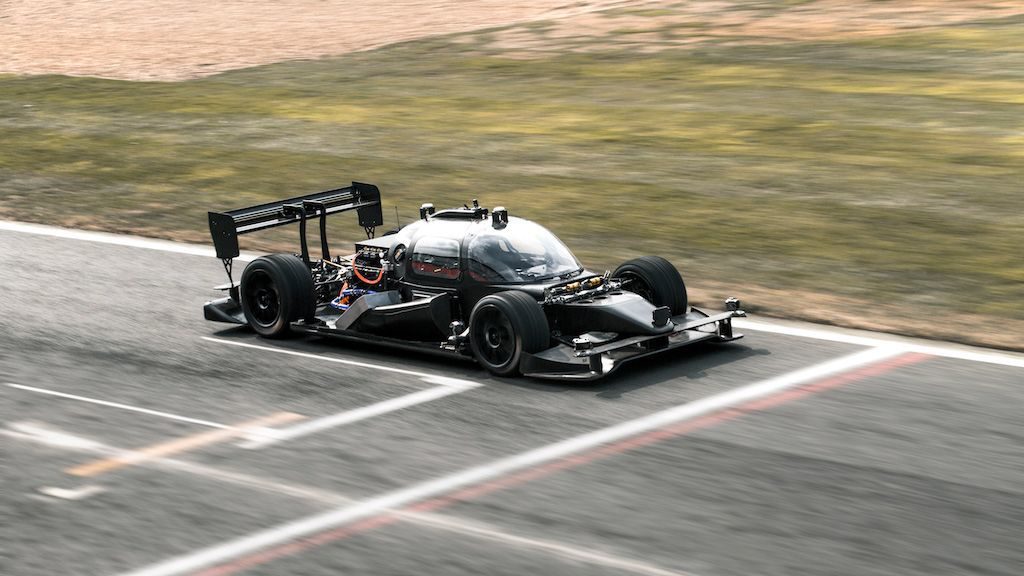 The final touches on the final Devbot is already underway according to Roborace. There will be additional tweaks and changes to the self-driving software, which is coordinated through feedback during testing. According to Roborace, the self driving race car Devbot can reach speeds up to 180 MPH.
Although the autonomous race car doesn't reach anywhere near top speed in this video, it will have plenty of chances to perform in Formula E. Devbot is set to make it's debut today at at Formula E's open practice sessions at Donington Park in the UK. It remains to be seen just how viable a self driving race car circuit could be, but there's no doubting the technology.
Roborace is set to Look for a full racing debut alongside Formula E's 2016-17 season. What do you think about this self driving race car? Leave us a comment below and let us know!