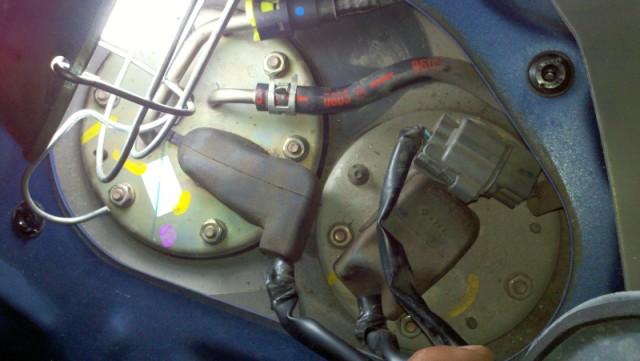 Luckily for you completing a fuel pump kill switch install is easy to do. One thing that isn't as easy is building and modifying your project car. Saving your pennies and carefully planning out your build is highly rewarding. But it can be cruelly snatched away one day if you don't put the proper anti theft mods in place. There are many ways to stop car thieves, and one of the most effective is wiring up a fuel pump kill switch.
This is a simple mechanism that will stop the operation of your fuel pump, and with clever installation can make it impossible for anyone to steal your car. Today I'll be showing you how to complete your fuel pump kill switch installation. It's best to stow away this kill switch so that your fuel pump will stop car thieves. Short of an electric dog collar, the proper fuel pump kill switch is what you need to stop any would be car thief.
What you need for your fuel pump kill switch
Universal rocker switch or kill switch kit
Single Post relay – SPST
Inline fuse
Wire strippers
How to install a fuel pump kill switch
Access your fuel pump – The first and obvious step is to find and access your fuel pump assembly and the wiring. Depending on your application, you may need to remove your rear seats or access your fuel pump through your trunk.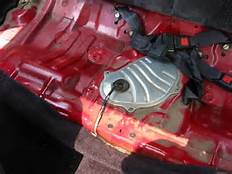 Shown to the left is a Honda fuel pump kill switch, and as you can see it's accessed from under your rear seats.
Regardless of how you reach your fuel pump assembly. you obviously need to access the connector and be able to strip and cut the wiring.
Check for fuel pump power – Using your digital multimeter you will then check for power. By grounding the black lead of your multimeter, disconnect your fuel pump harness and test for switched power. Keep in mind that your ignition must be turned to the "ON" position for this to work.
Put your fuel pump kill switch together –  You can do this one of two ways, if you've bought a complete kill switch kit this part is simple and straightforward. If you are putting your fuel pump kill switch together using a standard single post automotive relay, the fuel pump kill switch wiring diagram below can help you.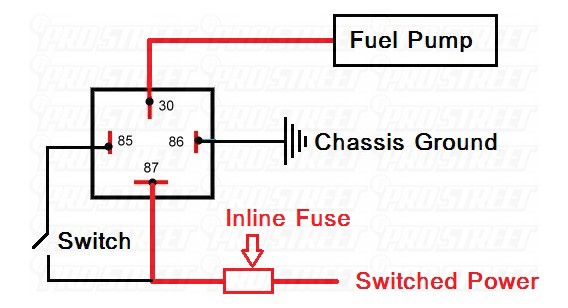 The fuel pump kill switch wiring diagram above will show you how to convert any universal automotive relay to do the task. Completing your kill switch install will allow you to turn off your fuel pump at any time. You can then hide or stash your fuel pump kill switch so that the car thief won't be able to find it.
Cut your fuel pump power wire – Cut and splice your fuel pump assembly using the wiring schematic above. Your kill switch and your single post relay is there to protect your car wiring and cut power to your pump on demand.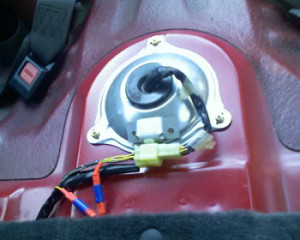 Once you have wired in your fuel pump kill switch, double check your connections to make sure that you don't run the risk of your pump turning off on it's own.
Although you can use electrical quick connectors, it's recommended that you solder your connections.
Never open your fuel pump assembly to install a fuel pump kill switch. Exposure to gas vapors or fumes can lead to a dangerous working condition.
There are several key factors that you need to keep in mind when completing this anti-theft measure. Here's just a few of them below.
Tips on fuel pump kill switch install
Always use a relay – Although you could install a kill switch and leave it at that, it's not recommended. Many three prong rocker switches do not have the proper amp rating, which can cause electrical problems. Some of these problems can cause your switch to melt or even catch on fire. Don't risk this and instead always wire in an automotive relay, and use a kill switch that's rated properly.
Wire an inline fuse – Definitely an important safety measure, installing a inline fuse to your power wire keeps things safe in case of an electrical accident.
Use proper gauge wire – Always use automotive wire that's thick enough to handle the voltage at hand. Choosing thinner wire that's not capable of safely conducting the current, can result in an electrical fire.
Hide your fuel pump kill switch – Completing this kill switch install does you no good if you leave the switch easy to find. Mount or tuck your switch away someplace safe where only you can reach it.
Have any questions about our fuel pump kill switch install guide? Leave us a comment below and let us know!