If you are a motor sports enthusiast or fan of drifting and haven't heard of Hoonigan Industries and Ken Block, chances are you've been living under a rock. Many of the most incredible drift videos have been build around Ken Block and his various incredible machines coined Gymkhana, including the awesome Hoonicorn.
His AWD Ford Mustang turned many heads through the streets of LA, and the driving skill on display is only surpassed in the production value. The newest offering from the Hoonigan crew happens to be Ken Block's very own 1978 Ford Escort MK2 RS. Sporting a custom Rocket Bunny wide body aero kit, this video highlights this incredible machine killing tires at 9000 RPM.
The crew at Hoonigan stuffed a fully built race-spec 2.5 liter four cylinder engine under the hood. This Milligton powerplant belts out 323 horsepower without the benefit of any power adders. If that wasn't impressive enough, the engine screams to the incredible redline of 9,000 RPM through a six speed sequential gearbox.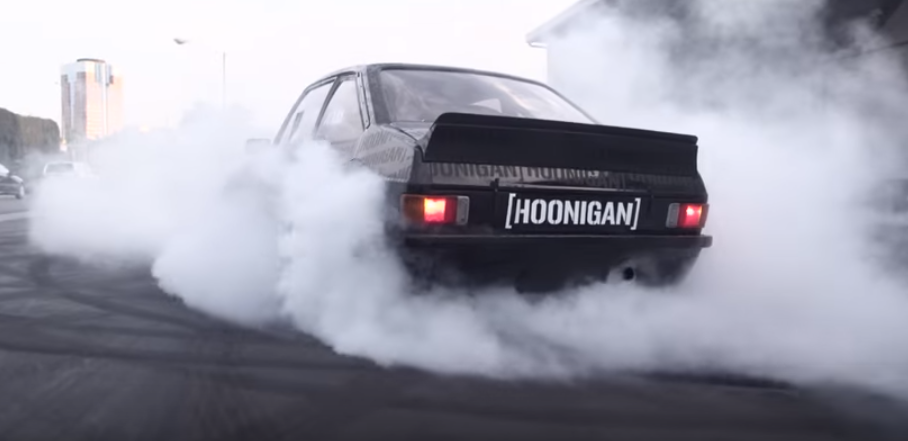 According to the Ken Block, the Hoonigans are working on whole new video project for 2016. Whatever the new video project is, we are excited to see how the Gymkhana Escort performs through it's incredible rear wheel drive build.
Want to see more of this incredible machine or the project from Hoonigan? Head over to their blog page to see all the latest updates.
Looking for more Hoonigan action or Gymkhana videos? Check out some of the older Gymkhanas below.
Check out for Ken Block Gymkhana Videos Below
---
Ken Block Spy Footage from Gymkhana 7
Gymkhana 4
Gymkhana 5
Ken Block in a Crazy Snowmobile!