Unveiled for the first time at the 2014 SEMA Auto Show, we finally got to see the car Ken Block himself called "hands-down the best Gymkhana car" he's ever driven. And we'd be lying if we didn't tell you it was truly an epic culmination of engineering and drifting skill as he pilots this monster through Los Angeles.
Built by the professional at ASD Motorsports and RTR, this 1965 notchback is a monster of a machine. In person Ken Block's AWD Mustang looks flawless and if Gymkhana 7 is any indicator it performs every bit as well as advertised.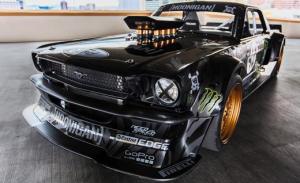 Powered by a Roush Yates V8 with NASCAR spec cylinder heads and a custom ground camshaft, this isn't your father's Eleanor. Mated to a custom Sadev all-wheel-drive system and a six speed transmission, the "Hoonicorn" puts down over 840 wheel horsepower and 720 lb-fts of tire killing torque.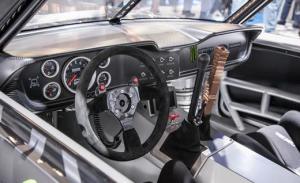 A full tubular tube chassis is skinned with carbon fiber body panels, giving the Mustang a modern wheel fender flare. Billet Aluminum control arms and suspension pieces keep the tire patch on the ground and spinning, where they belong. Three piece forged rims from Fifteen52 are wrapped with 295/30 18 inch Pirelli's with a special "Ken Block" compound mixed in for good measure.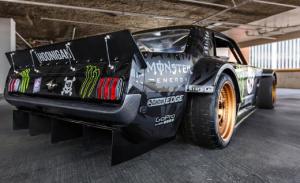 Body styling has been attributed to a mixture of WRC rally and DTM influences, and this machine looks mean as hell. Working together with Vaughn Gittin Jr and the RTR team has brought us the seventh and definitely most unique Gymkhana video to date. And we can't thank them enough.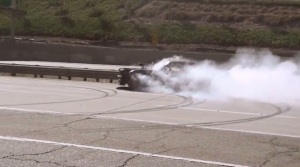 Enjoy Ken Block's AWD Mustang lay waste to the city of Los Angeles.
ALL HAIL THE HOONICORN

Check out for Ken Block Gymkhana Videos Below
---
Ken Block Spy Footage from Gymkhana 7
Gymkhana 4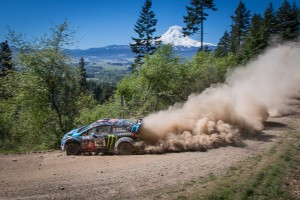 Gymkhana 5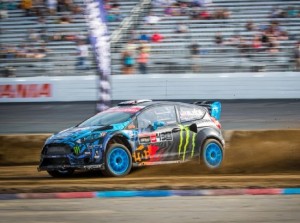 Ken Block in a Crazy Snowmobile!
Update – Requested Ken Block Fuel System Photo