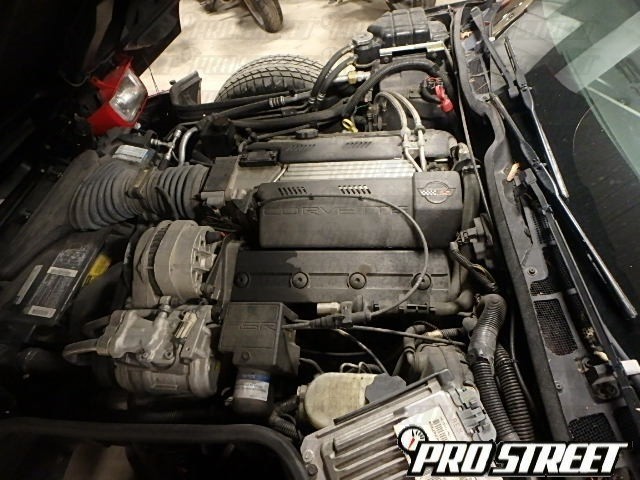 When you are planning a budget V8 swap and believe the LT1 is your best bet, you will be glad to know that you aren't alone. The LS1 swap has become so popular that this underrated engine has somehow snuck under the radar for many engine swappers. LT1 engine swaps can provide a low cost ( think under 1000 dollars ) for a complete engine swap that you can stuff into any lightweight rear wheel drive chassis.
Found in the early 90s Chevy Camaros as well as the C4 Corvettes, the LT1 is officially GM's second generation LT small block. Building upon the original LT-1 small block from the 1970s generation of performance Corvettes, the small block paved the way for the remarkable 1998-2002 GEN III LS1 as well as the 2002+ GEN IV variants.
What makes the LT1 special?
The first GM small block to utilize the now widely recognized reverse cooling system, the LT1 set the operating temperature bar very high for the successive engine designs. By allowing coolant to flow from the cylinder heads to the short block, GM was able to raise compression ratios and increase base ignition timing for superior performance.
What issues can I run into when swapping a LT1?
Swapping a LT1 into a newer chassis can pose a few problems, especially if you were originally considering the LS1. The short list of most commonly made LT1 engine swap mistakes is listed below, but generally you are best served by getting your LT1 from a Camaro instead of a Corvette.
Ten Worst LT1 Swap Mistakes
The art of swapping in a different engine into your favorite chassis of choice is a form of modification that's been around as long as the car has. Today's engine of choice happens to be the LS1, which is the new age Chevy small block that's spawned the new generation of Corvettes and Camaros. When you are in favor of swapping in an engine rather than rebuild it, the cost can be highly prohibitive. Finding a budget LS1 engine swap or a transmission you want to use can be difficult at times and very expensive.
So if you want a cheap alternative to the LS1, the LT1 is a great choice for any rear wheel drive chassis. It's also known as the GM TPI engine, and is easily found in many of the earlier Firebirds and Camaros. The LT1 is an excellent V8 engine swap choice that can be found for well under 700 dollars. The problem is however is when people locate the Corvette LT1, which can lead to a ton of problems when you try to swap it into your car.
When you are sourcing your V8 swap harness, you would be wise to stay away from the Corvette version which has a lot of external wiring that's not required. Further, the 1985-1989 Chevy Corvette is far too short and must be extended unless your chassis has room for the ECU to be mounted within the engine bay. The Corvette from 1990-1991 has the ECM mounted in the engine bay, and like the 85+ lacks the proper length for any TPI engine swap or V8 swap work properly.
There are several problems with the harness, engine layout, oil pan and more that can make a Corvette engine donor undesirable for your engine swap project.
What if Im swapping a LT1 into an older TPI chassis?
When swapping a LT1 into an older Camaro or Firebird, there's a few things you must be aware of to avoid making a crucial mistake. If your vehicle is even older the list of issues you may encounter gets much much longer.
As a general rule of thumb however, remember that installing an EFI engine into a chassis that was never intended to be a fuel injected one is usually a bad idea. Wiring harnesses and fuel delivery being the main two factors.
If you are converting TPI or swapping intake manifolds, it's easy to find your donor manifold at a junkyard. The problem is however identifying what you have exactly and how they components work for your engine swap. Many times you'll find that because of the wide range of applications and smog components involved, buying a TPI intake manifold second hand is a waste of time most of the time.
Instead opt for a complete intake manifold solution from a donor Corvette if your LT1 engine swap donor is not meant for street use.
This can prevent you from searching for that hard to find solenoid or part to your intake manifold so that everything works correctly.
What if I want to swap in a bigger engine?
If you currently own a 305 cu TPI and want to swap in a 350, 383 or even 400 cu engine, you need to do a few things before swapping in the target engine.
Remove the TPI knock sensor and use the 350 unit
Ditch the TPI PCM or go to a standalone solution
Replace your TPI fuel pressure regulator, injectors and pump with the 350
What else should I look for?
Try to remember that during this time period in GM production history, the term TPI is tossed around very loosely. Much like the term Vortec of the mid 90s, this lead to lots of confusion from customers and engine swappers alike.
Nowhere is this more an issue than the intake manifold, as we spoke about previously. If you are putting your LT1 swap together or building it before swapping it into your car, remember that TPI from a truck or different year range may be very different than what you are expecting.
When installing or upgrading your TPI truck engine, remember that your TBI accessories and fan belt routing will not allow your air cleaner to be bolted on. To summarize the point however, installing the Chevrolet fuel-injection onto an engine that was not originally fuel-injected is often not as simple as it would first appear.
For our comprehensive V8 engine swap guides on the LS1 engine as well as the LT1, subscribe to My Pro Street for all your GM V8 LS1 and LT1 tech.