Chevrolet has definitely revived the iconic badge of Camaro since it's return in 2010, and now the 2016 Camaro is here. Rumors and news have been percolating for months now, and now the CamaroSix has arrived. Set for release late in 2015, this new GM sports car has several options that hint at the plans that Chevy has for it in the near future.
Freshly redesigned and built on the same Alpha platform that the Cadillac ATS is built on, the new Camaro is over 30% stiffer than the old Zeta chassis. There's also several changes to the powertrain as well, which really give any Chevy fan a real range of choices never before seen.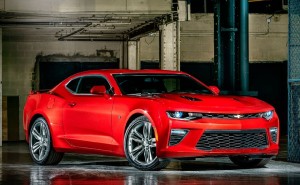 What's the new Camaro have to offer for sports car enthusiasts you may ask? Let's take a look below.
New for the 2016 model year, the Chevy Camaro will offer a 6.2 liter 455 horsepower V8 in it's highest trim available as well as a 3.6 liter LFX based direct fuel injected V6 that puts down 335 horsepower. We are thinking that the 3.6 liter shares the engine as well as the chassis that's found in the underwhelming Cadillac ATS.
Fascinatingly enough is the 2.0 liter turbocharged four cylinder that tops out at 270 horsepower, that will also be offered in the new Camaro. Could this be a Camaro trim that promises to participate in the brewing four cylinder turbocharged war that's ahead?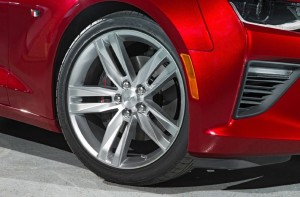 Chevy released the new 2016 Camaro at their Belle Isle location in Detroit, Michigan and was well received. Featuring all new suspension components, newer and bigger brakes, as well as lower control arm improvements and quite possibly the best Chevy interior we've ever seen.
Wholesale changes to the quality and build of the 2016 Camaro are in stark contrast to the exterior, which is just a bit of a redesign. The front fascia to the new Camaro has been sharpened just a tad, lending to a more sleek and aggressive front bumper.
Ford has a choke hold on the young domestic demographic, and they have won the SEMA trade show now 3 years running. We are definitely waiting to see what Chevy has planned for the new Camaro at the iconic trade show that's held in Las Vegas every year.
It will be tough sledding for the bowtie, could the new Camaro break through and chip away at some of Ford's success? Set for release in the winter this year, the 2016 Camaro has a base retail price of $24,000 dollars.
Want more 2016 Camaro news and information? Be sure to check out the recap of Chevy's new sports car below.

Images courtesy motortrend.com