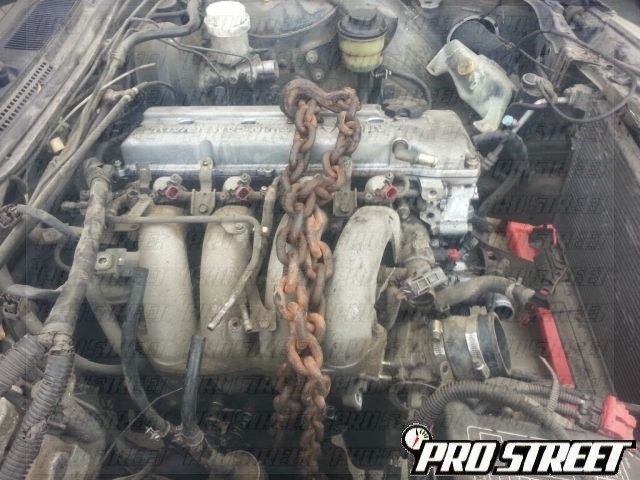 Before you can complete your engine swap, you've got to remove your Nissan 240SX engine from the chassis. The 2.4 liter KA24DE engine is a rather undersquare and underwhelming powerplant, so today we'll be ripping this thing out from our project. Part of our Ultimate guide to building a 2JZ Nissan 240SX, make sure to check out the main Budget Beast post if you want to build a 2JZ 240SX but don't know if you can afford it.
We will be selling the engine and five speed transmission as part of our budget build. Because of this reason, you will want to remove as much as possible as carefully as possible. Before removing your 240SX motor, make sure that you disconnect the battery and completely remove it as well as drain your oil and coolant.
Tools you need to remove your engine
19mm, 17mm, 14mm, 12mm deep sockets
Engine hoist
19mm, 17mm, 14mm, 12mm open end wrenches
Before you begin working on your 240SX, make sure you are working safely and that your vehicle is secured. Always work with safety as your first and foremost priority, serious injury could occur during the course of this job. For a list of tips on how to work safely, check here for our handy guide.
Now that you have already removed your battery as well as drained your radiator, you can go ahead to remove the hood. Take your 12mm sockets and remove the two bolts that run through the back of your hood to the hood latch supports.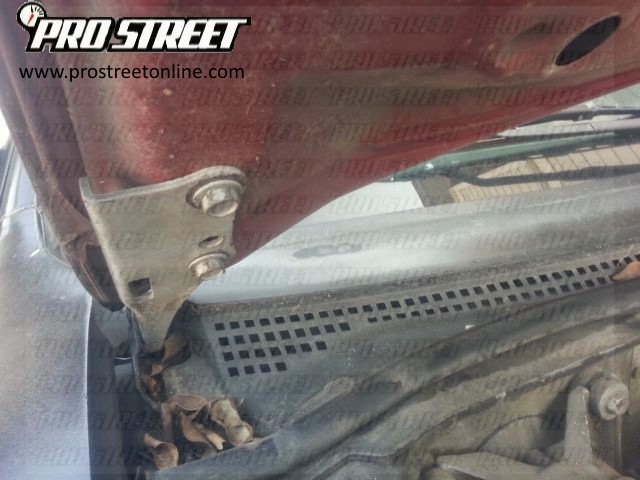 Once you have both sides loose, carefully lift and remove your hood with a friend. Don't try to solo this part, because one wrong move and the edge of the hood could damage your windshield. We are trying to build a 2JZ 240SX on a budget remember??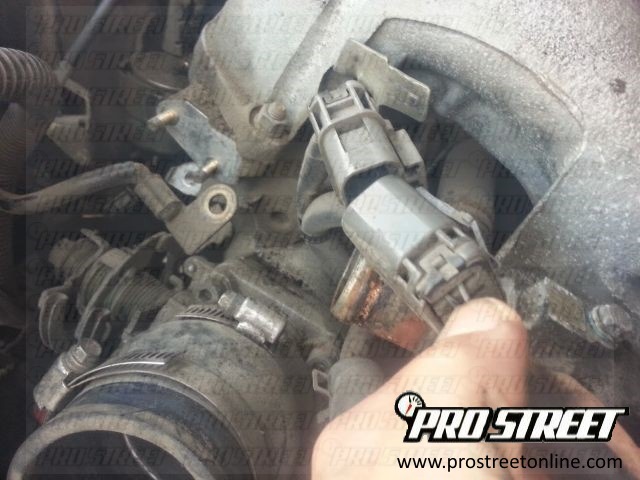 Unplug your mass air flow meter, and undo the hose clamps on your throttle body. Remove your air intake system, and being unplugging your distributor, air intake temperature sensors and every single connector on the front of your 2.4 liter KA24DE. This includes your throttle position sensor, your Nissan 240SX injectors and everything from your intake manifold.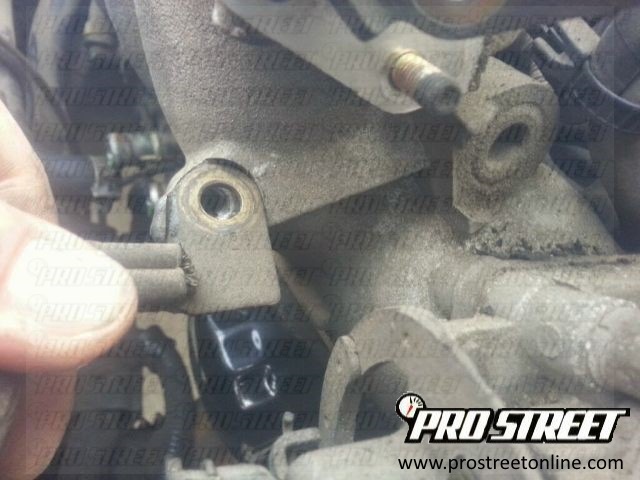 Remove your engine grounds and make sure to set these to the side, after this you are ready to undo your throttle cable.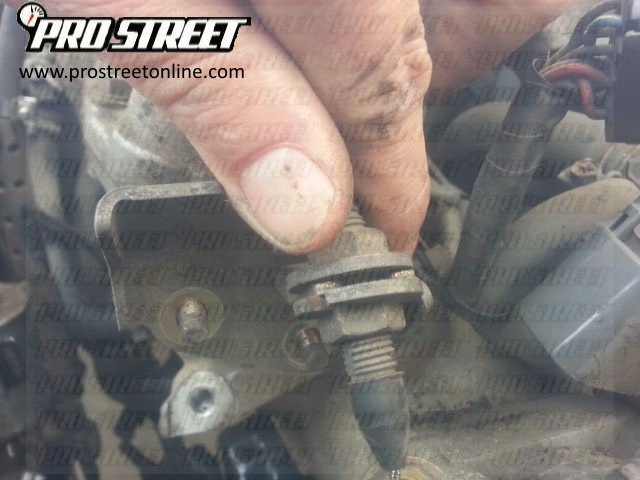 Instead of messing with the lockjam nut here, instead remove the 10mm nuts that hold the throttle cable to your intake manifold assembly. Now get yourself some more space in your engine bay by undoing the radiator stays on the front of your 240SX. Our front radiator support has sustained quite a bit of damage, so we just removed the smashed radiator.
Sadly our factory radiator isn't good enough to sell, which is a bit unfortunate but I think we'll manage. Our Budget 240SX had electrical Nissan Altima fans installed on the radiator, we we won't be removing the fan. If your 240SX still has the fan and clutch fan installed, remove your fan and radiator now.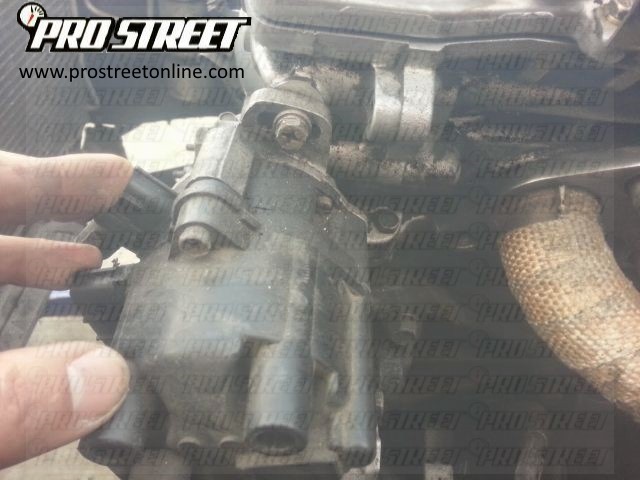 Unplug your spark plug wires from your distributor, and remove the 12mm bolts that hold the distributor to your cylinder head.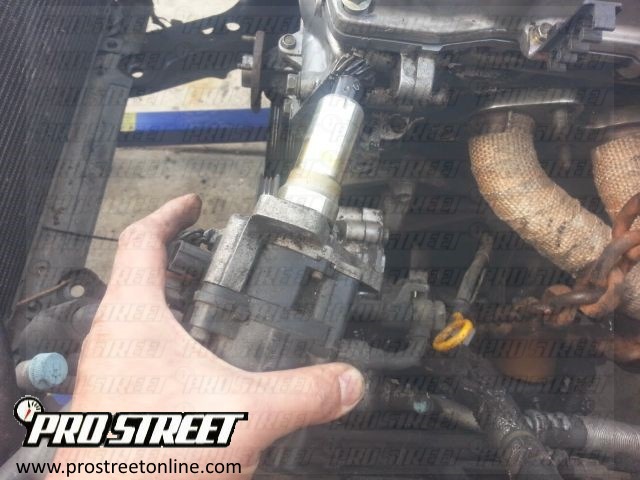 Remove the distributor and safely set to the side, because we won't need this unit it's being sold and put into our budget.
Disconnecting the Exhaust
If you are removing the motor and transmission as a whole, you need only to remove the header section between your cylinder head and the mid pipe. Begin by loosening the 14mm nuts that connect the bottom half of your header assembly to the rest of your catback. Once you have the union loose, you can remove the 12mm nuts that hold the exhaust header flange to your head.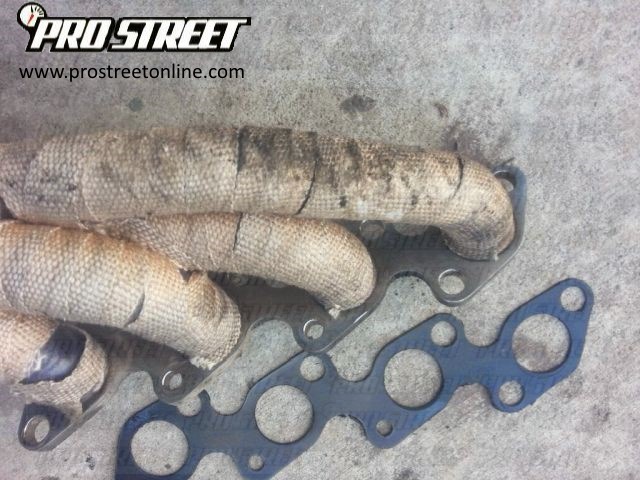 Carefully remove the header, this looks like a DNA Nissan 240SX header which is a longtube Chinese header. We will also be selling this off to put into our budget. Now that you've got this side of your KA24 handled, let's head back to the intake manifold side to do the deed.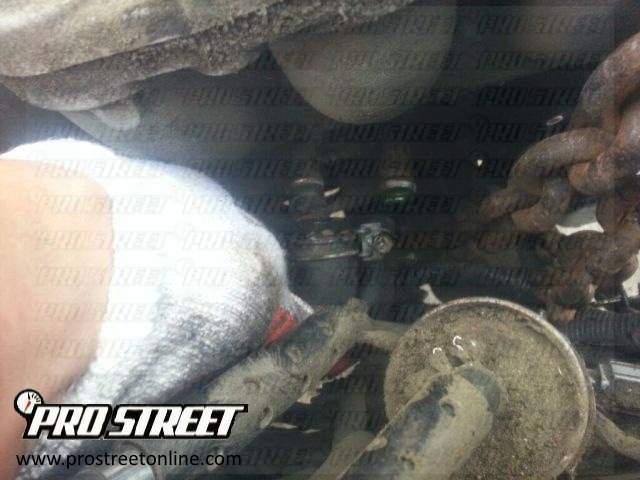 Disconnect the heater hoses that run to your chassis by undoing the worm clamps shown on the coolant ports. Gently pull off these hoses to free your intake manifold from the rest of the car.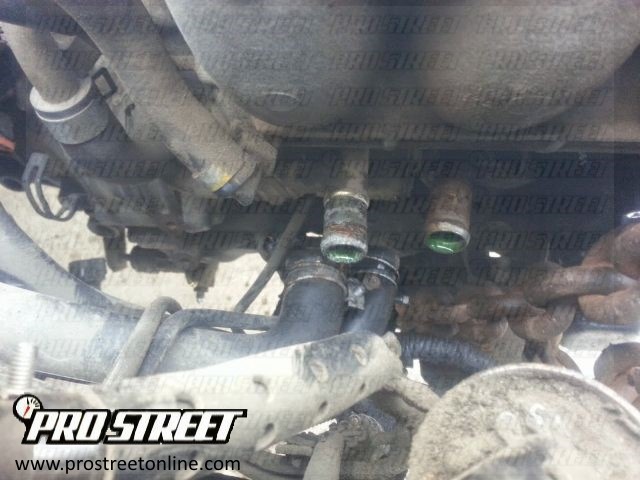 Pull these hoses downward and tuck them underneath your fuel lines so that nothing happens to them as you are pulling out the stock Nissan 240SX engine.
Disconnecting Power Steering
You have one of two options here when it comes to disconnecting the power steering. If there's no fluid inside your reservoir and you don't care about making a mess, you can simply disconnect the 10mm bolts that run through your power steering tank and into your driver side shock tower.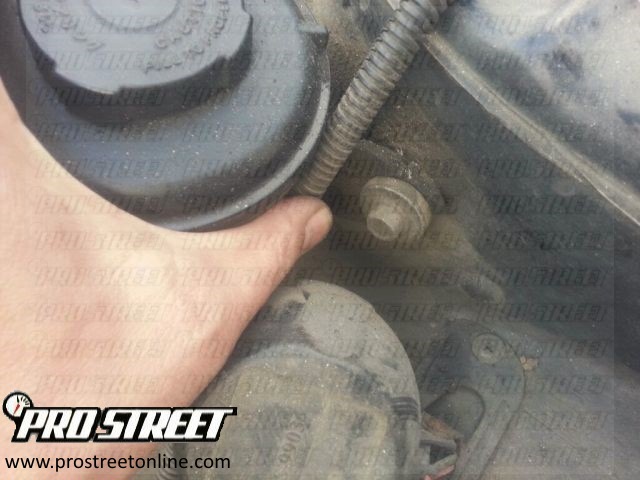 Just undo these 10mm bolts and you can remove the entire engine with the power steering attached. Be warned that this method while easy, is also going to make a huge mess so have your rags ready.
Because we need to save every penny for our budget build, we are selling our power steering and air conditioning setups whole. Undo the power steering tensioner as shown below, and slide off your accessory belt completely.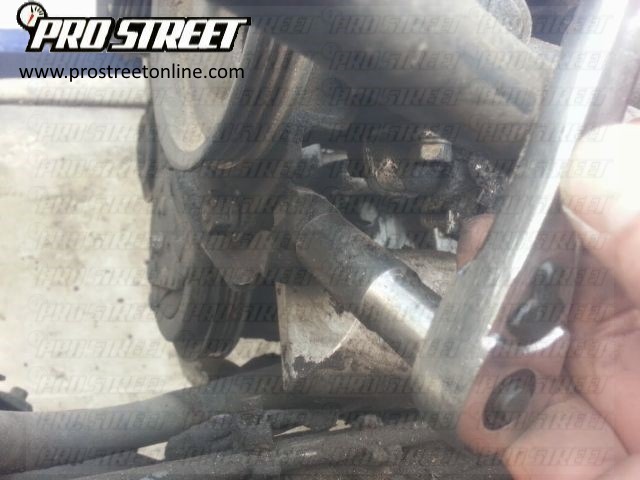 To remove your power steering pump, grab your 14mm and begin removing the bolts under the engine bracket.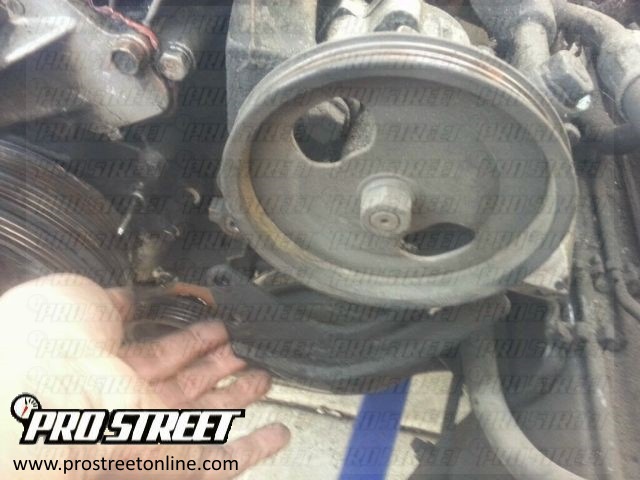 Now this bracket should be loose, rotate the power steering pulley until you can fit the 14mm socket through it. Remove the last upper bolts to free the power steering pump and lines.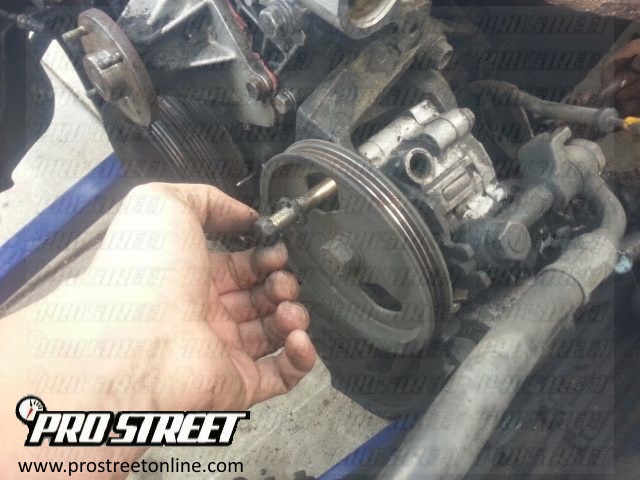 Disconnecting Air Conditioning
If you are going to try and save the freon in your system, or sell your Nissan 240SX air conditioning pump and lines this step is for you. Using your long 14mm socket, begin loosening the air conditioning compressor from your block.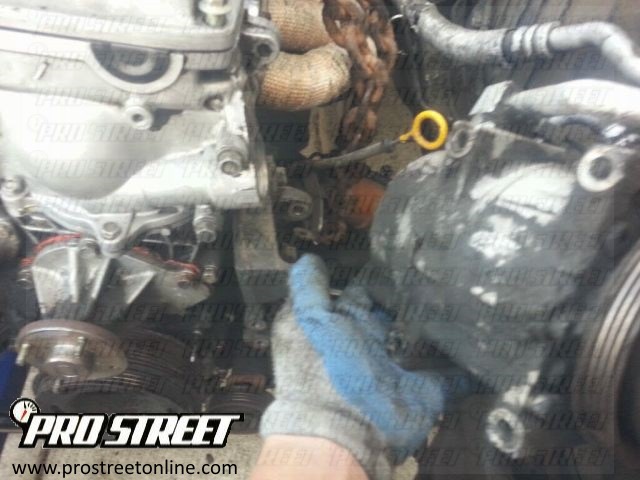 There are four bolts total, and once they are loose you can pull out the bolts and free your compressor unit. Use a bungie cord if you want to save the freon in your unit, and use a MXDU plate to mount your KA24 air conditioning compressor to your 2JZGE.
But our compressor isn't to share that fate, instead we are carefully removing these lines and the pump to sell.
Now check the topside of your Nissan 240SX engine bay and make sure that the top half is completely free and disconnected from your chassis.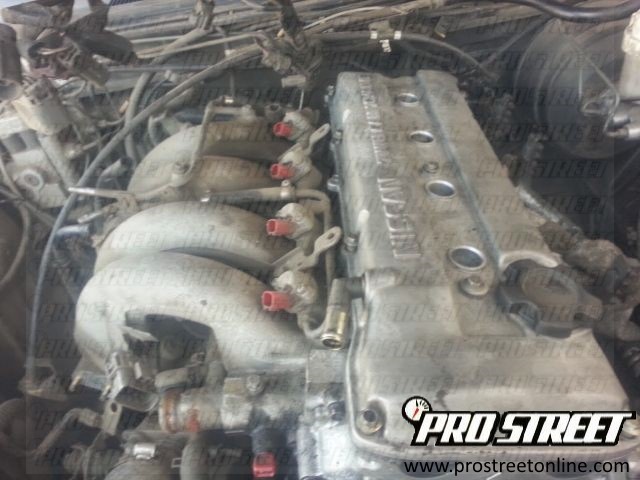 Get under your 240SX and completely remove the nuts that hold your motor mounts to the subframe. Now grab your engine hoist chain and secure it to the engine mounts, remember that your shifter will need to dip down to clear your firewall and hurdle your radiator support. You can also remove the 240SX shifter, if you need a How To check here.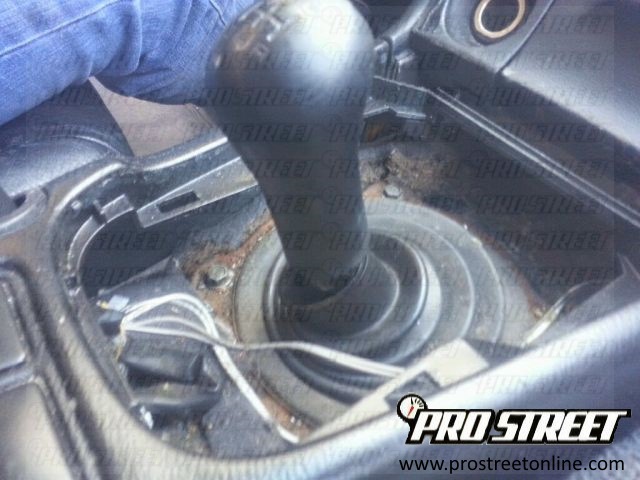 Now that you have the front half of your engine ready to go, use jackstands and an automotive jack to support the back of your transmission and yoke. Secure the chain around your engine, and double check your mounting points. Hook up your engine hoist and make the tension taut between the hoist and your Nissan 240SX engine.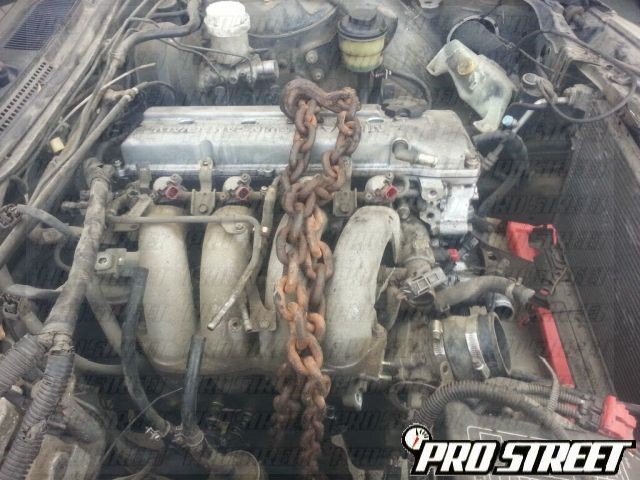 Here's a shot of what is left to remove, this is the transmission bracket that runs under your Nissan 240SX. With the jack supporting the back of the transmission, remove the 14mm bolts on either side of the bracket.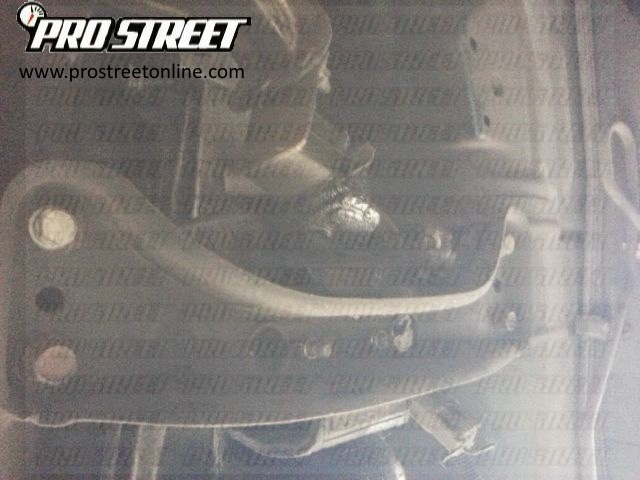 You may also want to remove the entire bracket itself by undoing the 12mm nuts that run through the bottom transmission mount. If you haven't drained your transmission yet, you will want to do that before removing your transmission and engine.
Once your engine and transmission are unbolted, carefully remove and lift up and over your radiator support. Make sure to take your time and go slowly, because damage can still occur to your power steering lines located on your subframe. Once you have the engine and transmission freed, go about selling it to the highest ( or lowest ) bidder.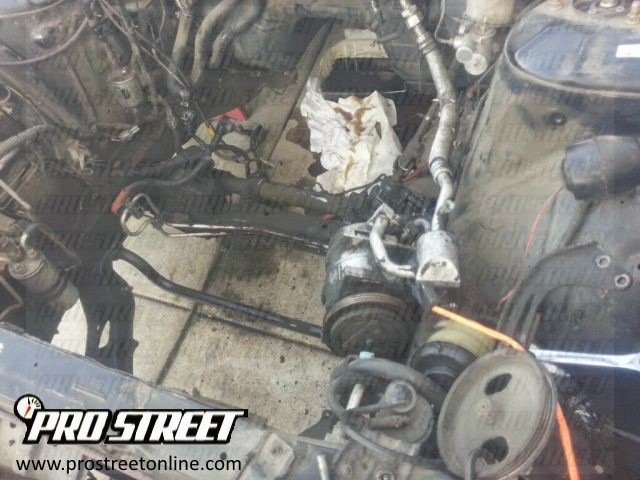 Now that your engine bay is emptied, you can begin cleaning and prepping the rest of your chassis to take your 2JZGE engine swap. Here's a running total of where our budget build stands so far.
Current Budget Beast Tally
1995 Nissan 240SX – Very purple – $1450
Used 1999 Lexus GS300 2JZGE engine – $650
---
2.4 Liter KA24DE Engine / Transmission / Engine Harness / ECU +$900
Chinese 240SX header +$60
KA24DE distributor +$40
Chinese 240sx exhaust catback + 80
Power Steering Pump and lines +50
Air Conditioning compressor and lines +120
KA24DE Used Injen Intake +40
Nissan 240SX driveshaft +50
Have any questions about our Budget Beast build or removing your KA24DE engine? Leave us a comment below and let us know!
We remove the subframe and show you how to service a Nissan 240SX rear end in Part 3 of Budget Beast.
Next up for Budget Beast – Prepping your CD009 Transmission and Installing a Collins shortened shifter