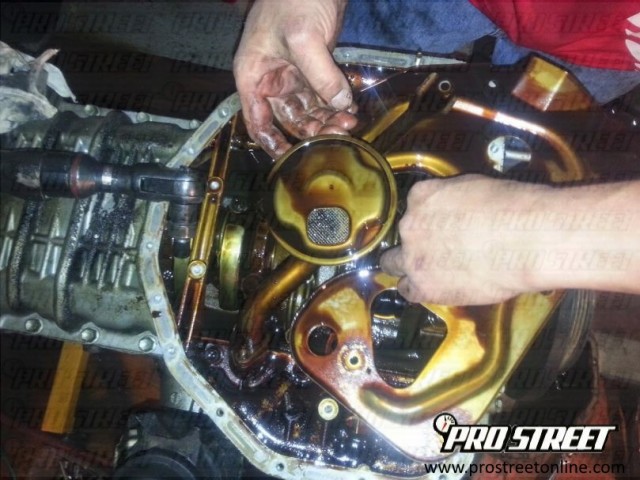 You're nearing the meat and potatoes part of your 2JZ teardown, and just as you begin to get into it your crank bolt stops your cold. Whether from excessive heat or the abuse that most 2JZ engines endure, the crank bolt can be a tough one to deal with. Shipped from overseas or sitting in late 90 luxury vehicles in junkyards or wreckers, we've broken many bars trying to loosen this bolt.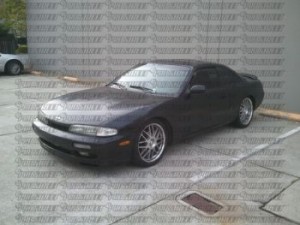 Today I'll be showing you how to slay the beast quick and easy, with this DIY article showing you how to remove a stuck 2JZ crank bolt. Today's engine is a 2JZGE with GTE rods and pistons, a great budget build for any racer.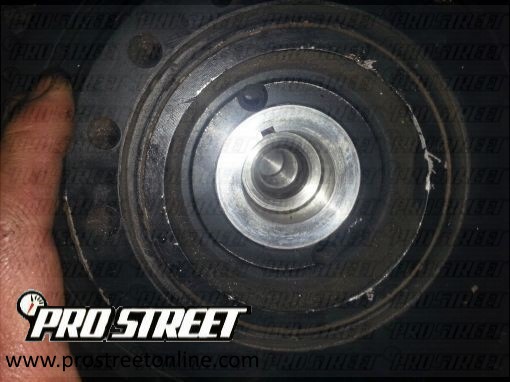 This bolt is a 22mm and will require a good sized wrench to get this job done, as well as a breaker bar that won't bend or break on you. This how to remove a stuck 2JZ crank bolt DIY guide is intended for those working on an engine stand. You can use this method to break your crank pulley free on the car, but take special considerations unless you have a two post lift. As always, when working on your own vehicle work with safety in mind first and foremost.
If you are working on your 2JZ inside your engine bay, you've got to raise it and secure it after draining the oil from the drain pan. You will be following along, although our guide is walking you through with a 2JZ on the engine stand.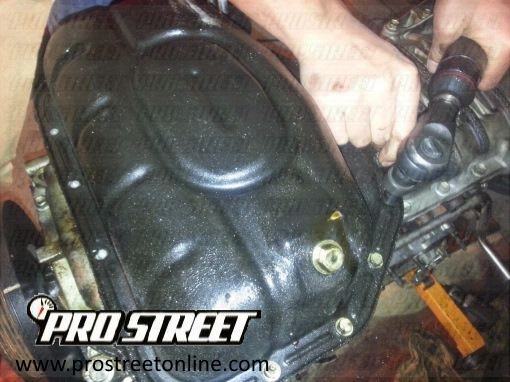 Begin by removing the 10mm bolts that hold your lower metal oil pan in place.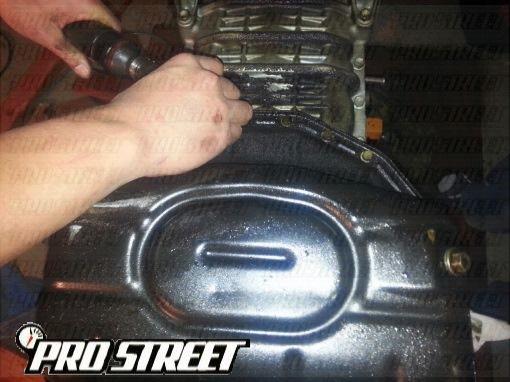 Save these 10mm bolts in a separate bag so that you can easily find them and reinstall them when you are ready.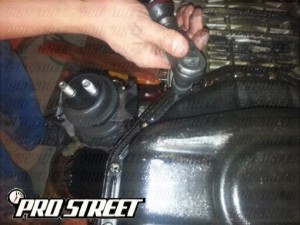 Unplug your 2JZ oil pressure level sender. You will be loosening the four 10mm bolts that hold the level sender in the metal oil pan.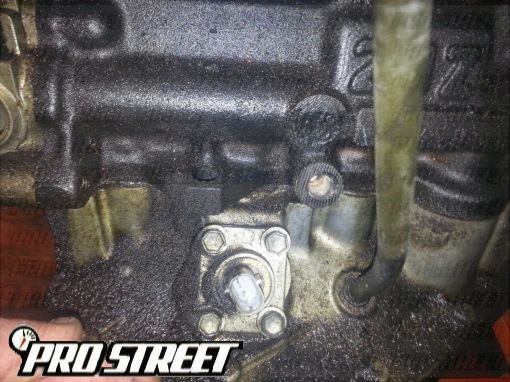 Now loosen the lower steel oil pan from your 2JZ block by prying the back of the oil pan from the aluminum upper pan. It goes without saying if you are working on the ground or on a 2 post lift, drain the oil from your motor and allow 1-2 hours for the oil to drain to it's furthest point in your car.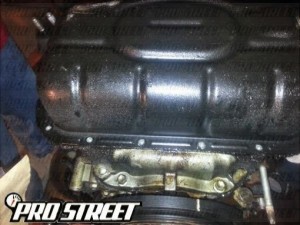 Use a deadblow hammer and gently tap the sides to break your 2JZ lower oil pan free.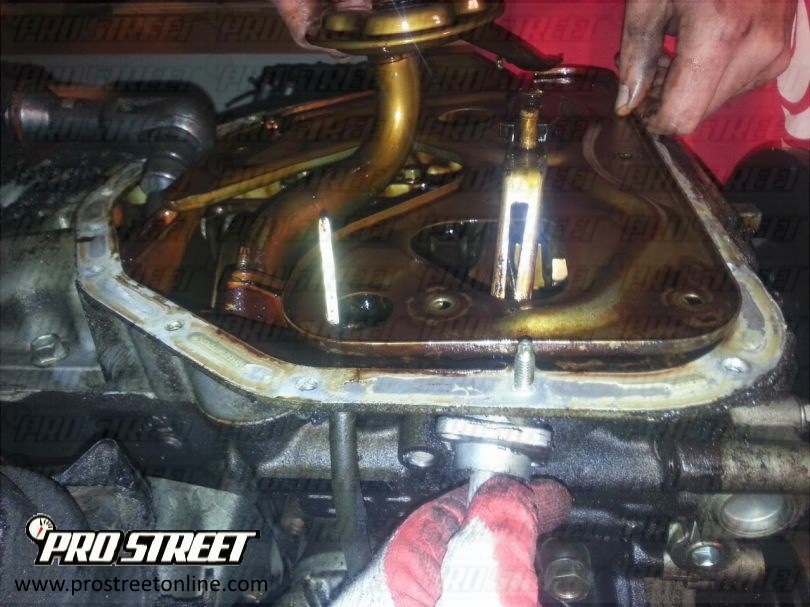 Slide your oil level sender out of your 2JZ block by removing the 10mm bolts and sliding outward.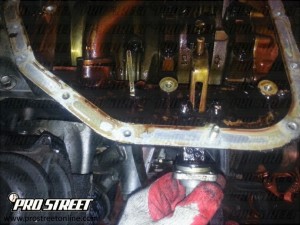 Be careful you do not break or damage this sensor during removal. With the lower pan and level sender removed, the next step in our how to remove a stuck 2JZ crank bolt guide is to remove the 10mm bolts that hold the oil pickup arms to the block.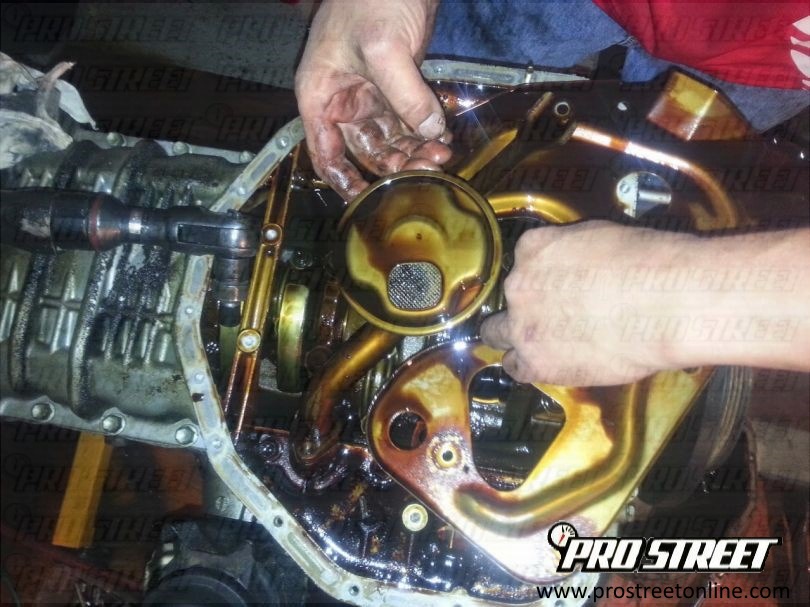 Remove all 10mm bolts that hold the 2JZ windage tray in place, and then loosen the 10mm nuts on the oil pump pickup, but do not remove them yet. Slide your windage tray from under your oil pickup to remove from your block. If you are working on the ground or under a 2 post lift, now's a good time to grab a beer and let the oil drain from the inside of your motor.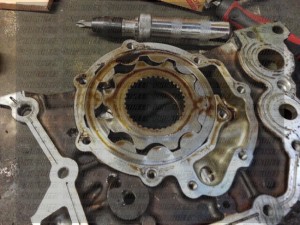 Use the proper eye protection if you're going to be doing this with the engine in the ground, and you directly underneath it.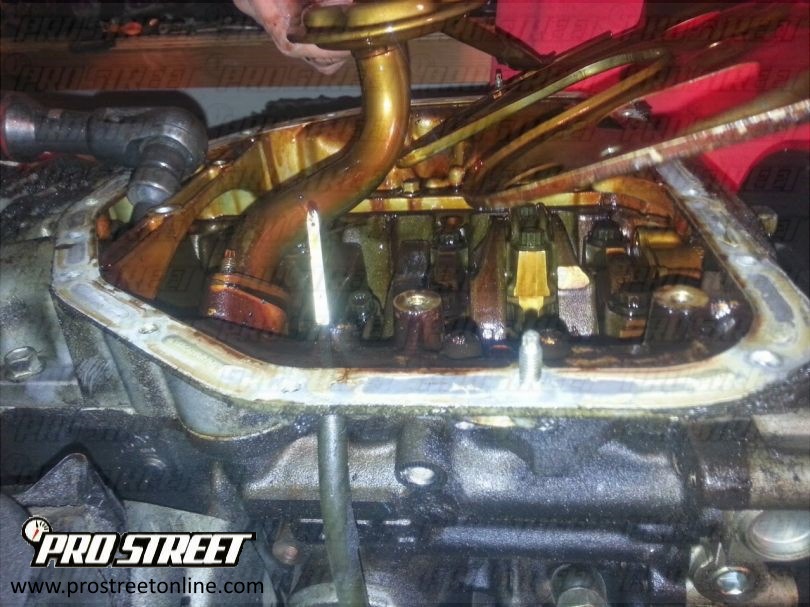 Remove this windage tray, and then finish taking off the 10mm nuts that hold the oil pickup tube to your 2JZ oil pump.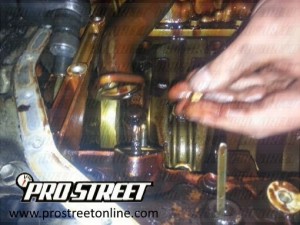 Remove the nuts and 2JZ oil pickup tube.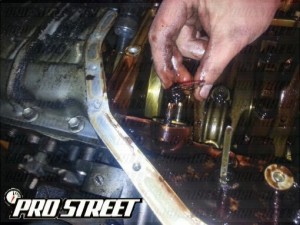 Don't forget the gasket for your pickup tube for your 2JZ oil pump. If you need a guide on how to Replace your 2JZ oil pump, check here. The Toyota part number for the oil pump is 15100-46090 for this 2JZGE.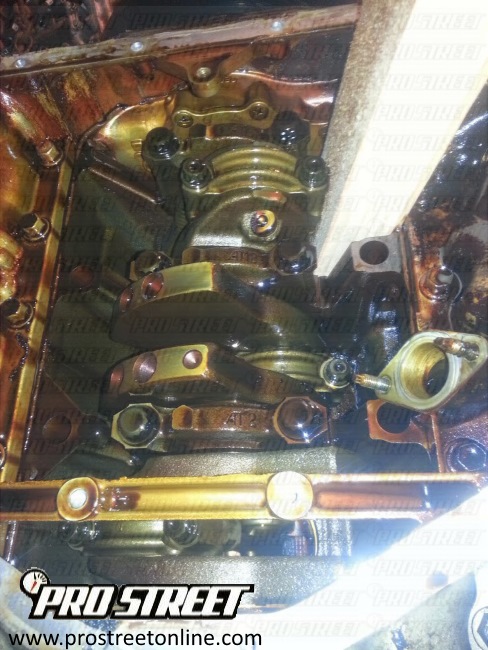 Now with the windage tray and oil pickup tube out of the way, you're now free to insert a 4×4 into cylinder three, This will prevent the motor from turning and will not damage the motor or your aluminum oil pan. Use your breaker bar to set your stubborn 2JZ crank bolt free.
Congratulations, you now know How To Remove a Stuck 2JZ Crank Bolt. If you have any questions about our DIY guide, leave them for us below.