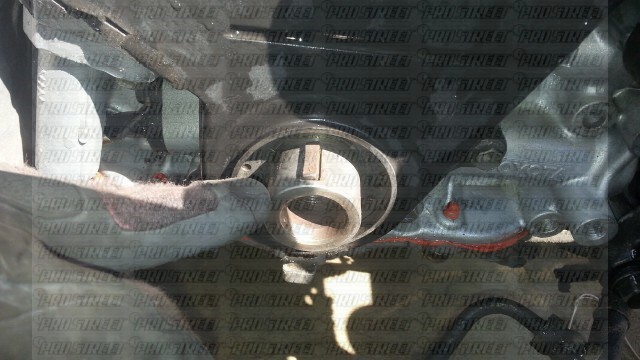 When you are considering engine swapping the incredibly over-engineered 2JZGTE into your vehicle, you know exactly what you are getting. However because the majority of the 2JZ engines being swapped are JDM and out of Aristos and Soarers, there are a few things that need to be done before the engine can be swapped.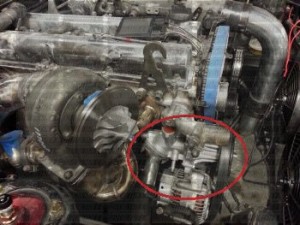 One of these main items is the water pump because the Aristo motor you have imported over most likely has the JDM water pump front and rear half.
To swap the 2JZGTE into your vehicle without having a mess of plugs all over the place is simple, switch the front half of the water pump but retain the JDM back half. This will allow you the ease of using USDM pulley kits and belts without the added hassle of figuring it out on your own.

Many customers decide to keep the JDM front half of the water pump and simply use a custom belt or one that isn't the exact match. We would strongly advise against that, considering the many benefits the proper belt and pulley set provide.
So to make this process as simple as possible, we're going to be showing you how to install pulleys on a 2JZ today. Our pulley set is the standard Ebay / Chinese unit that is just about everywhere. If you have purchased a non-harmonic balanced pulley set, disregard the name found on your package, because this is probably the same one.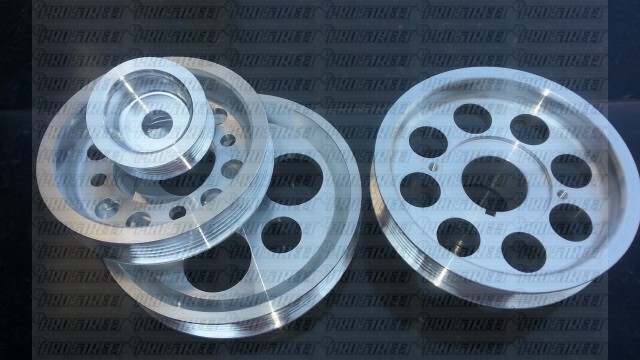 In our how to install pulleys on a 2JZ article, we'll be installing this set of underdrive pulleys on a 1994 Lexus SC300 with a 2JZGTE Aristo engine swap and Getrag six speed transmission.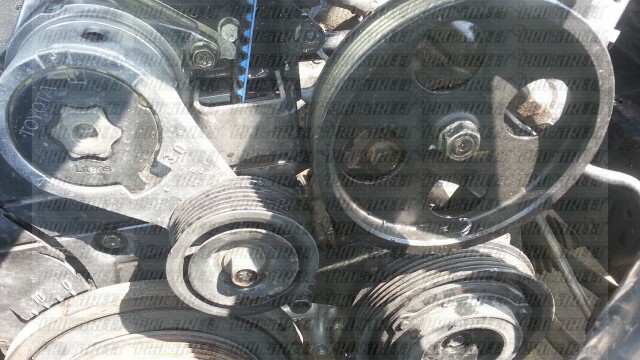 We'll be starting with the one cogged pulley on our how to install pulleys on a 2JZ GTE, the power steering pulley. Undo the 17mm nut that secures this pulley to your power steering pump.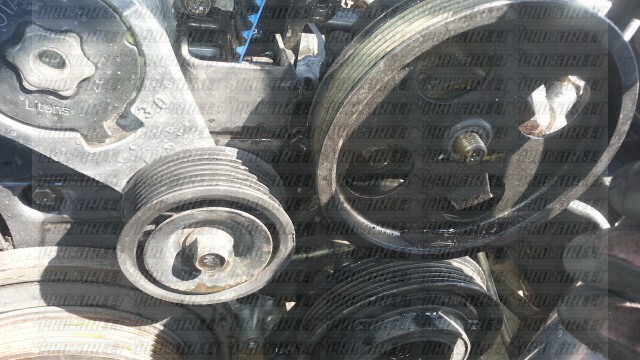 Gently wiggle and slide off the cogged pulley to prep for the power steering pulley that you'll be installing.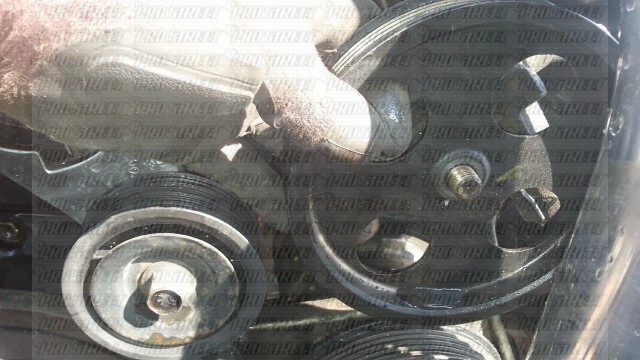 The next pulley we'll be moving onto in our how to install pulleys on a 2JZ guide is the water pump pulley. If you are retaining the JDM front half water pump however, this pulley install is not needed.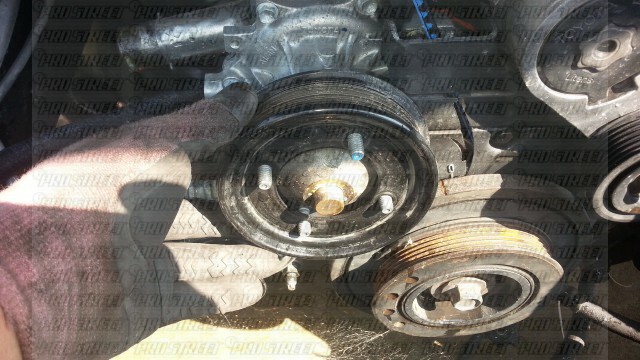 Remove the four 14mm nuts that hold the USDM pulley on the front half of your 2JZGTE water pump. Remove your water pump pulley and then we can move onto the alternator.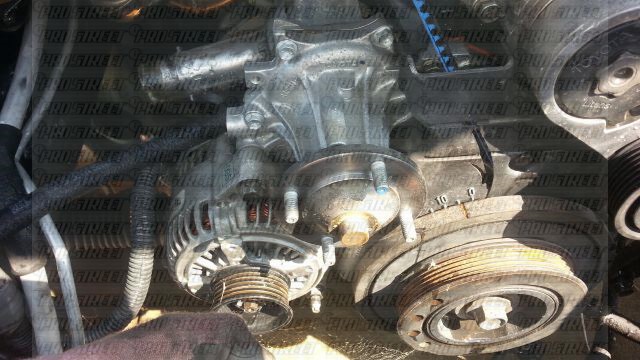 With the two easiest pulleys out of the way, we'll be tackling our first difficult pulley with the 2JZ alternator.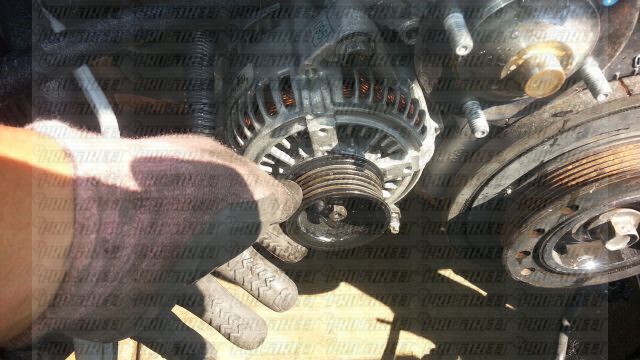 This pulley can be problematic, especially if you have your 2JZGTE already swapped into your car, as we do with this SC300. It's difficult to squeeze a normal gear puller down in this area, so you've got to be patient. Do not pry or wedge the pulley away, this may lead to your alternator shaft being bent or your stock pulley warping.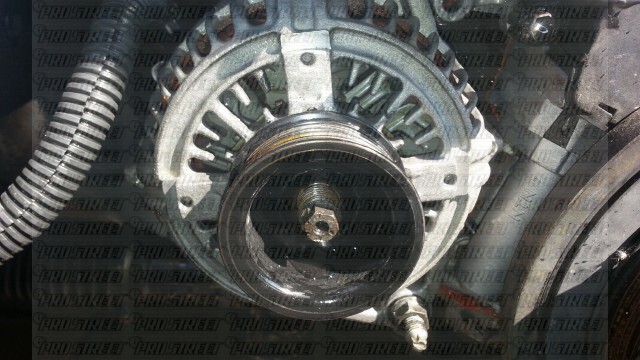 Once you have removed the alternator pulley, move onto the crank pulley which is the hardest pulley to change on our how to install pulleys on a 2JZ article.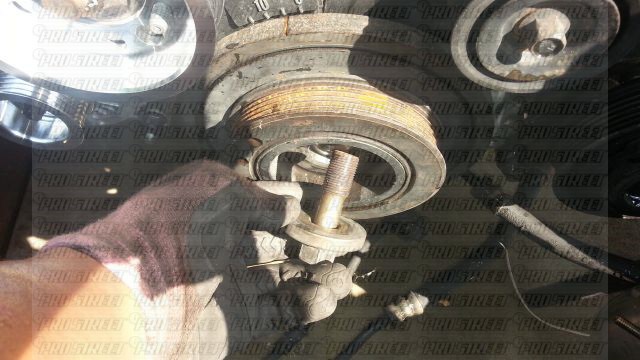 Using your impact wrench undo the 24mm crankshaft bolt, that should free up your 2JZGTE crank pulley. Otherwise known as the harmonic balancer, this can be a troublesome pulley to yank off especially for imported engines. Sitting on docks and around moisture and sea water does not help when it comes to yanking this pulley off.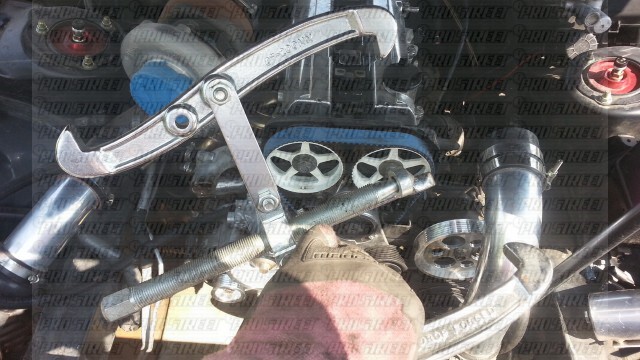 With the crank pulley finally removed and taken off, find and locate your 2JZGTE keyway ( woodruff key ) and make sure it's safe.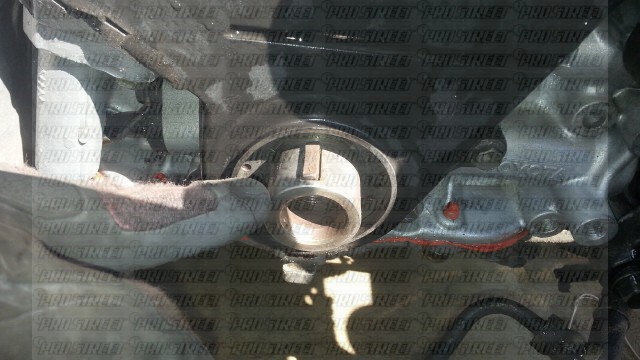 If the pulley kit you are installing is a harmonic balanced one or something like an ATI, install your crank pulley now. There should be minimal work needed for those kinds of pulleys. Unfortunately however, this customer wants to run the unit that came with his kit.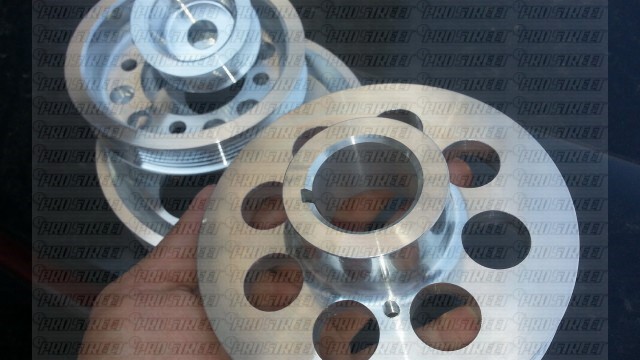 Use some steel wool and gently clean up the crank snout and the inside of your crank pulley. Inspect your woodruff key for any wear or significant damage or grooves that may exist. If you need a replacement woodruff key, now is the time to replace it.
You can also use sprays like liquid wrench or WD-40 on the snout and inside the crank pulley, but make sure not to spray directly on the engine.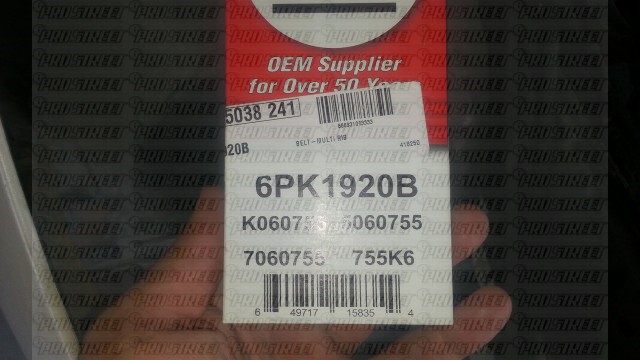 The belt you need is 6PK1920B which is the right size and belt length for your 2JZGTE pulley set. Use the 14mm open ended wrench and set the tension on your accessory belt tensioner. Remember that you must tighten to loosen the tension set by this tensioner.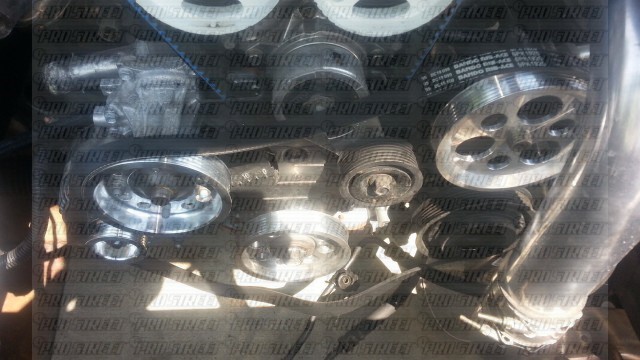 Make sure that your belt is lined up properly and tension is set, and you have now completed our How To Install Pulleys on a 2JZ guide.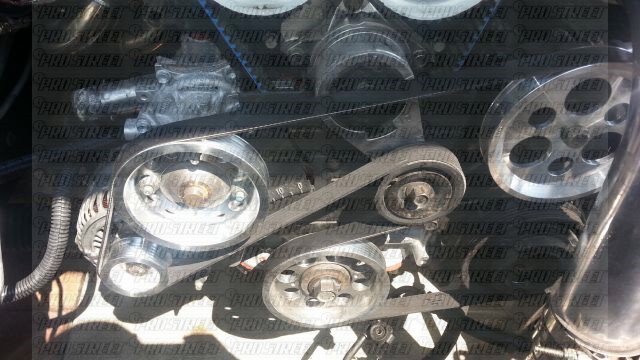 This does it for our How To Install Pulleys on a 2JZ article, please leave us any questions or comments below.