Everyone has their favorite video clip of the iconic GTR. From race clips to track cams, there's no shortage of Nissan supercar goodness to be found online. So it's rare when a GTR video is so impressive it takes your breath away. This acceleration video featuring an incredible GTR, shows the turbocharged supercar reaching 160 MPH in just 12 seconds!
The R35 wastes no time in reaching the speed, and there's plenty of on screen data to help you understand how epic this video really is. From the speedometer to the accelerometer, you can imagine the kind of G forces this incredible GTR is capable of.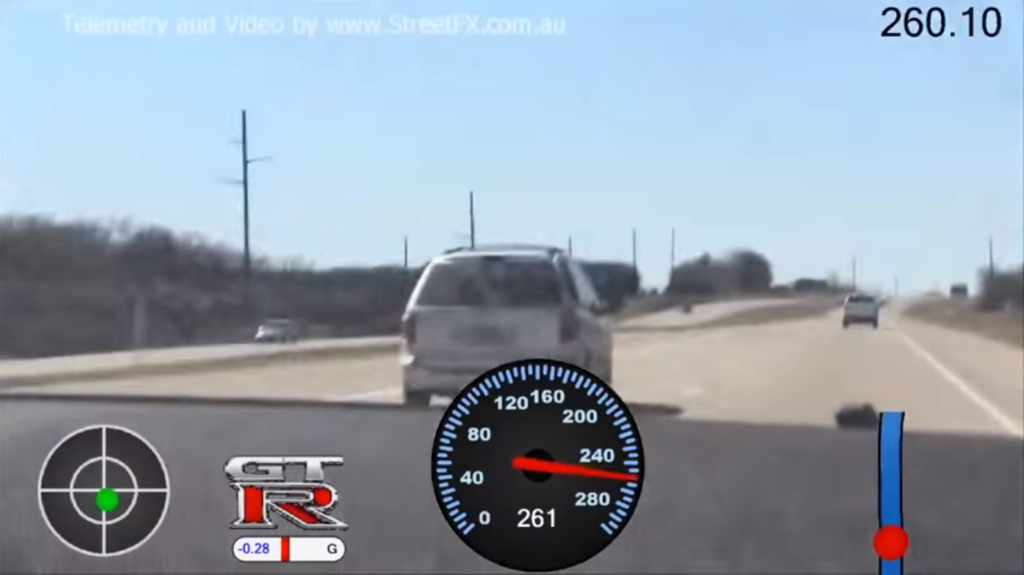 This incredible GTR R35 Nissan boasts over 1000 horsepower and has no trouble laying it down on the freeway. The driver simply asks if the passenger is ready before streaking down the road in epic fashion.
Before the incredible GTR reaches a top speed of 163 MPH, there's just 12 seconds that have ticked off the timer. Because of the danger of top speed runs on the freeway, the driver wisely holds off on the accelerator from this point onward. There's a lot to be said about this powerhouse R35, but it's still very dangerous to be driving that fast on any public road.
Still this incredible GTR is something to behold, even in shaky hand-cam video style. You can almost feel the G forces push you back in the seat as the R35 skyrockets towards the horizon. There's not much mention to the modifications done to the vehicle, but you can bet there's some serious money invested.
What do you think about this incredible GTR? Want more videos or racing action? Check out more by watching the video and make sure to subscribe to My Pro Street for all the latest in tech tips, DIY articles and race videos.