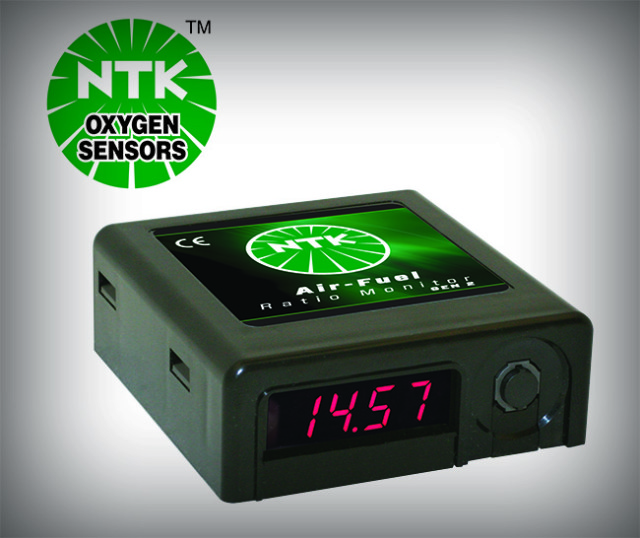 One of the industry leaders when it comes to oxygen sensors and air fuel ratio sensors, NTK has just released the NTK AFRM monitor. The all new NTK Air/Fuel Monitor comes with everything you need for a complete install. You can mount the monitor on your dashboard or at eye level in your cabin to display your air fuel ratio.
You can change the readout from standard AFR or Lambda, whichever is easiest for you to read. Perfect for when you are tuning for closed loop operation, the NTK AFRM monitor features lightning quick response. The module is easily mounted inside your car and comes with a complete wiring harness, allowing for easy install.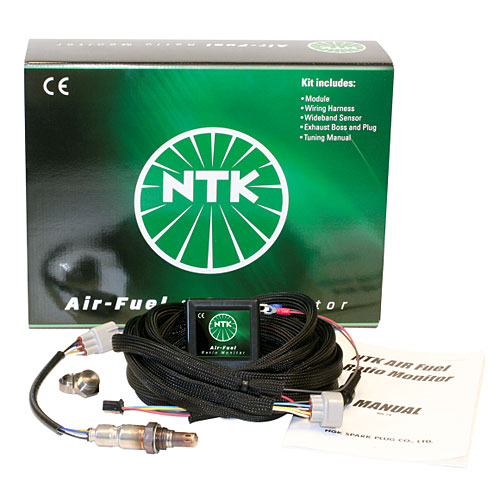 Features of the new NTK AFRM
This new air fuel monitor can measure your exhaust and displays between 9.0-20.0:1 AFR. It also operates with a 0.5 – 4.5 volt analog output signal, giving you an excellent base to dyno tune your car. Whether you are using a piggyback fuel computer or a standalone, the NTK AFRM is a complete bolt in solution.
This unit comes complete with the wideband oxygen sensor, or 02 sensor. It also comes with an 02 bung and plug, perfect for welding into your downpipe or header. Best of all it also features an adjustible sampling rate so you can change how fast or slow the data is fed to your NTK AFRM monitor.
All new wideband NTK oxygen sensors are individually tested to ensure the highest level of quality and reliability. As the new kid of the block this air fuel ratio monitor has quite a bit to prove. We would be interested to see how it performs against the recently completed Wideband Shootout, where the AEM X Gauge took home the honors.
This new NTK monitor also comes with a tuning guide, in case you need help tuning the air fuel ratio of your car. When you are in doubt of course you can use our collection of tuning guides and tech tips to get your car dialed in.
Need to find the best price on the new NTK AFRM monitor? Head over to our online store and pick up your monitor today.