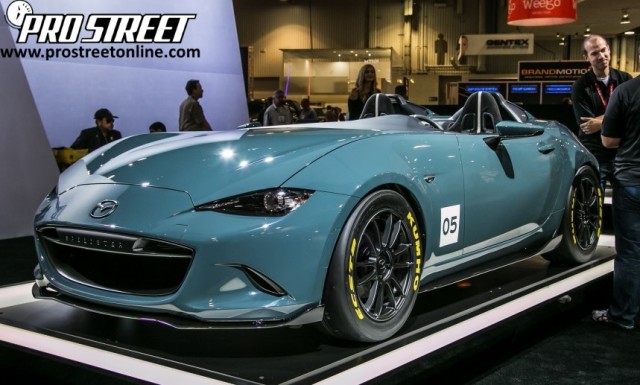 Mazda's Miata Speedster has been a revelation since the 2014 SEMA Show, where the iconic roadster made it's debut alongside a first gen Miata from the early 90s. Taking the MX-5 Spyder concept one step further this year, Mazda went full circle at the 2015 SEMA Show flexing this topless MX-5 sans windshield. Built with the same formula as the classic Porsche Speedster, this new Miata had heads turning at the show.
There's been quite a bit of buzz about this remarkably balanced MX-5, and for good reason. Balance has been the Mazda calling card for the Miata since Day 1, and they pulled out all the stops with this matte blue color they call Blue Ether.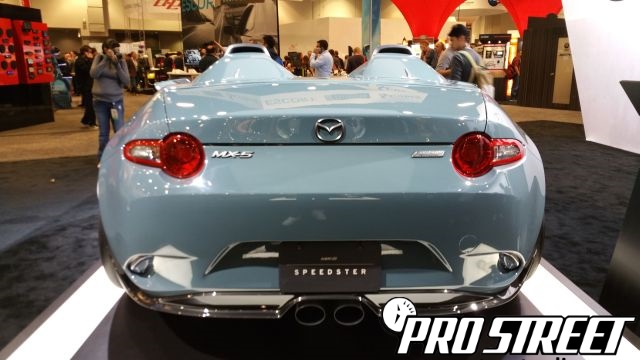 Minimalist and functional design plays a huge role in this new Speedster, with carbon fiber door panels and custom seats. Weight reduction was a huge part of this build, with this Miata Speedster shedding more than 250 lbs in the process.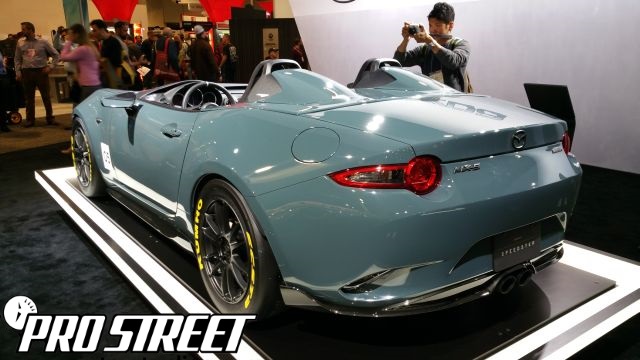 Putting a set of 16inch Rays Extreme Gram Lights at each corner wrapped in 225/50 Kumho tires, the sky blue MX-5 looks like a perfect blend of performance and weight savings. Tipping the scales at just over 2000 lbs, we liked the custom tonneau cover and rear buttress as the highlights of this topless roadster.
Based on the 2.0 liter, 16 valve engine the Mazda powerplant is more about balance and functional power than outright horsepower numbers or torque curves. Fitted with a Racing Beat center exit exhaust system, the stance is set by a custom coilover set from K&W Suspension.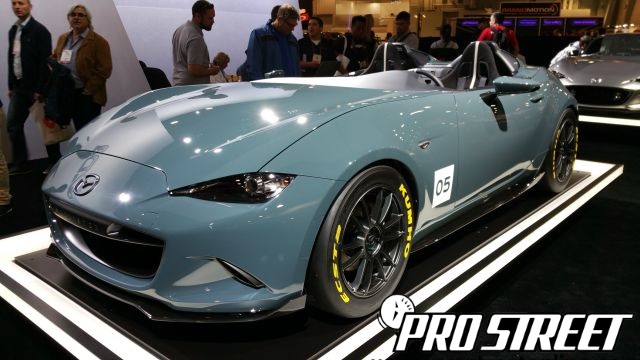 Peeking out from the custom Rays wheels is a full set of Brembo 4 piston calipers and wide track rotors. Overall this build screamed functionality and pure roadster balance, and it's a testament to the MX-5 Miata and the great job that Mazda did at the 2015 SEMA Show.
While there's little to no chance that a production car will ever be released without a windshield, this Mazda Miata Speedster was pure sex. We are hoping that some of the design concepts and aftermarket components will be available for sale for any Miata owner to bolt on in the future.
Miss out on the SEMA Show this year and want to learn more about how you can attend the show? Check out more at My Pro Street and subscribe to follow along with our month long coverage.