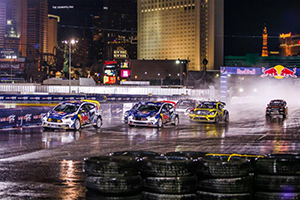 Sealing his strong rookie performance on the Global Rallycross stage, Joni Wiman took home the win in the Red Bull Global Rallycross finale for the Olsbergs MSE team. Facing a field packed with some of the biggest names in rally racing and motorsports, Joni made a name for himself in the steady downpour this past week in Las Vegas.
It had been a year of struggle for the Olsbergs MSE pair of Joni Wiman and Sebastian Eriksson, but they closed it out in epic style in this video above. Shot by Bluebeam Rally and hosted by Michelle Wright, this video highlight brings the entire struggle of the Olsbergs MSE team to life as they capture the win.
Joni's Olsbergs MSE teammate Sebastian Eriksson also closed out the year stgrong, by piloting his Ford Fiesta to a second place finish last week. This net the Swedish rally driver a runner-up position in the 2015 Red Bull Global Rallycross championship, and next year he's sure to set his aim much higher.
Not to be outdone, the next generation of rallycross superstars led Olsbergs MSE to its second straight title in the development series. Oliver Eriksson finished the challenging Las Vegas race in third place to claim the championship crown. Teammate Austin Cindric finished runner-up in the points after he spun off course while pushing for the race lead.
Not sure what Global Rally Cross is? The GRC circuit was designed to produce the fastest and most exciting racing in motorsports. Putting these incredible machines and driver skills to the limit, the GRC pits small production-based cars against each other in door-to-door racing featuring dirt, asphalt, and table-top jumps. Learn more about this incredible sport and how it's quickly growing into one of the fastest types of motorsport at www.RedBullGlobalRallycross.com.
The future of rallycross racing is bright and one that's sure to lead the next generation of racers to bigger and brighter stages to develop and hone their skillsets. Want to learn more about the Joni and the Bluebeam rallycross team? Check out their website for more coverage here.