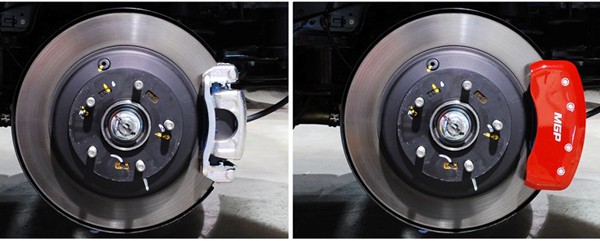 MGP Caliper Covers have been one of the hottest modification trends since their release, giving people a way to simply and affordably upgrade the looks of their car. Designed as a customizable cover to your brake calipers, it's one of the best car gifts or modifications available for the price and we receive quite a bit of MGP Caliper cover questions.
Meant for disc brake applications only, learning how to install a MGP Caliper Cover is easy and straightforward. Using just hand tools and an automotive jack stand, you can quickly give your car or truck some personal flair. These aluminum caliper covers are great upgrades for your front wheels and are track tested for safety.
Here's some of the most common MGP Caliper Cover FAQ's that we've received, and the answers below to help you make the right choice for your hard earned dollar.
What are MGP Caliper Covers made from?
All covers are manufactured from raw 6061-T6 aerospace grade aluminum and engineered to last. Made in the United States and TIG welded for years of durable service, they are then powder-coated for durability and appearance.
Don't forget that you can change the looks of your caliper cover either, and look below for some of the most popular MGP Caliper cover styles.
How are they secured? Is this safe?
With the proper installation and correct torque applied, yes this product is a great upgrade and we've had several installed on our own customer track cars as well as trucks and daily drivers. MGP utilizes a patented stainless steel fastening system designed for security as well as ease of maintenance.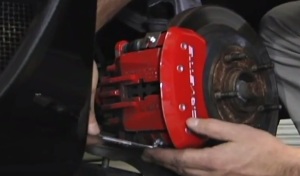 Do I need to modify my brake calipers?
No modification or changes need to be made to your brake calipers for installation of the MGP Caliper cover. This is a 100% bolt on application and it's also easy to remove when you need to change your brake pads.
Can I use them on my rear brakes?
MGP Caliper Covers are only meant for use on disc brakes, so if your vehicle has drum brakes in the back you will need to order just the front set.
These are listed in our website www.mgpcalipercovers.com for vehicles with brake shoes and a drum in rear, if you have any questions please give us a call at 1-888-776-7022.
I can't find my vehicle?
If you can't find your car or truck in our catalog, drop us a line or give us a call to check. Our catalog is always updated but in the event we've missed your car, head to calipercovers.com to see what MGP has listed currently.

MGP has an extensive Research & Development (R&D) facility that's dedicated to finding the brake caliper and according FMSI information so that each product fits correctly and securely. They are so dedicated in fact that they would love your submission, so if we don't have your caliper cover in stock check out the MGP Vehicle Request Form.
I have custom wheels, will these caliper covers fit?
All caliper covers are engineered and designed to fit and bolt on to a stock set of wheels. Typically your aftermarket wheels will follow the same guidelines, but in the event you have changed the lower knuckle or the wheel hub assembly all together you can check your brake clearance easily.
MGP Caliper covers require just 3mm of clearance from the inner face of your wheel. Check your clearance between your custom rims and your brake caliper to make sure these covers are a bolt on fit.
Do MGP Brake Caliper Covers trap in heat?
Easily one of the most asked of MGP Caliper cover questions, and for good reason. The heat generated by the friction between the brake pads and discs can exponentially increase and eventually lead to brake fluid heating to the point of ineffectiveness.
This is commonly known as brake fade, and it's certainly a factor you want to monitor no matter what modifications you have done to your vehicle. When at the track or aggressively driving you can often feel this effect through a loss of pressure in your brake pedal.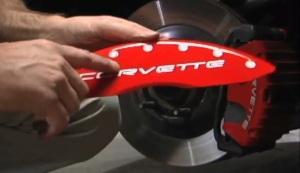 To answer the question above however, the installation of MGP caliper covers will not trap in heat. In fact, research and studies performed by MGP have actually found them to decrease brake caliper heat.
MGP also takes it a step further by heat soak testing each and every application to ensure that their product is completely safe. This testing is performed off road as well as on the track resulting in a product that looks great and is stress tested for long term life and durability.
Pro Street Online is proud to announce that we are now stocking these brake covers through our webstore www.prostreetonline.com. You can check our current inventory at www.mgpcalipercover.com as well.
Do you have a question that we missed? Have your own set of MGP Caliper cover questions to ask? Leave us a comment below and let us know!