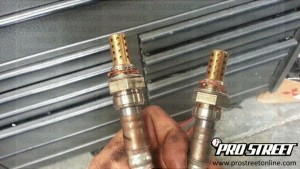 If you are looking for the best bang for the buck LS1 swap for your car, it's hard to beat the LR4 GEN III engine from GM. This is a 4.8 liter engine that has a 3.78 inch bore and 3.27 inch stroke, making it the little brother in the GEN III family. At just a touch under 300 ci, you can have 280 horsepower on tap and between 290 and 300 ft lbs of torque bone stock.
Today I'll be showing you how to test a LR4 02 sensor to resolve the OBDII DTC of P0155. This OBDII check engine light is for 02 Sensor Heater Circuit Malfunction, which makes it relatively easy to test using a multimeter. The position for the P0155 trouble code is Bank 2 Sensor 1, meaning the upstream 02 sensor on the side of the engine opposite of cylinder 1.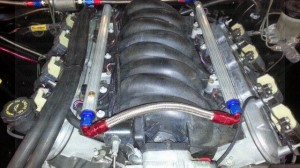 What makes this engine so great for engine swappers? It's very affordable, compact and easy to work on, with most complete swaps including transmission, ECU and wiring harness checking in at under 1200 dollars. For a complete guide on how to swap the GEN III GM engine into a 240SX, check out our guide here.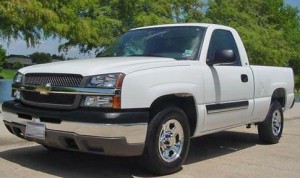 While we'll be showing you how to test a LR4 02 sensor on a swapped 240SX, this DIY guide applies to the following vehicles with the LR4 engine in it.
2003-2006 Chevrolet Express
2003-2005 GMC Savana
2000-2006 Chevrolet Tahoe
2000-2005 GMC Yukon
As you might imagine, there are many different part numbers and interchanges for this upstream 02 sensor. The primary GM or Chevrolet part number is 12562621, but it can also be found under 12567163, 12570149, 12574924 and 12575389. This is a four pronged 02 sensor and you'll be checking the heater element inside the 02 by measuring resistance.
Don't have this part number available? Not to worry, we have you covered with all the possible interchanges, including the Isuzu, Pontiac and Saab numbers below for this primary 02 sensor.
12559848
12561777
12562621
12567163
12567497
12573168
12574924
12575389
1272772
25333812
8125671630
12567497
12573168
In order to begin our how to test a LR4 02 sensor DIY Guide, you'll need a multimeter handy. Not sure on what a multimeter, voltmeter or ohmmeter is? Check out our handy FAQ sheet on how to use a multimeter to test electrical circuits.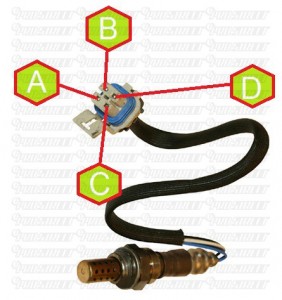 Locate your primary upstream 02 sensor in Bank 2 ( the side of your LR4 opposite of cylinder #1 ) and unplug the 02 sensor. This sensor has a one way spade machined into the housing, making it impossible for you to plug in the wrong way.
Once you have your multimeter out and primary LR4 oxygen sensor unplugged, you can put the black lead of your multimeter on a battery ground. Gently probe the ENGINE side of the harness at the pole position of D. PIN D is a pink wire that leads back to Circuit 1539, and is the ignition positive voltage for your 02 sensor.
If you have power at this pin, the next pin you'll be testing is PIN C. Switch the leads on your multimeter around, and probe the front of PIN C, which is a black wire that leads back to circuit 550. This is the LR4 ground signal, and this low reference signal is sent from the ECU to ground and power your sensors.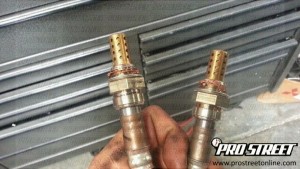 Lastly we have the resistance test left, and this part is very easy to complete. In order to measure the 02 sensor and see if it's any good, put your multimeter into the OHM Ω setting.
HOW TO TEST YOUR LR4 OXYGEN SENSOR HEATER ELEMENT
---
The last leg of our how to test a LR4 02 sensor guide is of course to see if your oxygen sensor is any good. With your multimeter in Ohms mode, you'll be testing the sensor directly. Once you measure the resistance of your oxygen sensor, you'll know if you need a replacement LR4 4.8 liter GM 02 sensor.
PIN A is a tan wire with a white or pink stripe, this wire is the Oxygen sensor return. PIN B is a purple wire with a white stripe, and this wire is the Oxygen sensor signal.
Gently measure the SENSOR side of your upstream LR4 oxygen sensor, and look at the resistance value between these two terminals on your sensor. If your multimeter reports a OHMs range between 5-20 Ω, your DTC P0155 issue lies elsewhere and is not your oxygen sensor. Try tracing back and measuring for continuity between PIN A and the 1669 circuit, as well as PIN B and the 1668 circuit of your LR4 or LS1 ECU.
Have any questions about our how to test a LR4 02 sensor DIY Guide? Leave them for us below!