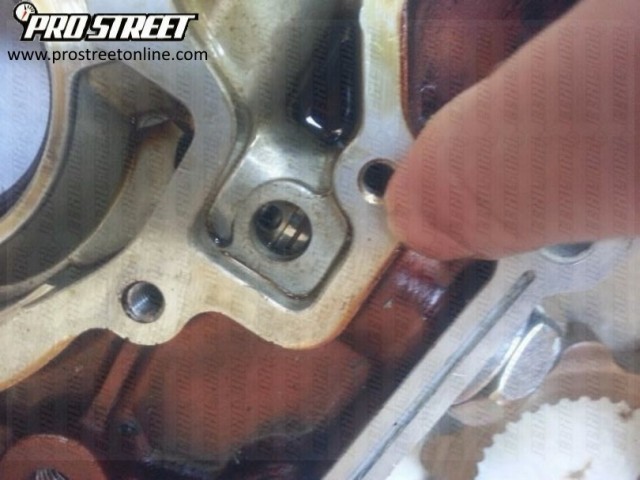 There aren't that many differences between the 2JZGE and the 2JZGTE inline six engines, but the oil pump is one of them. Today we'll be walking you through how to check a 2JZ VVTI Oil Pump. The oil pump and knowing how to check a 2JZ VVTI oil pump is a vital part of rebuilding your 2JZGTE.
This DIY article on how to check the VVTI version of the 2JZ oil pump, and it's assuming you've already removed the oil pump from your engine. If you are not familiar or don't know how to remove your 2JZ oil pump, check our guide on how to check a 2JZGTE oil pump here.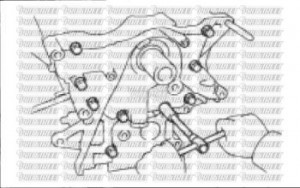 The VVTI 2JZ engines are slowly gaining in popularity, as we've shown in our Project 2JZ S14. What used to be a difficult wiring swap is slowly becoming a hot trend, as high performance 2JZ owners are taking more and more to Toyota's variable intake timing VVTI system.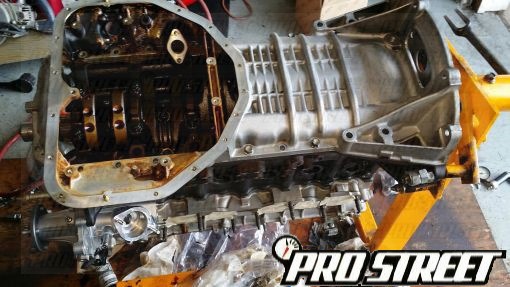 Once you have your oil pump removed from your 2JZ engine, you'll need an impact screwdriver to remove the cover.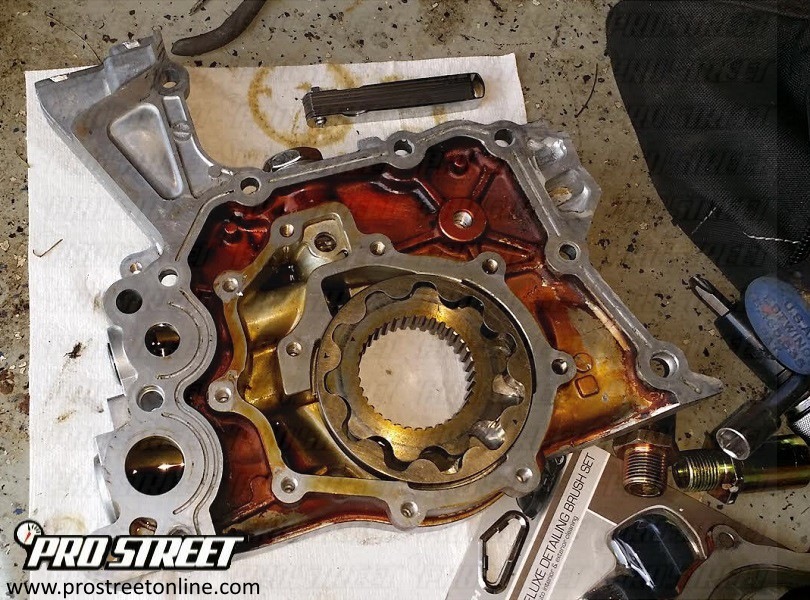 Remove the oil pump cover and using a feeler gauge, you will be checking the tolerances to see if your 2JZ VVTI oil pump is good.
Step 1 – Check 2JZ Oil Pump Rotor Tip Clearance
---
There's two rotors that spin in unison to provide proper oil pressure to your 2JZ. To check the gears, you will be measuring the clearance between the
drive rotors. More specifically you will be checking the tip clearance between the two rotors, for our 2JZ VVTI engine, you want a minimum tip clearance of 0.310–0.490 mm (0.0122–0.0193 in.).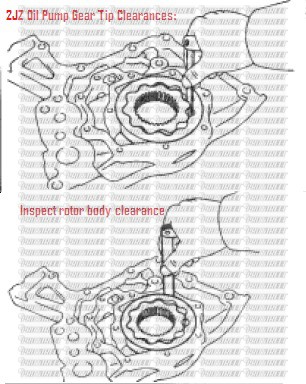 The maximum range for the tip clearance is 0.53 mm (0.0209 in for your VVTI 2JZ engine. If you find that your rotors are out of specification, discard your old 2JZ VVTI oil pump and replace with a new unit. The replacement 2JZGE VVTI oil pump part number is 15100-46090.
Step 2 – Check 2JZ Oil Pump Body Clearance
---
The next part of our How To Check a 2JZ VVTi Oil Pump DIY article will be walking you through measuring the body clearance for your oil pump. Using your feeler gauge, measure the gap between the outside rotor and the oil pump housing.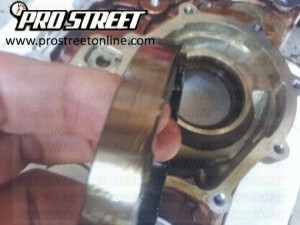 For VVTI 2JZGE engines, you are looking for a measurement between 0.100–0.175 mm (0.0039–0.0069 in) and a maximum range for oil pump rotor clearance 0.20 mm (0.0079 in.)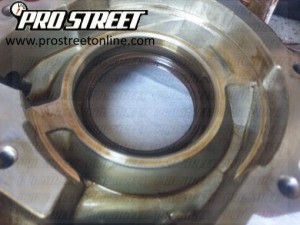 Again, if this measurement is out of specification, discard your old oil pump.
Step 3 – Inspect Rotor trueness
---
Using your feeler gauge and a mechanic's straight edge, lay the straight edge across the face of your oil pump gears. Using a feeler gauge make sure that your oil pump rotors are true and turning properly and completely flat.
The side clearance for these 2JZ oil pump rotors are 0.030–0.090 mm (0.0012–0.0035 in.) and if your feeler gauge slides under your straight edge with a value more than 0.12 mm (0.0047 in.) your oil pump is bad.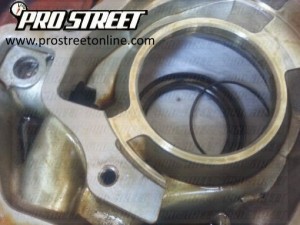 Remember that this DIY guide shows you how to check a 2JZ VVTI Oil pump, if you are looking for the 2JZGTE How To, check here.
Step 4 – Remove front main seal
---
It's a good idea to change your front main seal with your 2JZ VVTI oil pump removed. Using a flat head screwdriver, carefully punch out the oil front main seal after removing your VVTI Oil Pump rotors.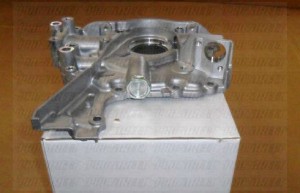 Of course if your 2JZ VVTI oil pump is already out of specification, you can skip this step.
Step 5 – Check Oil Pump Relief
---
It's time to check the relief valve in your 2JZ VVTI oil pump, and for this you'll need to remove the valve all together.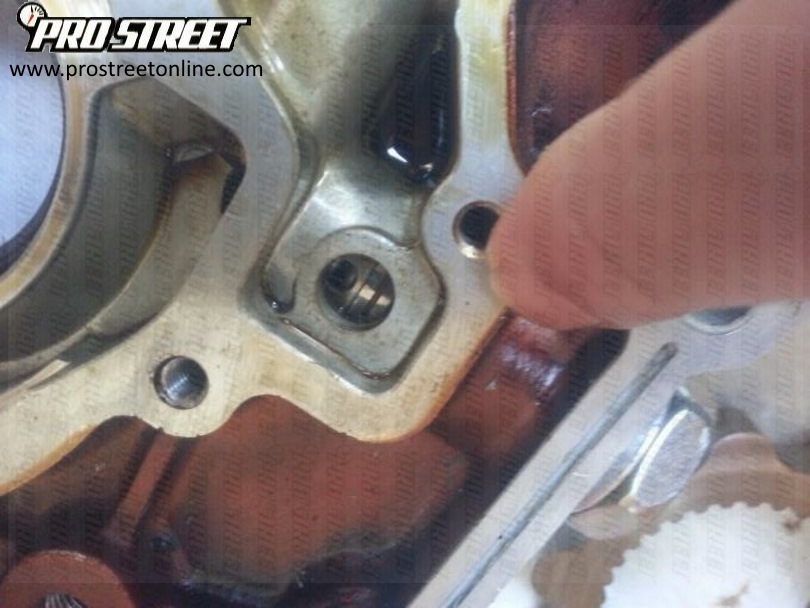 Remove the valve and slide out the contents of the check valve for inspection. Use care not to damage or nick the housing of the oil pump or the passage in which the relief valve slides into. Remove the plug and gasket, compression ring and relief valve and clean if needed.
Replace the relief valve gasket before re-installing the valve, and make sure to torque to 49 N⋅m (500 kgf⋅cm, 36 ft⋅lb) for a VVTI 2JZGE engine.
Step 6 – Install Oil Pump
---
If you've purchased a new oil pump for your VVTI 2JZ engine, it should have come complete with the o-ring gaskets in question. Replace these o-rings and then you are ready to apply a thin layer of Hondabond to re-install your 2JZ VVTI oil pump.
Clean the surface of your 2JZ VVTI engine with a razor blade, and then replace the oil gaskets in your engine.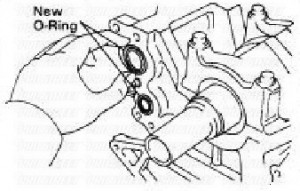 With these new orings replaced, you can now apply a thin layer of gasket maker or the Toyota recommended gasket maker, part number 08826–00080.
Carefully slide your new or checked 2JZ VVTI oil pump in place, making sure not to disrupt or damage the front main seal. Once you've completed that step, install the oil pump bolts and tighten to 21 N⋅m (210 kgf⋅cm, 15 ft⋅lb).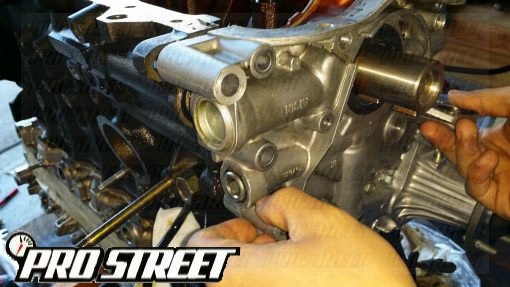 Have any questions about our how to check a 2JZ VVTI Oil Pump DIY guide? Leave them for us below and let us know!