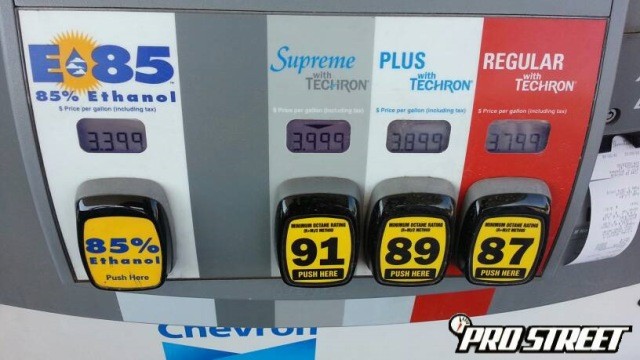 Ethanol has never been as popular as it is now, and it's about to explode in the next few years. Advancements in conversion efficiencies during the process of manufacturing ethanol-based fuels have propelled E85 to the forefront, and it shows no signs of slowing.
Ethanol fuel (E85) or "flex fuel" as it's referred to is simply a mix of a lot of different fuels, including gasoline but it's primary ingredient is ethanol. And it is most definitely rewriting the rulebook on small force fed displacement motors. But aftermarket modifiers aren't the only ones loving this particular type of fuel.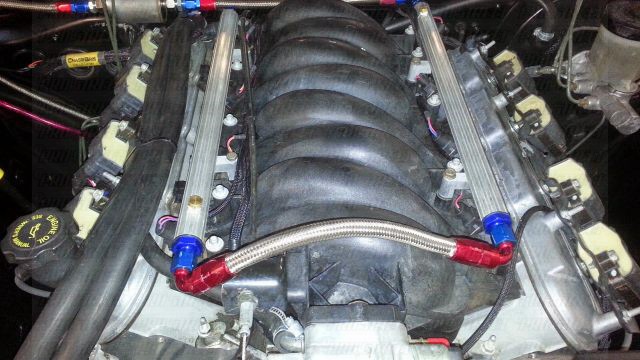 It's produced from corn, something that the US still produces a surplus of year after year. It eliminates a dependency on outside oil and can contribute to lower tailpipe emissions. E85 gas stations continue to spring up all over the United States, especially in the corn growing Midwest. The lack of refueling stations may have been what once deterred people from switching to E85, but that's no longer the case.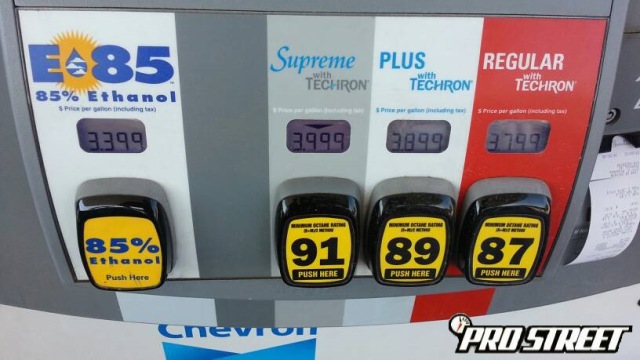 The real gain to forced induction vehicles as well as naturally aspirated ones of course is the increase in octane rating. With inherent cooling properties during the combustion cycle, E85 allows tuners and engine builders to get more aggressive with boost, compression and ignition timing.
Octane rating in E85 can vary, although the "general rule of thumb" is 105 octane. This considerable increase represents a gold mine for tuners, who can produce more power safely, which is the name of the game when you are racing.
Today I'll be showing you how to convert your vehicle to use E85, and how to tune your vehicle accordingly.
How to Convert to E85
---

Upgrade your Fuel Pump
A vital component of converting to E85 flex fuel is your fuel pump. Aftermarket fuel pumps like the AEM E85 fuel pump or the DeatschWerks 300 fuel pump delivers fuel for high HP ethanol applications.
Because of the demands when using E85, you need a fuel pump and injectors that can keep up with the flow required to produce horsepower.
Our friends at Deatschwerks tested a 09 Subaru WRX running as set of their 1300cc EV14 Bosch injectors, and produced more power at a lower boost level at lower injector duty cycles.
Check out their testing here, but the minimum rate you require is 30% more than what your current fuel needs are. Check here for our how to size fuel components article if you need further help.
---
Upgrade Your Fuel Injectors
There are quite a few options on the market for the higher flow required to run a E85 fuel system. Knowing how to convert to E85 isn't all, you will also need to upgrade your injectors. Something like these Deatschwerks 1200cc injectors can do the trick, or you can also opt for EV1 Bosch cores.
Needless to say however, it's not a good idea to skimp when it comes to fuel delivery. You would hate for something to go south on your in the middle of a run or halfway on the track.
EV1 Bosch cores do the trick at a substantially lower price point, which definitely makes them appealing on many levels. There's quite a few piggyback computers on the market that can assist you in converting to E85, like the EZ85 module.
---
Tune Your Vehicle
The next step in learning how to convert to E85 is the tuning section, which is the most vital. From this point on you will need to dyno tune your vehicle with an experienced tuner to proceed. If you have no way of tuning or adjusting your fuel delivery, check out our section Piggyback Heaven for more details on piggyback computers you can use.
Because you have changed the static delivery but increased the flow by about 30% you can always stick to this point if you have a piggyback or standalone tuning computer.
After your tuning session, you should be fairly pleased with producing the same amount of power at a much lower injector duty cycle and engine load, if nothing else. If your tuner is worth his weight, you should be comfortably enjoying the increase in power, torque throughout the power band.
But that's not where your E85 journey stops, because you will need to address the size and flow capabilities of your fuel lines, and fuel pressure regulator next. Due to the flow requirements of your new fuel pump and fuel injectors, you would be best served in upgrading the fuel lines and fuel pressure regulator next.
Enjoy our How To Convert to E85 Guide? Check out more in Part 2 – Upgrading your fuel lines of our How To Convert to E85 series by clicking here.