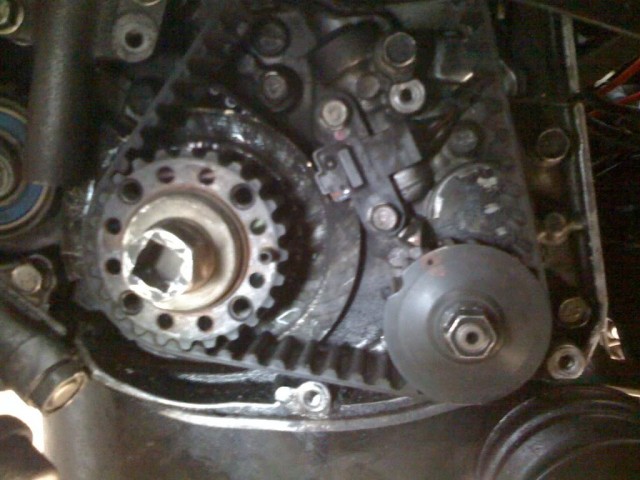 Today we'll be taking a look at how to complete the 4G63 timing belt job on your DOHC turbo engine, found in Mitsubishi Eclipses, Eagle Talons and Lancer Evolutions. We'll be addressing earlier generations of this motor, from the 1989 to 1994 engine or 1G engine, to the 1995-1999 2g 4G63T engine.
This 4G63 Timing Belt job should be performed every 60,000 miles on your turbocharged interference 4G63, and sooner than that if you are racing your vehicle or abusing it. So grab your jackstands and you torque wrench, as we go over our How To Change a 4G63 Timing Belt Guide.
Parts you will need to complete this job:
Timing Belt – 1G and 2G part numbers – MD326059, MD182291, MD145713, or MD171748 
Timing Tensioner Pulley – 

MD121993, 

MD156604 or MD121993

Timing Automatic Tensioner – 2G part numbers – 

MD308086 1G part numbers – MD164533

Timing Idler Pulley – 

MD129355

Water Pump – 1G – 

MD972052- 2G – MD997621 or MD997417

You can also opt for a timing belt kit from manufacturers such as Contitech, Gates and more, or our own Pro Street Timing Belt Kits.
Pro Street Online is not responsible for any damage that may occur from using this guide or writeup, do not continue if you are not comfortable or feel confident in your ability to perform this task. Engine failure can occur if the motor is timed incorrectly, piston and valve may contact rendering your motor unstartable.
Tools you will need to perform this How To Change a 4G63 Timing Belt article:
Bench Vice
Channel-lock Pliers
2 17mm Wrenches
12mm Wrench
1/2″ Drive Ratchet
Phillips
90 Degree Needle Nose Pliers or Breaker Bar
Cam Tensioner Tool ( optional )

 Mitsubishi Part number ( MD998738 )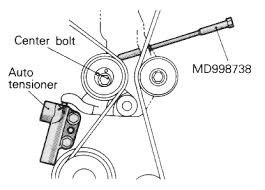 First step is to line up your motor by turning it to TDC. You can do this by removing the lower fender guard first or simply stick something in cylinder 1 as you turn.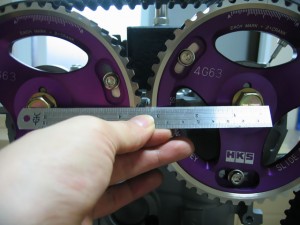 Make sure the cam gears line up properly, and then check the crank pulley for it's position by removing the fender guard. You can now remove the upper timing cover.
In first generation Eclipse / Talon / Lasers, you must remove the upper motor mount and remove the upper timing cover bolts so that you can remove the upper timing cover.
In second generation Eclipse / Talon / Lasers, you must remove the motor mount by removing the two motor mount studs sticking up in the air. After you remove the motor mount, then remove the mid timing cover by undoing the 10mil.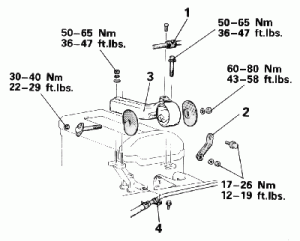 Remove your Timing Belt
When you have your upper timing cover removed, you can now remove the lower splash guard that covers the lower portion of the motor if you haven't already. You must remove the driver side rim and tire, and then undo the 10mm bolts that secure the lower fender splash guard to expose the front of your engine.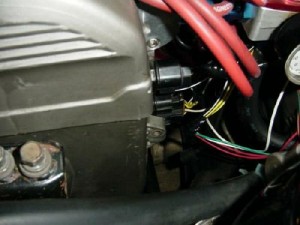 Now with your lower fender splash guard removed, insert your Mitsubishi tensioner tool into the back of your engine as shown above, and turn counterclockwise slowly. There should be a small rubber plug that covers the access port to your engine and tensioner tool hole.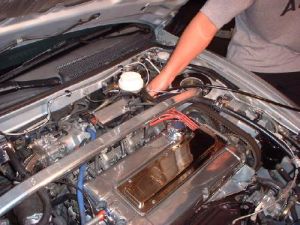 The tensioner should turn freely and easily at this stage, if not it may be a good idea to lube the tensioner tool to help it turn and adjust the hydraulic tensioner.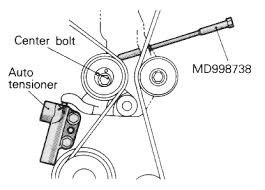 Continue to turn this tool slowly, and make sure it does not bind or crossthread. Do not turn the bolt too quickly or your hydraulic tensioner may not be able to keep up. Make sure to wait 2-3 seconds between each turn until you have sufficiently loosened your timing belt.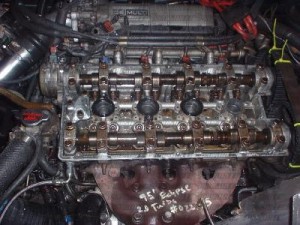 Now loosen the water pump pulley bolts by jacking up on the motor using a floor jack and a piece of wood to evenly distribute the load of your motor. You should be able to raise it enough so that you can fit a 10mm air wrench onto the pulley in your driver side mount position.
Remove the water pump pulley and remove the alternator and water pump accessory drive belts, along with your power steering belt if applicable. If you are replacing your water pump, you should take the time to do this now before you get on to removing other components.
Undo the 12mm bolts that secure your water pump to your block, and slide it off the front water pipe. Use care not to tear or damage the water pipe o-ring, and use hi-temp gasket maker when you re-install your new water pump. All of our 4G63 Timing Belt kits come with a new gasket.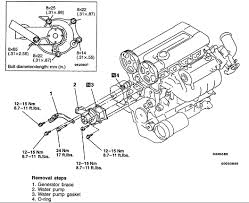 Now remove your tensioner pulley bracket and the air conditioning belt if applicable. You should now be ready to remove the lower timing cover.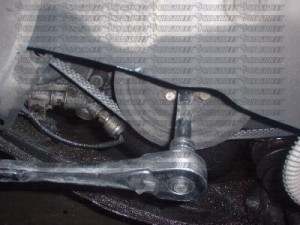 Get back under your car and rotate the crank to access the 12mm bolts that hold your crank pulley or harmonic balancer to your crankshaft. Once you have removed all the 12mm bolts, you can slide off your crank pulley, exposing the rest of the 10mm bolts that must be removed for your lower and mid timing covers to come off.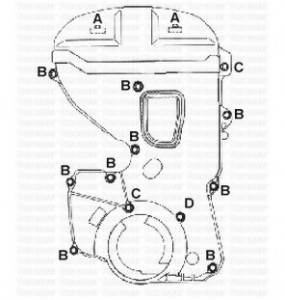 You can now reinsert your half inch drive and rotate the crankshaft clockwise and align the timing marks so as to bring the No. 1 piston to the Top-Dead-Center (TDC) position of the compression stroke. Remember to always rotate your crankshaft in a clockwise motion, never counterclockwise. Later when you are testing the timing on your engine before starting, you will need to keep that in mind as you rotate to test your crank and cam gear timing.
The camshaft sprocket dowel pins must be at the 12 o'clock position and your camshaft sprocket timing marks should perfectly line up using a straight edge as shown below. Now would be a good time to prepare the rest of your 4G63 Timing Belt kit.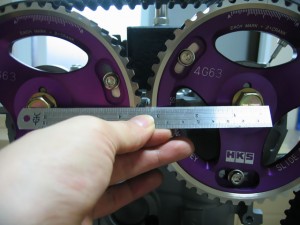 Next remove the hydraulic tensioner assembly and install your new unit, this should have come with a grenade style pin that holds the tensioner closed. If you are re-using your old tensioner, you've got to compress that unit and then insert a paper clip or similarly shaped metal pin that will compress the tensioner and hold it closed.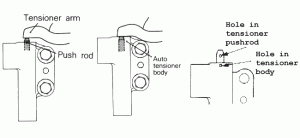 If you still have your balance shaft belts intact, please check our balance shaft belt replacement primer here. Otherwise you are now ready to clean up and install your new components on your motor.
Undo the 14mm bolt that holds the 4G63 idler pulley in place, remove and discard the used pulley and install your new unit.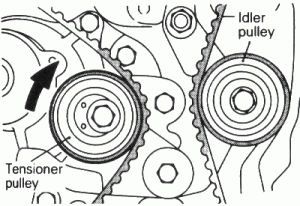 Install the idler pulley by simply inserting the 14mm bolt through the pulley and snug it down to the block. Next remove and install your new tensioner pulley, note the orientation and the position of the 2 holes in relation to the 14mm bolt. Rotate the tensioner pulley clockwise as shown and tighten down the 14mm bolt.
Slide the new 4G63 Timing Belt up and over the cam gears, and work the belt tight by pulling on the backside of the motor and work it around the crankshaft sprocket. From that sprocket make sure that tension is tight on the backside of your 4G63.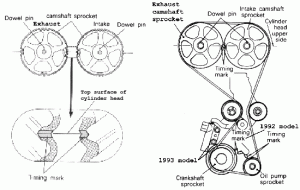 Run the timing belt as shown above, but make sure to loosen your tensioner tool before you attempt to reinstall your hydraulic tensioner. Now with sufficient slack on the timing belt, but zero slack on the backside of the motor, reinstall your hydraulic tensioner and make sure the tensioner arm sits on top of the hydraulic tensioner shaft.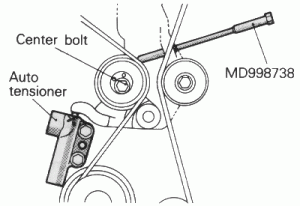 Now back off your tensioner tool until there's a decent amount of tension in the belt, but do not tighten so much that it pushes down on your hydraulic tensioner. With tension present in the belt, the gears and lower pulleys, rotate the motor over six times and make sure your crank pulley and oil pump line up on the bottom of your motor, while your cam gears line up on the top of your motor.
Now slowly remove the tensioner tool from the back of your motor, until the tensioner arm slides down and makes contact with your hydraulic tensioner. Then pull the pin from the tensioner itself.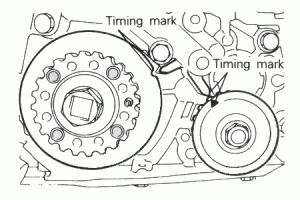 Check and make sure that your timing belt is firmly and nicely seated to ensure maximum teeth to belt contact, and double check that your timing marks line up correctly. Have a friend come over to check your work, then check his work. Improper alignment of your timing belt can cause catastrophic engine failure.
Remember that crankshaft position should still be at the No. 1 cylinder TDC position of the compression stroke.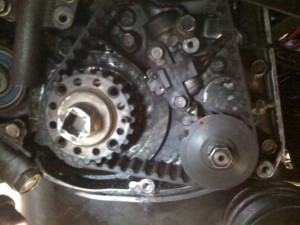 Torque the tensioner pulley to 24 inch lbs, and then tighten the attaching bolt to 49 ± 6 Nm (36 ± 4 ft. lbs), and now would be a good time to take a break and maybe grab a refreshment. Taking a break will allow your hydraulic tensioner to fully open and put tension against your timing belt assembly.
The next step in our How To Change a 4G63 Timing Belt guide is to measure the distance your hydraulic tensioner is protruding from the top of the tensioner body to the actual tensioner arm.
There should be a 3-8-4.5mm distance between the body of the tensioner and the bottom of the tensioner arm. This will let you know that your hydraulic tensioner has fully extended and you are now ready to test again by rotating your engine.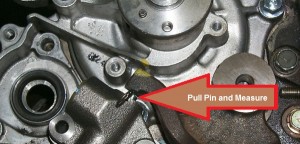 Now reinstall your lower, mid and upper timing belt covers and reinstall your crankshaft pulley and torque to 18 ft lbs. Now move onto the drive belts and pulleys, making sure to torque your tensioner brakcet to 18 ft lbs and adjust the belt tension to prevent squeeking or any uncalled for noises from your drive belts.
Congratulations! You have now completed the How To Change a 4G63 Timing Belt guide, and if you purchased a Pro Street timing belt install, make sure to submit your install pics for your rebate!
Looking to install camshafts? We've got you covered with that How To guide as well!
Happy racing!