Acura Motorsports and HPD teamed up to bring us the Acura TLX GT at the Detroit Auto Show this past year, and it looks like they will be putting the TLX through the paces in Detroit as well. Acura Motorsports announced recently of their plans to participate in the Pirelli World Challenge competition at the Detroit Belle Isle Grand Prix double-header race the weekend of May 30-June 1.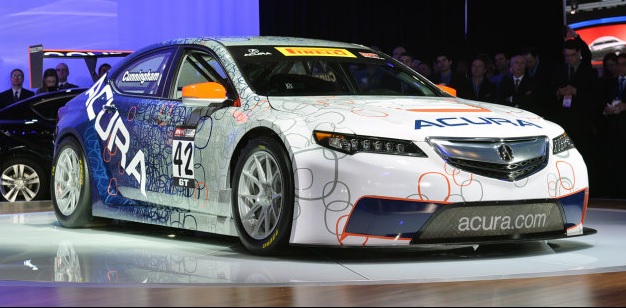 Taking it's place with their longtime racing partner RealTime Racing, the new TLX GT will move Acura into the top category of the Pirelli World Challenge, facing competition that includes the Audi R8 LMS, Cadillac CTS-V, Chevrolet Corvette, Dodge Viper, Lamborghini Gallardo, Mercedes SLS, Nissan GTR, Porsche 911 and Ferrari 458.
"The competition in the 2014 Pirelli World Challenge is incredible, but Acura has never shied away from strong competition, in the marketplace or on the race track,"

said Art St. Cyr, President of Honda Performance Development and Vice President, Product Planning and Logistics, American Honda.

"The 2015 Acura TLX is a true luxury sport sedan, so it is fitting that the car be raced against several of its natural competitors, and even some up-market brands, in the Pirelli World Challenge."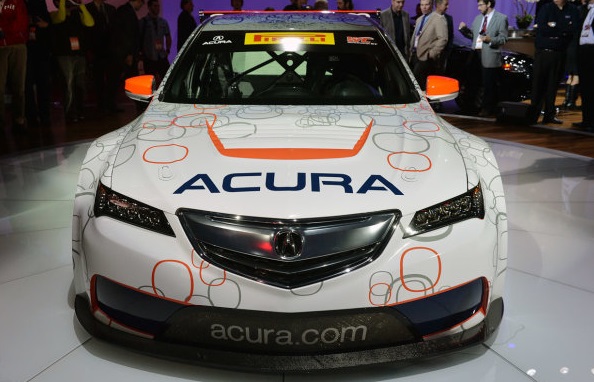 This TLX is powered by a direct-injected, twin-turbocharged V6 engine, developed by HPD from the normally aspirated production TLX luxury sport sedan. And as expected, it will utilize all-wheel drive, as found in Acura's SH-AWD system to help keep the power to the ground where it belongs.
HPD is the official racing division of American Honda Motor Co., Inc., and the Acura TLX GT Race Car will be chock-full of HPD chassis and aero parts approved for Pirelli World Challenge competition. HPD was founded in 1993 as the performance arm of American Honda, to spearhead the company's entry into Indy car racing.
No other manufacturer has matched Honda's success in Indy cars, which includes 204 race victories, 15 drivers' championships, six manufacturers' championships and nine consecutive Indianapolis 500 victories (2004-2012). In 2013, Honda powered veteran Scott Dixon to four race wins and the 2013 IZOD IndyCar Series championship; and Tristan Vautier to series Rookie of the Year honors.
Not to be shortchanged, RealTime Racing (RTR) is one of the most successful teams in Pirelli World Challenge history, will initially field a single Acura TLX GT for owner/driver Peter Cunningham, with a second car to be added at a later date.
The turbocharged Acura sedan will face competition in the series from vehicles like the Audi R8 LMS,Cadillac CTS-V, Dodge Viper, Nissan GT-R, Porsche 911 and more. With the Detroit Grand Prix hosting the sixth and seventh races in the Pirelli World Challenge GT class schedule, it doesn't seem that Acura is expecting to win the series in its debut season, but it will surely gain valuable experience.