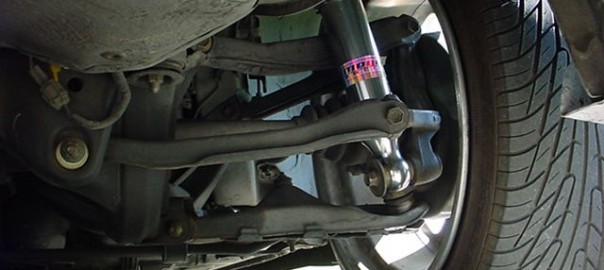 Nissan's ever popular 240SX is what we'll be showing you how to install full bodied coilovers on, and today it's a set of Megan Track Coilovers for a 1996 Nissan 240SX, part number MR-CDK-NS14TS. This coilover is a full bodied solution, meaning you will not have to disassemble your springs and shocks to perform this work.
If you own a 240sx, chances are you have heard of Megan Racing and their products. Pro Street has been one of their dealers since the very beginning and we love everything they make. We'll be walking you through our How To Install Coilovers article today with an install diy walkthrough.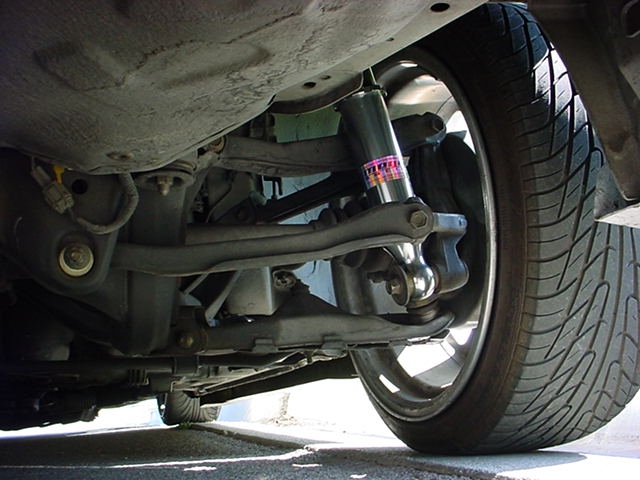 While the Megan Track Coilovers come from the factory with 12kg/mm in front and 10kg/mm in rear spring rates, we've opted for the more aggressive 16kg/mm in front and 12kg/mm in rear for maximum stiffness and swingability.
This coilover kit is bottom perch adjustible, meaning you will not lose suspension travel no matter how low you decide to go on your vehicle.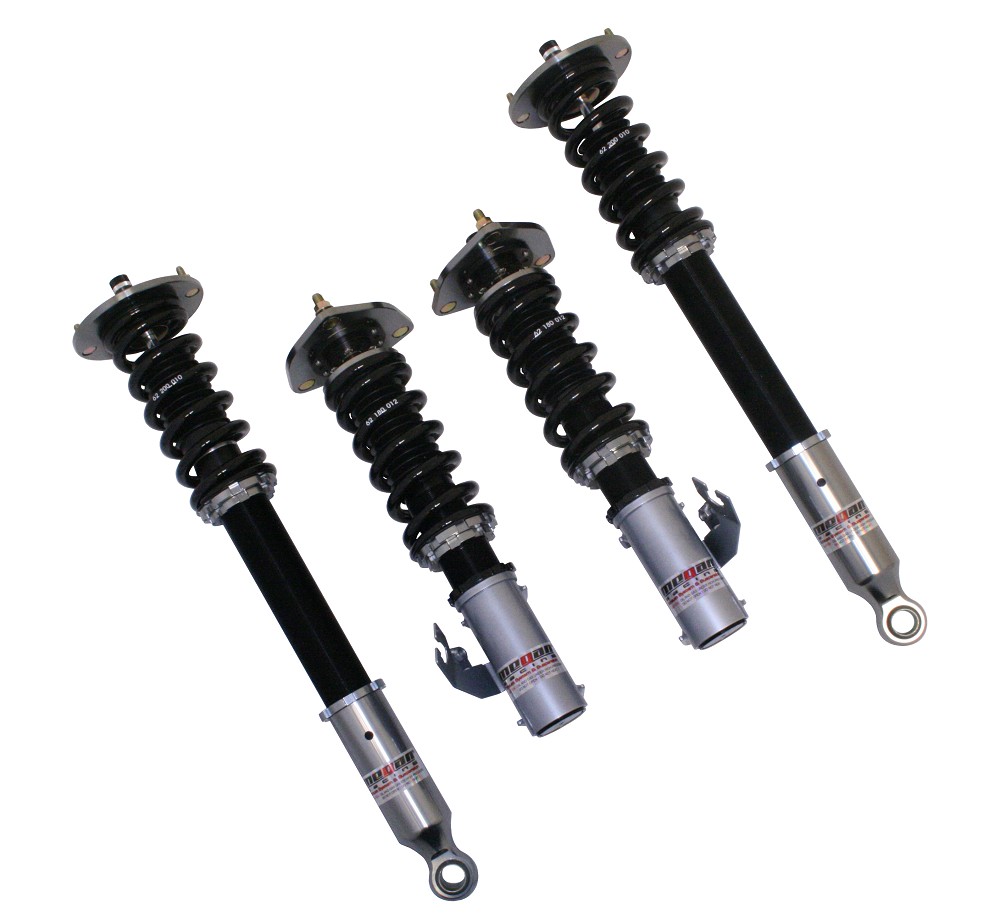 With 32 levels of damper adjustability, pillow ball upper mounts with front camber plates, and a one year manufacturer warranty against defect, this coilover setup is definitely one of our favorites.
Here's a shot of the car in question, currently running a set of TEIN Stech springs, part number SKP06-AUB00 mounted to some very old and abused stock shocks.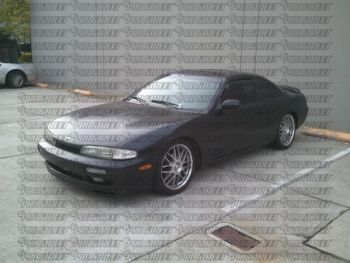 Tools you will need for this install :
Lift and / or jack + jack stands
19mm, 17mm, 14mm open end wrenches
19mm, 17mm sockets
anti seize
If you are not comfortable at any time with working on your own vehicle, stop now and take your car to an experienced mechanic.
The first step of How To Install Coilovers, is to raise the car and secure it properly by way of jack stands, and remove the rims and tires and set them to the side. Make sure your vehicle is on a flat surface and that it's firmly secure.
Be safe – Have a friend assist you even if he or she is not mechanically inclined, so that you have someone who can get help should an accident occur.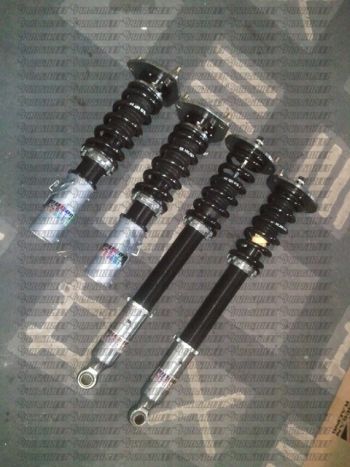 Now, take out your coilovers, and any hardware or spanner wrenches and get them ready for the install. Now would be a good time to review the instructions or adjust your preload.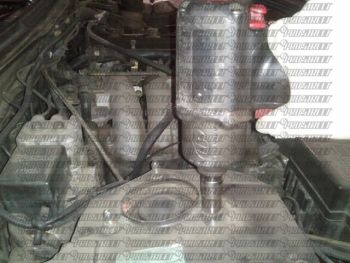 Now loosen the shock tower nuts ( 14mm ) that hold the top of your stock strut in place but DO NOT REMOVE. Simply loosen them and let the coilover and shock gently rest on the upper perch itself.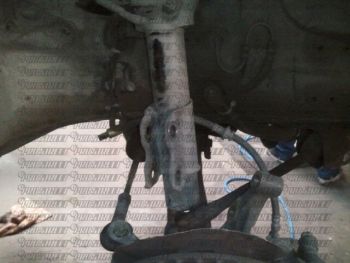 Next, undo the clips that retain the stock rubber brake line to the shock mount, and move the rubber line to the side. Then undo the 2 bolts that go through the upright and the lower perch of your stock shock assembly.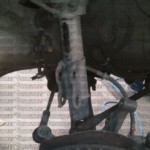 Now you can unloosen the top nuts by hand and remove your old suspension setup in that corner. Make sure to use a jackstand so that your hub, brakes, rotor, and more importantly brake lines do not hang .
Now take your front Megan Track Shock, and untwist the lower perch completely. Make 4 dabs at the bottom of the perch with your antiseize, and rotate the lower perch back into place. By screwing the perch back on, you are working the antiseize up on the threads and preventing lockup or frozen collars.
Take a break now at the halfway point of our How To Install Coilovers guide, let's take a look at your old and busted stock shock and the new hotness.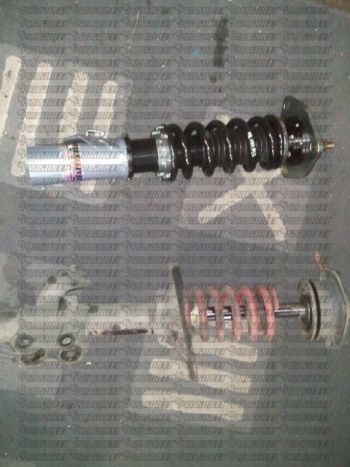 Now put the Megan shock into the stock location, and secure using the 3 14mm nuts on the top of your shock tower. Reinstall the lower 2 bolts and make sure to secure your rubber brake line by using the clips you removed in the first 2 steps.
Now repeat on the other side and after you are done, you are ready to move onto the back half of our How To Install Coilovers guide. Head to the rear of the car and raise it in the air, secure it safely as you did in the fronts. Undo the 19mm bolt that holds your rear shock into place, and push the shock out and let it hang.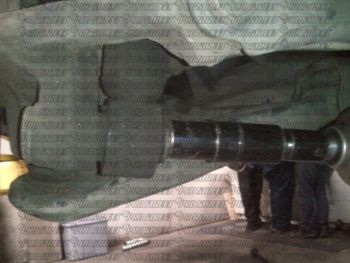 With the rear shock loose, you must now enter into the back seat of your S14 and remove the speaker panel in the back of your car.
This panel can be popped out of place after you lower your rear seats and loosen the push tab directly behind the drivers seat.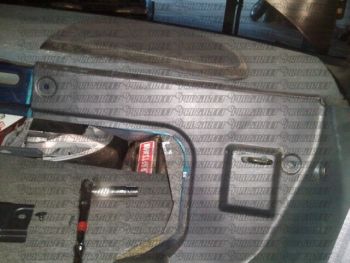 Once your rear speaker panel has been removed, you should now be able to access the nuts that hold the top hat of the rear shocks in place.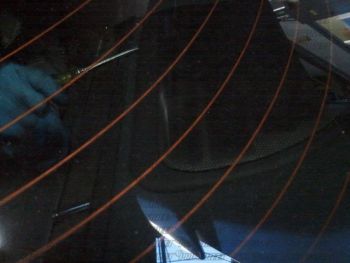 Now have someone hold the bottom of your rear shock, while you remove the nuts that hold the top mount in place. The rear shock is now ready to drop out and be replaced by the Megan coilovers, if you haven't already take your rear Megan shock and set the preload.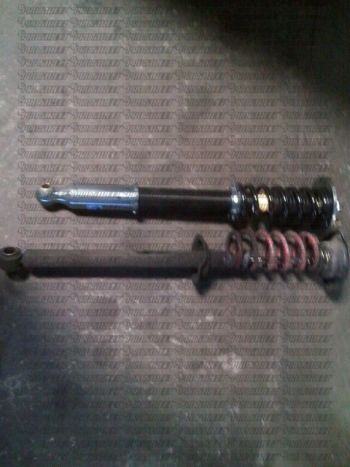 Now have someone push the Megan shock back into place, while you secure the top hats inside the car. Simply push on the lower mount and tighten the 19mm bolt that holds it in place.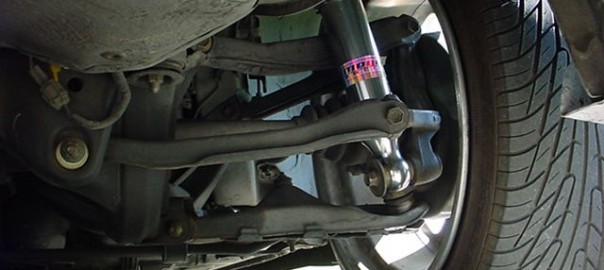 Just one more corner and you are all set! Don't forget the anti-seize and happy Drifting!
Megan Track Coilover Specs
SPRING RATES:
F: 62mm ID; 180mm length; 12 kg/mm
R: 62mm ID; 200mm length; 10 kg/mm
DAMPER SPECS:
F: 120mm stroke; 260mm length; M3 X valving code
R: 135mm stroke; 380mm length; A1+ X valving code
You've now completed our How to Install a coilover writeup, but did you set the preload on your coilovers? Have any questions or comments on our How To Install Coilovers guide, leave us a message below.
Pro Street Staff
1-888-776-7022