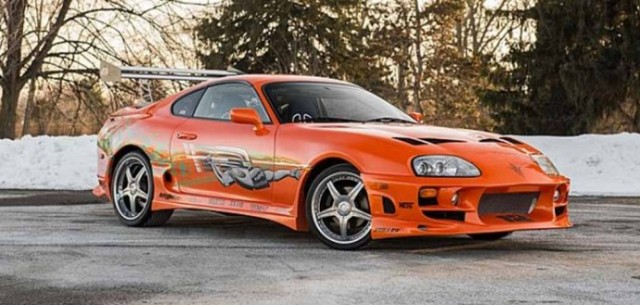 Furious 7 has dominated the news lately, doing extremely well domestically as well as abroad. So well in fact, that Furious has shattered the high mark in revenue set by Transformers in the Chinese market. Raking in a cool 250 million over eight days, Furious pulled away from the $224 million Transformers set in 2014.
The movie franchise has played a pivotal role in shaping the import aftermarket, and there are so many jokes and references from the movie series that it's practically a pop culture lexicon. The movie franchise has definitely remade itself and developed into something far different than the original Fast and Furious movie released in 2001.
The aspect of speed is still a theme of the movie franchise, but very far from it's original nitrous fueled, street racing roots. For sport compact and import car fans of course, some of these cars were as memorable as characters, and the Fast and Furious Supra is definitely one of them. Piloted by the late Paul Walker, the orange Supra is both garish and awesome at the same exact time.
The front fascia and Buddy Club / Kombat style front bumper is still recognizably overdone, the leaping silver whatever-it-is along the side of the car is still horrid, and needless to say there's lots of elements that haven't aged gracefully. Still, it calls back to a time when the aftermarket seemed much less cynical than it does today.
For every bit that the orange Fast and Furious Supra is loud and ugly, it's still pretty darn cool for some reason. And for that very reason that the "10 Second car" is being sold at the Mecum Auctions in Indianapolis. Formerly owned by Craig Lieberman, the non turbo Toyota Supra is expected to fetch more than $200,000.
Yeesh, talk about drift tax.
It's a much more graceful ending to a great car, one that not all Fast and Furious cars enjoyed. Certainly more graceful than the yellow Nissan Skyline R33 coined "Big Bird", that was crushed unmercifully by Homeland Security.
Let the "more than you can afford" jokes commence!
What was your favorite car from the Fast and Furious movie series? Comment below and let us know!