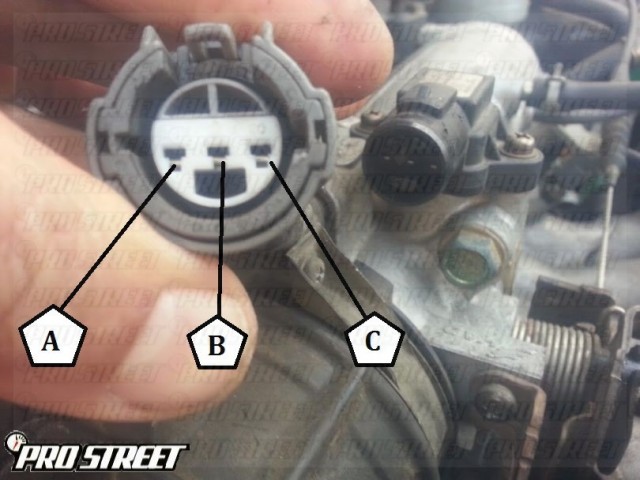 OBDII DTC P0108 refers to the manifold absolute pressure sensor (MAP) in your Acura Integra, and this code appears when the MAP sensor signal is too high. The DOHC engine in your Acura Integra is controlled by your P72 or P75 Acura ECU, which needs the MAP sensor to tell how much air is entering the engine.
Using this sensory input, the ECU in your Acura Integra can control and operate the fuel and spark events in your DOHC B18 engine. When your ECU sees a value from the MAP sensor that's more than what it expects, the P0108 OBDII code is triggered. This code can be caused by any number of problems, which range from easy to fix to very complicated.
Before you begin learning how to service Acura Integra MAP sensor, it's always a good idea to check your battery voltage and the condition of your alternator. Also if your Acura Integra is turbocharged or supercharged, now might be a good idea to check out our How To AFC Honda Hack DIY guide, or our primer on installing a MAP clamp on a Honda.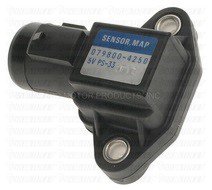 Today I'll be showing you how to service Acura Integra MAP sensor in a 1997 Acura Integra LS with the B18B1 engine in it. The part number for his manifold absolute pressure sensor is 37830-P0G-S00 or 37830-PAA-500. If you are in a bind, and cannot find these part numbers, you can alternately use 37830-PAA-S00, 37830-POG-S00 or even the Isuzu part number of 5862062680.
The first part of our how to service Acura Integra MAP sensor DIY Guide involves the use of a multimeter. If you are not familiar with the tool, or even how to use one, check our handy how to guide here.
Where is my Acura Integra MAP Sensor?
---
The Manifold Absolute Pressure (MAP) sensor in your Acura Integra is located on top of your throttle body. If you happen to own a OBDI Acura Integra, or even the generation of Integra before the 1994-2001 years, you will want this guide on how to test a Integra MAP sensor.
Replacing or removing your MAP sensor is very easy to do, and can be accomplished by any shadetree mechanic. In order to learn how to service Acura Integra MAP sensor however, you will need to unplug your MAP sensor.
This Acura Integra MAP sensor has an operating range that caps out at 11psi. If you have a power adder on your Honda, this tutorial is not for you. Have a Honda or Acura engine with a AFC and having MAP sensor problems? Check out our Honda Hack AFC guide here.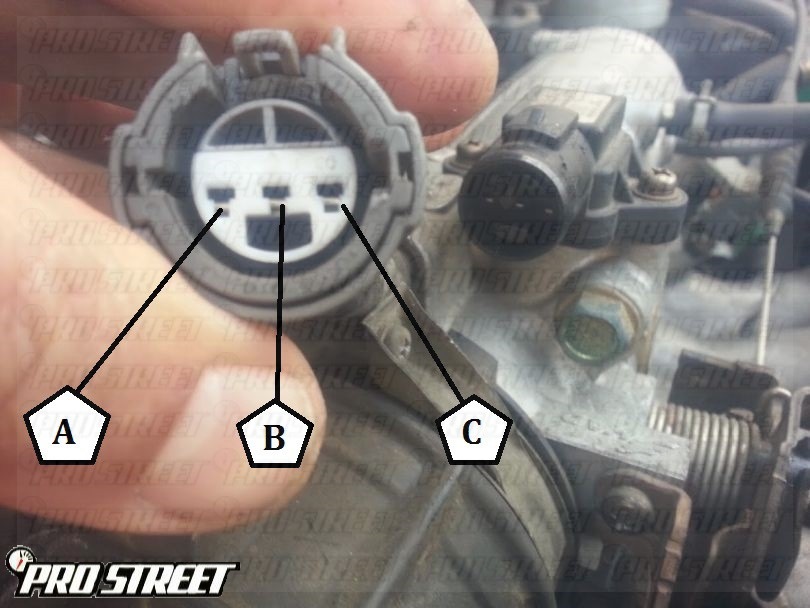 By unplugging your Acura Integra MAP sensor, take a look at the MAP sensor wiring image above. The wires you'll be testing from the front of this MAP sensor plug are PIN A and PIN C.
Using your multimeter, test the green wire with white stripe on your Acura Integra MAP sensor. This wire is the low reference ground wire, and if you have a ground signal here at this wire, move onto PIN C.
PIN C should be a yellow wire with red stripe and this wire is the switched power from your P72 or P75 ECU. Get back into your Integra and turn the key to the ON position, but do not start the vehicle. Your multimeter should indicate that the PIN C wire is providing 5 volts of switched power with the key at this position.
The last part of our how to service Acura Integra MAP sensor DIY article, is backpinning PIN B of the MAP sensor. Reconnect your MAP sensor to your Acura Integra and gently insert a paperclip into the BACK of your middle pin. This PIN B should be solid white wire, and this wire is the actual voltage signal from your MAP sensor.
If you need to check continuity of this wire to your P72 or P75 ECU, check our Acura Integra ECU pinout here. With your multimeter, you should see a value of .45 – 1.0 with the MAP sensor at atmospheric pressure. For a guide on testing your Acura's MAP sensor using an air compressor to read the value of the middle pin, check our in depth guide here to testing a Honda MAP sensor.
That does it for our how to service Acura Integra MAP sensor DIY Guide, if you have any questions please feel free to leave them below!