After months and months of waiting and anticipation waiting for any number of cars that were rumored to be released at the 2015 Detroit Auto Show, Ford instead stole the show with the new Ford GT.
Revealing the new Ford GT at the Detroit Auto Show, Ford delighted it's many fans and sportscar fans worldwide. The reimagined Ford GT packs a 3.5 liter Ecoboost V6 engine that will generate more than 650 horsepower and is scheduled for production next year. Yes, we said V6.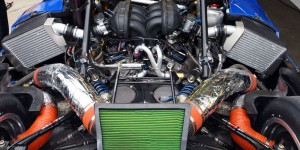 This is basically the same engine that first found life as a mid size F-150 truck engine option, and has now grown into a horsepower monster. This TTV6 EcoBoost has been tweaked and worked over by Roush Yates, and has performed very well in the TUDOR United SportsCar Championship.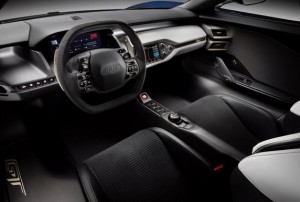 The new Ford GT comes with a fixed drivers seat, and true to it's motorsports roots, the Ford GT features adjustable pedals and wheel controls. The steering wheel incorporates and steals many concepts from a F1 race car and also features a dynamic Drag Reduction System (DRS) from Formula 1.
Ford plans on racing the car this year, and there's rumors that it may appear and compete at this year's Le Mans. This would be a fitting return considering the original Ford GT put the motorsports world on it's ear by upsetting Ferrari in the 60s.
All of this continues to push Ford ahead of it's competitors, and after taking home SEMA honors and headlining the show with a bevy of modified Mustangs, the pressure is on Chevy and Dodge to keep pace.
Almost completely manufactured from carbon fiber and aluminum the Ford GT instantly ups the ante on a global stage for the upcoming Le Mans Battle.
What do you think about the new Ford GT? Love it? Hate it? Let us know below!