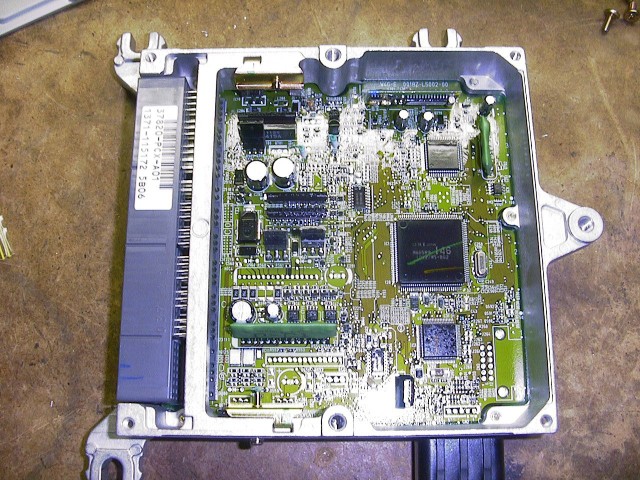 The Honda S2000 has long been one of the ultimate import roadsters available in the US, since it's inception in 2000. What many Honda and S2K fans don't realize is that Honda built the S2k based on a legendary rear wheel drive roadster legacy. This legacy extends far into Honda's past with such legends as the S500, S600 and S800 of the 60s. So to celebrate the tradition of rear wheel drive roadsters, today we are looking at the S2000 ECU and showing you what pin does what.
So is it any surprise that the success of lightweight rwd cars recently, that the S2000 may be making it's return to production? Perhaps this time powered by a Earth Dreams turbocharged Honda VTEC powerplant? With a sleek rakish body line and high revving frenetic VTEC powerplant, it's easy to see why fans of the AP are so eager for the new S2000.

There's quite a few changes to the S2000 as Honda tweaked it's popular roadster in hopes of perfecting what was already an almost perfect track experience. From engine displacement to styling cues, the AP2 improved in many areas where the first generation S2000 may have initially suffered.
The S2000 enjoyed a long production run that eventually saw itself close out in June 2009, and we've got every finger crossed for a new Honda S2000. If rumors hold true, this one just might be turbo and a ton more fun.
You are looking at the S2000 ECU pinout, popular for those looking to install a piggyback computer, tuning computer or VTEC controller.

| | | |
| --- | --- | --- |
| A9 | Vehicle Speed Sensor | Analog |
| B2 | Power Ground | Ground |
| B12 | VTEC Solenoid Valve | Analog |
| | | |
| --- | --- | --- |
| A19 | RPM Signal | RPM |
| C10 | VTEC Pressure Switch | Analog |
| C15 | Secondary O2 Sensor | Analog |
| C16 | Primary O2 Sensor | Analog |
| C17 | MAP Sensor | Analog |
| C25 | Intake Air Temperature Sensor | Analog |
| C26 | Engine Coolant Temperature Sensor | Analog |
| C27 | Throttle Position Sensor | Analog |
Have any questions about this S2000 ECU guide or want more information on the pinouts? Leave us a comment below and let us know!