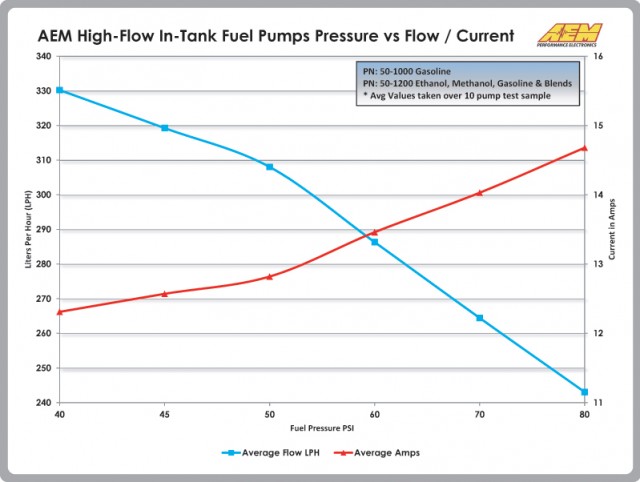 The creation and introduction of alternate fuel vehicles and E85 had originally been planned on lowering vehicle emissions and relieve our dependency on fossil fuels in the traditional sense. But aftermarket enthusiasts have found ways to incorporate the slower burning, higher octane E85 into their own turbocharged or forcefed application.
Coupled with a low price tag compared to higher octane racing fuels, which can often times be triple or quadruple the cost of E85 per gallon, and it's clear to see that the E85 trend that isn't going away anytime soon.
Enter the AEM Electronics E85 320lph in-tank fuel pump upgrade specifically designed for the 1985-1987 Ford Mustangs (Part Number 50-1205). This center inlet fuel pump comes complete with a wiring harness, pre filter, internal fuel hose and clamps, end cap and rubber buffer sleeve to go along with the compact 39mm pump.

TECHNICAL SPECS:
Weight: 10.1oz (285grams)
Outside Diameter: 39mm OD
External Materials: Black plated steel with laser etching, green end caps
Outlet Fitting: 8 mm hose clamp
PRV Activation: 80 PSI
Impeller Design: Single Scroll Ceramic Turbine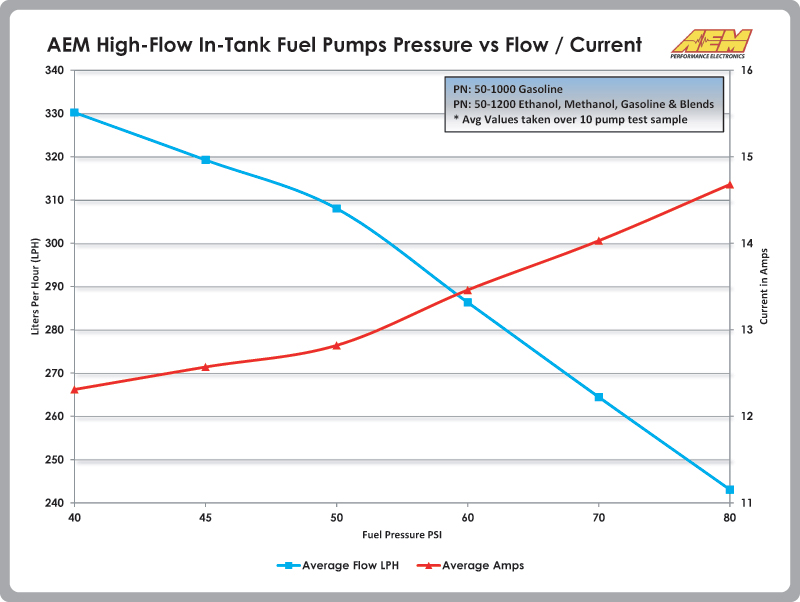 VOLTAGE SPECS:
Connector Terminal: 6 mm Spade (pos/neg)
Min Voltage Input: 6 volts
Max Voltage Input: 18 volts
Current Draw (40 psi): 12 amps (13.5v)
Current Draw (80 psi): 15 amps (13.5v)
* Power rating given at 43 PSI, 13.5v at the pump with a BSFC of .5. Flow capability for horsepower support is ultimately dependent on fuel hose diameter, and system electrical voltage and amperage capabilities.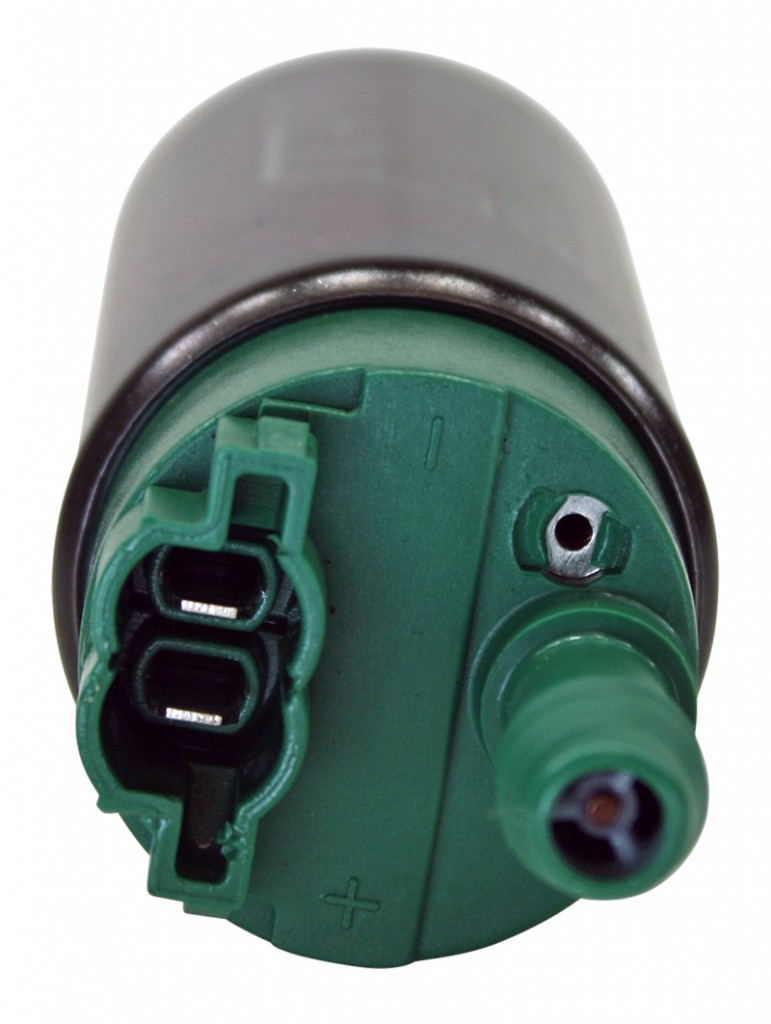 AEM's E85 Fuel Pumps feature robust internal construction designed to withstand the low lubricity characteristics of ethanol and methanol fuels. They are tested to work with ethanol fuels up to E100, methanol fuels up to M100 and all types of gasoline – and every 50-1205 AEM E85 Fuel Pump is tested to flow 320 lph at 43 PSI before it is packaged for sale.
Flow curves from 35 to 90 PSI and current draw vs. fuel pressure charts are available at www.aemelectronics.com.
AEM E85 Fuel Pump Features (PN 50-1205):
Tested and compatible with ethanol fuels up to E100, methanol fuels up to M100 and all types of gasoline
Designed for high output naturally aspirated and forced induction EFI vehicles
In-tank design
Direct fit for 1985-'97 Ford Mustang
Each pump is tested to flow 320 lph @ 43 PSI
39mm diameter fits most applications
Large center inlet design eases installation
Kit includes fuel pump, pre filter, hose, clamps and flying lead
Looking for an E85 fuel pump but don't own a Mustang? No problem as AEM continues to roll out more and more E85 products to power your vehicle into the next generation of performance fuel.