The longitudinally mounted V6 that is known as the VQ has had it's fair share of doubters and critics when it burst upon the scene flying the Nissan flag proudly. It may have taken some warming up to especially from the turbocharged inline six fans that may have been initially disappointed, but there's no doubt the VQ has changed the import world.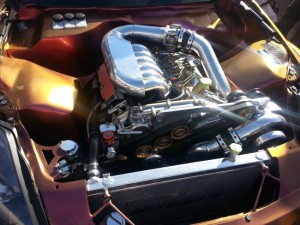 Whereas the V6 platform had largely been ignored by the masses for much of the 80s and 90s, the VQ and subsequent variations have catapulted the V6 form factor into instant contendership for performance platforms around the world. It has revolutionized the landscape of modifiable engines so much in fact, that without the success of the VQ it's hard to argue that many of the newer V6 platforms that we are blessed with today would even exist.
As is the case with any truly great engine, it was only a matter of time until people started to swap it into another car. And swapping a VQ into a smaller, lighter chassis than the 350Z or Infiniti has become a true legal option for those wanting to retain the Nissan badge for their modified car.
How To Service your VQ Fuel System
Lots of people just starting out and learning how to modify their vehicle are often challenged with which version or which company of the intake / header / exhaust should they plunk down their hard-earned dollars on? And it's not always an easy answer with lots of misinformation and false horsepower claims from many of these companies.
Which is why today we'll be looking at the how-to install of a few aftermarket intake companies and their products and dyno testing them to show you what the real world gains are on the same car. And where else will we be starting than the bolt-on intake, the true hallmark of beginning the journey with your modified vehicle.
This need is where our VQ35DE Intake Shootout was born and where the VQ35 intakes are tested.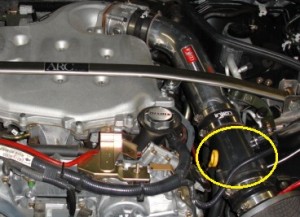 How to Repair your VQ Mass Air Flow Sensor
The VQ in the 350Z suffered from a general lack of engine compartment room and thus left Nissan in a tight bind when it came to the design of the intake plenum and intake tract. Because of this limitation the factory intake on this engine is remarkably restrictive in design and great gains can be seen from upgrading both parts.
Today's test vehicle is a 2006 Nissan 350Z 6SPD with just over 115,000 miles on the odometer, this test vehicle is in factory condition and has never been modified.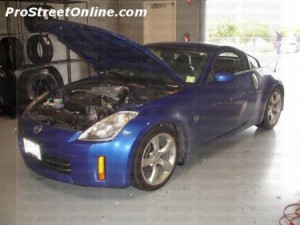 We take the 350Z and strap it to the dyno to determine our control and the baseline for our intake shootout, and we've got some pretty solid results. And for further reference all pulls were done with the intake manifold tested at a 88 degrees to provide some plausible repeatability.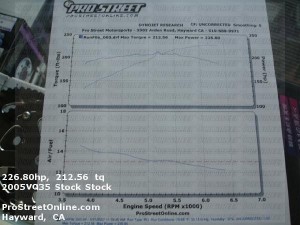 Armed with our baseline of 226.8 whp and 212.5 ft lbs of torque to the rear wheels, we'll start with a K&N drop-in filter which claims up to 7 horsepower increase when installed.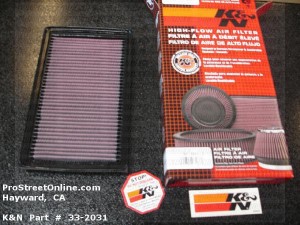 The part number for this kit is 33-2031 and is a fully CARB legal and 50 state legal drop in solution for those wanting improved flow and stealthy operation. As this drop in kit is concealed after installation, you need not worry about it violating your smog or legal status in your state. Check your local state regulatory rules and emissions laws for further details.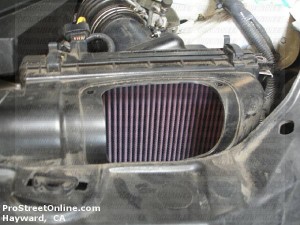 With this easy and simple drop in design we were able to gain a very noticeable increase in both sound and horsepower especially in the midrange of the vehicle's operation. This is just our first entry in the VQ35DE Intake Shootout however, because we step it up from here but there's no doubting the bang for the buck factor here.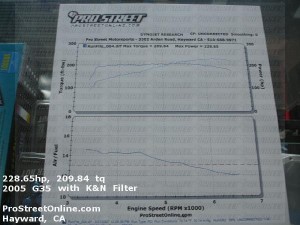 With a real world gain of 2 horsepower and a slight dip in our final torque numbers, the car also has leaned out considerably in the midrange and the top end of the rpm limit. It no longer redlines at a bloated air/fuel ratio but a more reasonable number which suggests better overall efficiency and gas mileage.
Next we'll be installing the Weapon-R Secret Weapon Intake that is a full intake tract replacement, this unit comes equipped with internal baffles incorporated into the intake tube to help isolate the intake charge from ambient engine bay heat.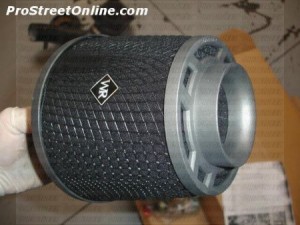 Velocity stack based intake filter and tunnel ram add-on kits help complete the full intake system, but we'll be testing today with just the basic Secret Weapon Intake Kit.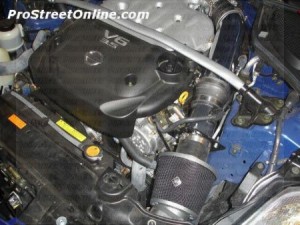 With both of our dyno fans operating we were able to see a sizeable gain in both horsepower and torque by equipping the Secret Weapon Intake to our test vehicle. The part number for this kit is 304-131-101 and is a full length replacement intake tube and filter with all the hardware needed for install.
How to Service your VQ Camshaft Position Sensor
Because we'll be testing full intake replacements from here on out, and road conditions cannot be fully duplicated ( incoming air, load on motor ) we'll be taking 3 pulls to determine the average dyno result.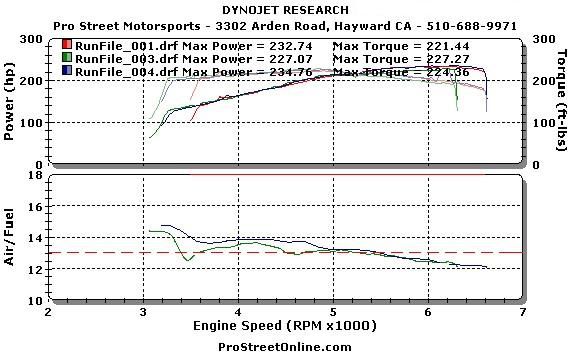 We took five total pulls with this intake equipped and were able to squeeze 234.7 horsepower and 224.3 ft/lbs of torque with just this bolt on. This intake along with the many other cold air intakes figure to do much better on the road and at speed, as our dyno fans can only push so much cfm.
Next up we'll be testing the AEM Cold Air Intake kit along with a Stillen intake kit for testing purposes. This is part 1 of a 5 part feature based on the VQ35DE Intake Shootout  and the dyno results from each test. Make sure to stay tuned!
Part II : AEM CAI, Stillen Intake
Part III : VQ Intake Plenum Spacers
Part IV : VQ Intake Manifolds
Pro Street Staff
1-888-776-7022