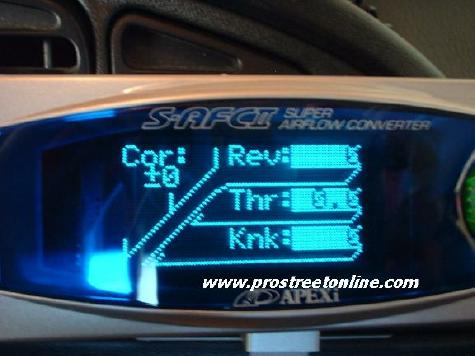 Today we'll be installing a SAFC NEO into a 1992 Nissan 240SX with a SOHC KA24DE, and like our S14 AFC writeup you do not need a power adder for this install to be effective. As with all the other versions of the AFC, the unit's RPM and throttle based maps can not only tune your bolt on 240SX to produce more power, as well as increase gas mileage.
We love the Apexi Super AFC NEO for what it is, an effective piggyback fuel computer that does the job. Yes, this piggyback is limited in many ways, it's not as fully featured as something like an EEPROM tune or the like. But the price tag, the ease of installation and the overall functionality of this unit make us give this unit a big thumbs up.
If you are not comfortable doing this modification or any modification on this site, please stop here and take your vehicle to an experienced mechanic who can both install and tune your vehicle. Do not attempt to Install SAFC NEO if you don't know what you are doing.
The Super AFC in any form or generation is a tuning device, and as such it's as dangerous or as helpful as any EEPROM programmed ECU or similar tuning device can be. Please do not believe everything you hear on forums or from supposed "expert tuner friends" about the Apexi Super AFC and how it will instantly melt your motor into a worthless heap of slag metal.
If you do not own a datalogger or scan device for your OBDI S13 240SX, you will want one before you set up your AFC.

Undo the negative terminal on your battery, if you own a stock radio now is a good time to secure your radio code unless you do not have it.
Now undo the 10mm bolt that holds your ECU cover and connector in place. Your S13 SOHC KA24 ECU is found in the passenger side kickwell panel, and does not need to be removed for this installation.
Take this time now to review your Apexi' documentation to ensure you have a firm grasp on what wires you will be connecting.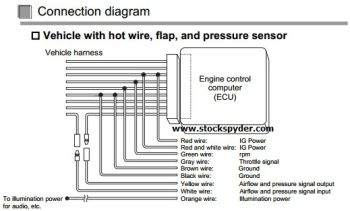 For the purpose of this writeup, we'll be assuming your vehicle is equipped with a N60 Mass Air Flow Sensor ( MAF ), if so your SAFC settings will be 2 in and 5 out.
Tools you will need for this install :
Soldering iron
Solder
SAFC NEO
10mm wrench
wire cutters
Let's begin with the ground wires, which must be wired in correctly in order for the AFC NEO to work reliably. Locate your ECU ground (Pin 50) and splice into the wire, closer to the ECU side of the harness.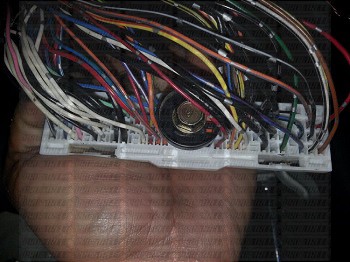 If you are not familiar with the AFC NEO, the ground and the power wires have 2 seperate leads that must be connected roughly an inch apart on their respective pins. Do not mix or flip the sequence in which these wires are soldered or teed into your wiring harness, as that may result in damage to your fuel computer.
Locate your S13 ECU ground wire which is pin 17, you will be teeing the secondary ground wire (brown AFC wire, or black with white stripe) by splicing a spot closer to the ECU side of the harness. After teeing the secondary ground wire, locate your primary ( black wire ) and tee that into the ECU ground wire roughly an inch downstream of the harness.
Now locate pin 47 on your OBDI ECU which is the ECU power wire and tee your secondary power wire ( red with white stripe ) in similar fashion as your secondary ground connection. The primary power wire ( red wire ) will need to be teed into that very same ECU power wire, just an inch to an inch and a half downstream of the harness.
If you own an older model of the AFC or AFC2, and any version previous to the NEO this wire will be a single red power wire connector.
Now find the yellow and white MAF wires on your AFC NEO harness.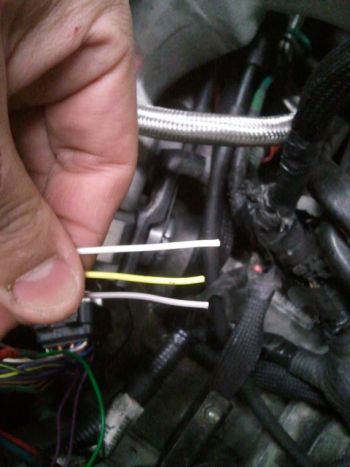 Now we'll be connecting the MAF connection for your KA by locating your MAF signal wire on your OBDI S13 KA 240SX ecu, which is pin 16. Splice into this wire leaving enough space for you to operate / solder on either end of the wire.
The yellow wire which is the NEO's output to the ECU must be soldered into the ECU side of your cut MAF signal wire. The white wire is the input to your AFC NEO, connect that wire to the engine side of your MAF Signal pin.
Next up is your throttle position sensor, which is the gray wire on your AFC harness. Find your Throttle Position Sensor signal wire which happens to be pin 20 on your KA OBDI ECU.
Tee the gray wire into pin 20 which will enable your AFC NEO to see what position your throttle is, and which map to utilize or interpolate between.
For the last bit of install of your AFC NEO, you will need to wire up the engine speed sensor ( RPM ) so that your AFC NEO knows what RPM to reference. The tachometer input on your OBDI ECU is pin 3 that you will be splicing the gray AFC RPM wire into.
Advanced setup – What is the Blue Wire Mod???
For those not familiar with the Apexi Super AFC, the Blue Wire Mod is something that mostly Diamond Star Motor ( DSM – Mitsubishi Eclipse, Eagle Talon, Plymouth Laser ) enthusiasts used in the mid 90s to monitor their narrowband 02 on the fly.
When you connect the blue wire to an optional output, you can monitor it's reading under the ETC menu of your Super AFC NEO.
While most people wire this unit in for narrowband 02 reading, especially turbocharged or supercharged customers. Your OBDI S13 240SX has an knock output which you can also tee into to view the real time knock data for your KA.
For 02 reading : Narrow Band 02 wire – KA ECU PIN 19
Knock reading : Knock wire – KA ECU PIN 27
To find out how to perform this mod, check here.
How to set your S13 SOHC KA AFC
You can find this setting under the Menu option > Settings and Sensor Type as "Hot Wire" as your 240SX operates on a MAF and will require a setup of 2 in and 5 out.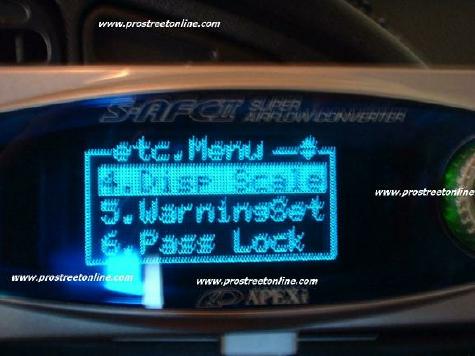 Under that same menus, go into the car setup, and change the cylinder value to 4 and set the "thr" setting to the arrow pointing up and right.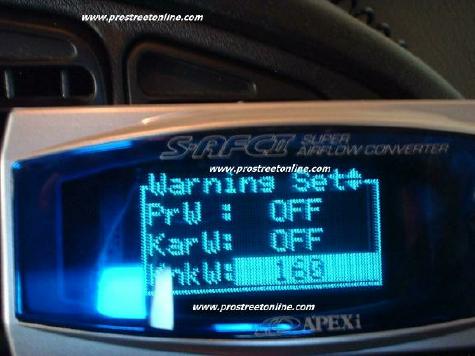 | | | |
| --- | --- | --- |
| Apex'i SAFC Wiring Harness | Function | KA24DE & S13 SR20DET ECU Wiring Harness |
| Red | Power | Black with White Stripe |
| Brown | Ground | Black |
| Black | Ground | Black |
| Green | Engine Tachometer (RPM) | Yellow with Red Stripe |
| Gray | Throttle Signal | White |
| Yellow | Air Flow / Pressure Output | White |
| White | Air Flow / Pressure Input | White |
| Blue | Blue Wire Mod | 02 Sensor or Knock Sensor |
| | | |
Happy Boosting!
Pro Street Staff
1-888-776-7022