One of the fastest time attack CRX videos on the web, the "Mighty Mouse" 1990 Honda CRX belongs in a class of it's own. Competing against supercars like the Aston Martin Vantage GT3, Rob Nguyen's time attack CRX is one of the kind. Taking on all challengers at the World Time Attack Challenge (WTAC) in Australia, the video outlines just how incredibly powerful and responsive the Honda is.
Owner Rob Nguyen picked the CRX for it's lightweight chassis. The powerplant is centered around a 2.4 liter K series engine. And behind the wheel, he's clocked an incredible 1:27.61 lap at Sydney Motorsports Park. His official time is 0.1 faster than the GT3-class record at this particular track. Not bad for a lightweight wrong wheel drive econobox eh?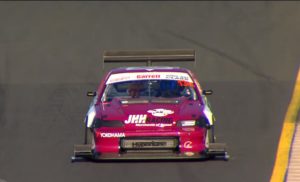 Inside the Mighty Mouse Time Attack CRX
Built by the hardworking folks at 101 Motorsport, this time attack CRX is an awesome mix of just the right parts. At the heart of the CRX is a K20/K24 hybrid K series engine, powered by a centrifugal supercharger. Set at 18 pounds of boost, the boosted VTEC engine cranks out 480 horsepower at 7,500 RPM.
Supercharger vs Turbocharger – What's the Difference?
Why supercharge instead of a turbo? Nguyen wanted a more linear delivery of power, which increased stability and predictability. Despite the centrifugal supercharger unit however, the CRX still needs careful engine management to curb on power understeer. Such is the life of this overpowered front wheel drive time attack CRX.
Despite these choices in the build, there's no doubting the incredible potential of this time attack CRX. For more information on the time attack CRX, check out this video from High Performance Academy. They go into exactly just what it took to get the power needed to compete with GT3 class vehicles.
But 101 Motorsport didn't stop at just the powerplant either. After careful consideration, they also swapped out a custom gearset to increase top end speed. Being limited to 155 miles an hour with their old gearing, 101 Motorsport was able to increase top speed significantly. How much you ask? The time attack CRX can reach a 170 MPH at redline in the highest gear.
That's not all there is to the time attack CRX either. Taking it ten steps further, 101 Motorsport also recruited a former McLaren F1 engineer to rework the aerodynamics. With Barry Lock's assistance, the CRX increased downforce significantly to improve grip to the front wheels. Overall the time attack CRX tips the scales at just over 1700 lbs, which shows just how important power to weight ratio really is.
The scary thing is, as fast as this time attack CRX is there's way more that's possible. As 101 Motorsport continues to tweak and refine the Mighty Mouse, the best is yet to come! What do you think about this CRX race video? Impressed? Not impressed? Leave us a comment below and let us know! For all the latest tech tips, automotive articles and race videos, subscribe to My Pro Street today.