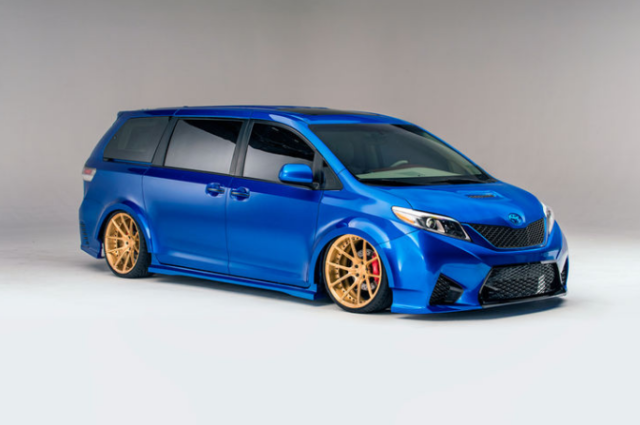 Toyota is pulling out all the stops at the 2016 SEMA Show, with a booth dedicated to the past, present and future. One of the most stunning entries is the Toyota Extreme Sienna, which builds upon last year's R-Tuned Concept Sienna. The goal with the Toyota Extreme Sienna was to recreate the experience of flying in a private jet, and a casual look would seem to indicate that they hit their mark.
Whereas last year's Toyota R-Tuned Sienna was built for speed, the Toyota Extreme Sienna is much more show. Either way this blue Sienna is a true head turner, and definitely belongs right in with the SEMA Show. Let's take a look inside the blue beast below.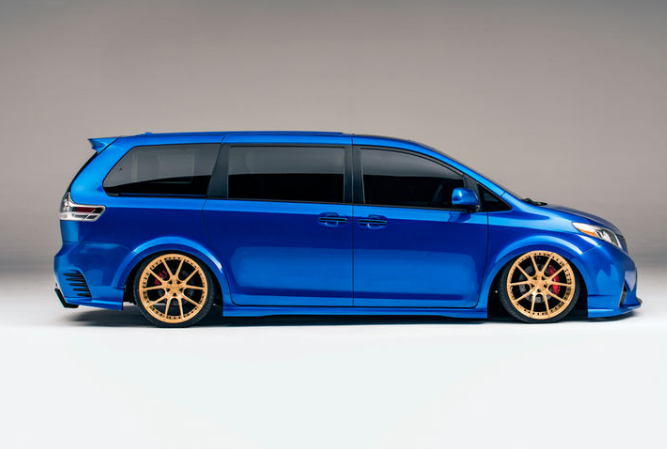 Inside the Toyota Extreme Sienna
There's quite a bit going on with the Toyota Extreme Sienna and it starts with the aftermarket aero parts and front fascia. Accentuating the already aggressive front end, Toyota has opted for several styling cues that enhance the depth of the Sienna.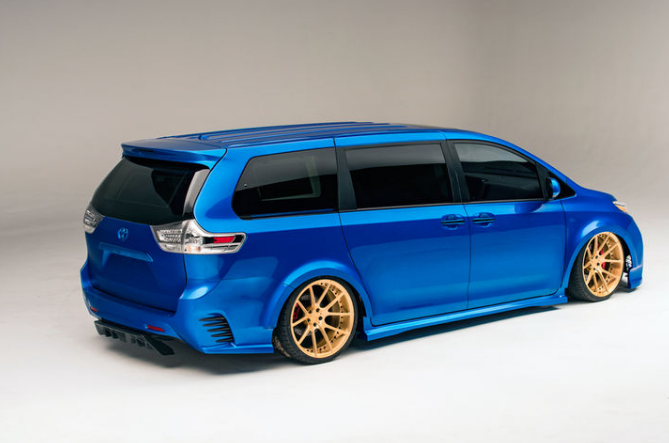 Side skirts and a lower front splitter merges into the body lines flawlessly, and the entire mini-van has been repainted for the SEMA Show. Suspension was ditched and upgraded with an airbag Air Lift Performance air ride system.
The exterior of the Extreme Sienna is another cue that's obvious from the get go. From the stunning blue paint that's combined with the oversized Litespeed rim color, the Toyota Extreme Sienna looks incredible.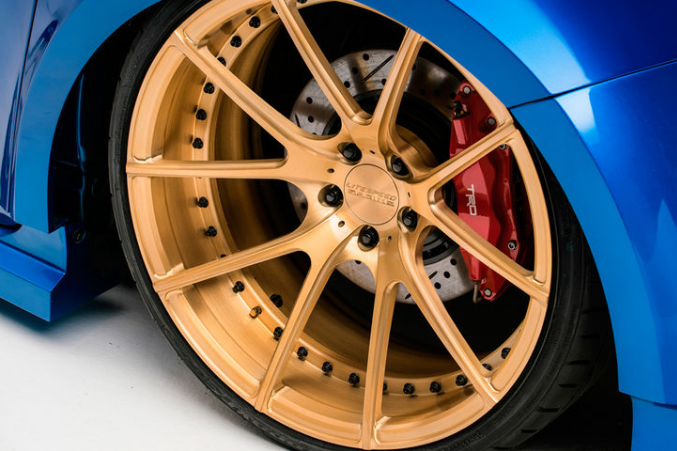 Behind each one of the upgraded aftermarket rims is a set of upgraded TRD brakes with drilled and slotted brake rotors. On the inside of the Toyota Extreme Sienna, the entire cabin was reupholstered in cognac Euro Autolux leather, complete with wooden burl accents.
All of the Toyota Extreme Sienna features are tied into the central infotainment system, which is controllable through an iPad. Overall the Toyota Extreme Sienna is an incredible build for an awesome booth entry at the 2016 SEMA Show.
What do you think about the Extreme Sienna? Leave us a comment below and let us know! For more news and automotive How To Guides, subscribe to My Pro Street or follow us on Facebook.