Audi is jumping into the fray with the all new Audi ETron Quattro. Debuting at the 2016 Frankfurt Auto Show, Audi joins BMW and Mercedes in the electric revolution. The Audi ETron Quattro is a SUV that's ready to take on all takers with a total range of more than 300 miles.
The news comes on the heels of Audi discontinuing their incredible Audi R8 E-Tron. After building just a 100 of these units, Audi seems more interested in production electric vehicles. The new Audi ETron Quattro is also rated up to 496bhp, and combines the leading edge of Audi technology.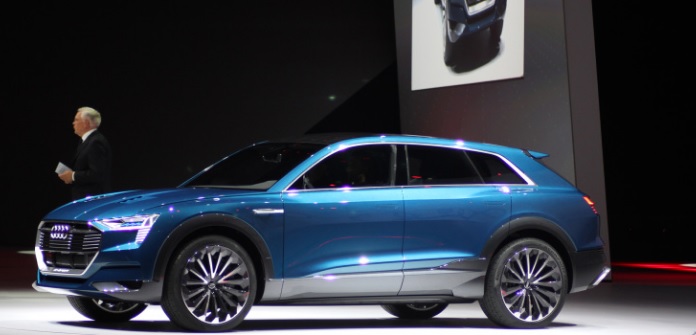 Inside the Audi ETron Quattro
In a recent interview with Autocar, Audi chairman Rupert Stadler shared quite a bit of the E-tron vision. The new electric SUV will become Audi's electric flagship vehicle, called the E-Tron.
Along with the Audi ETron Quattro, Audi will also be revealing other models with hybrid or electric powertrains. Stadler also revealed that other Audi vehicles sharing the same electric powertrain will share the E-Tron naming structure. This is very similar to the way that BMW names their sub-brands such as the "i" designation for their electric vehicles.
Two of the planned vehicles from Audi are projected to include a hatchback and a sedan. The continued development of electric vehicles could make all traditional combustion engine vehicles nearly obsolete by the year 2020. In fact, most car manufacturers are looking to mothball combustion engines by that year.
What do you think about the all new Audi ETron Quattro? Do you think that Audi made a mistake by discontinuing their million dollar Audi R8 E-Tron? Leave us a comment below and let us know!
For all the latest in latest concept cars, car shows and automotive news, subscribe to My Pro Street or follow us on Facebook for daily articles and How To Guides.