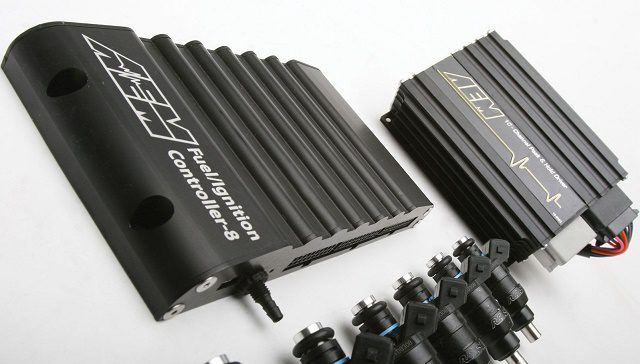 Whether you are swapping a 2JZ into a chassis or building a Supra, there comes a point where you need a 2JZ engine management solution. Although you can get by using the stock ECU and a piggyback computer, to truly unlock the potential of your 2JZ you need a superior EMS. However when you want to upgrade your 2JZ ECU, there's quite a few options out there which can lead to confusion.
Which one of the 2JZ engine management choices are the best? It's difficult to say, because the best choice really depends on your end goals. If you are in the market for 2JZ engine management, but you aren't sure who to go with, this guide is here to help.
Best 2JZ engine management choices
AEM EMS – Easily one of the most popular 2JZ engine management available. The EMS is built by AEM Electronics and they've stood for sport compact tuning since the late 80s. This powerful EMS won't break the bank, and there's several plug and play wiring solutions available. You can add on popular upgrade kits like the 5 bar upgrade kit, to increase boost to your 2JZ with ease.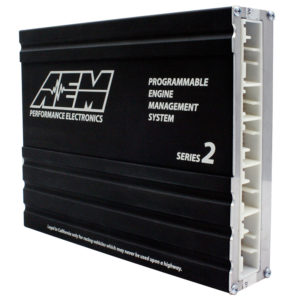 2JZ engine management AEM EMS Pros
Excellent Datalogging Options – When dyno tuning your 2JZ, you need a reliable way to monitor engine vitals.
Integrated OEM ECU Support – The AEM EMS controls several OEM features from the jump. Whereas other 2JZ engine management may struggle with things like traction control, or automatic transmission shift points, the EMS has it under control.
Additional input control – Easily upgrade control features like boost control or methanol injection with ease. Control and configure failsafe measures or datalog multiple sensors, the AEM EMS has it all.
Weaknesses of this particular 2JZ engine management include some hardware issues that have cropped up over time. These include communications issues or glitchy software that has been known to lose configurations from time to time. Also when you are using a factory 2JZ ignitor, you'll need an ignition box because the AEM EMS uses a waste spark configuration.
HKS VPro – Another very popular 2JZ engine management choice, the HKS VPro comes in plug and play flavors as well. Much like the AEM unit, the HKS standalone comes with a wide range of controls and additional features.
2JZ engine management HKS VPro Pros
High Quality – HKS is a name that's stood for excellence since day one. Following this trend the HKS VPro doesn't disappoint. Along with high quality hardware, the software for the VPro is stable and highly reliable.
Integration – You can keep the factory 2JZ ECU in place, to resolve any emissions issues with your local authorities. With smog legal engine swaps all the rage, this feature cannot be overlooked.
Ignition – The HKS VPro does not require any addition hardware to work with the factory 2JZ ignitor.
Where the HKS VPro is lacking is in the datalogging, which can be a clunky feature at best. When dyno tuning the datalogging feature in the VPro can be difficult to go through, which is why HKS recommends a HKS Pro Dealer to tune your vehicle. Unlike the AEM EMS, the VPro does not use integrated boost control..
MoTeC – The cream of the crop, this 2JZ engine management system is an incredible choice for any 2JZ build.
2JZ engine management MoTeC Pros
Quality Control – MoTeC is used by the highest level of race cars and teams. This simple fact speaks to the quality that MoTeC is known for. Simply put it's second to none when it comes to 2JZ engine management choices.
Flexible – Whether you need MoTeC to be a simple engine management for your 2JZ, or control many features it can do it all. Integrated boost control, nitrous control and traction control are all standard. You can add options and inputs, and combine them with the awesome MoTeC datalogging software.
Multiple map support – Store up to 4 full and unique maps from the get go which can be switched using a laptop or optional switch. Unlike the EMS or the VPro, these maps are not trim maps but fully standalone maps that give you the ultimate in fuel choice. When upgrading to E85 or race gas, MoTeC has you covered.
Some MoTeC cons include the high price point, and cost of tuning. It's not as simple to operate or tune as the EMS, and doesn't really have an autotune feature. What's more it won't directly dial into the factory automatic transmission nor will it control the traction control of your idle control motor properly.
Have any questions about these 2JZ engine management choices? Leave us a comment below and let us know! For more automotive news and updates, subscribe to My Pro Street or follow us on Facebook for more!